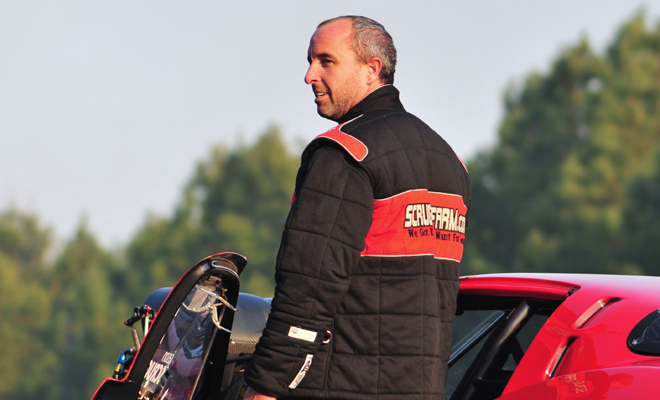 Features
Jason Scruggs is a Busy Man
By |
As far as his own race program goes, Scruggs will be getting it done this year with a brand-new, Garret Livingston-built '63 Corvette coming out of Larry Jeffers Race Cars in House Springs, Missouri. The new car probably won't be ready until May, but that's okay, he still has the record holder sitting in the trailer, ready to start the season.
Externally it will be difficult for the casual observer to even see any difference between the two cars, but most significantly the new one will adhere to a PDRA minimum weight rule of 2,275 pounds, up 75 pounds from last year. Similarly, the Pro Nitrous minimum has increased an equal amount to 2,375 pounds and the all-new Pro Boost minimum has been set at 2,550 pounds. Ironically, the increased minimum weight for Pro Extreme entries affects Scruggs probably more than any other PDRA regular, "but at the end of the day we felt like it was best for the series," he says.
"I did a lot of investigating into the weight rule for Pro Extreme and anybody that knows me through the years knows I've been pretty vocal about not having a weight rule. All through the years with the ADRL I didn't want a weight rule; and to be honest, I still don't want a weight rule. But I felt like that it was our way of saying that we can all compromise and do what's best for everybody. So that's the way it is."
Still, while Scruggs—and the rest of the PDRA's financial backers—may wield significant influence on the rules package for each class, for each of the eight races on the schedule this year they all become just competitors, open to the same calls and rule interpretations by which everyone is expected to abide.
"What people need to understand is that we're involved, my family and these other owners are involved in this thing on the hardcore business decisions and the financial end of things. But we're not involved in the day-to-day activity of putting the race on because there's no way we can be involved like that and race, too," Scruggs says.
"Bottom line, we're going to get treated just like everybody else. And Bob Harris and the PDRA competition director, Rick Moore, and whoever else might be involved in the future that we have is expected to treat each of us exactly the same as they would treat everyone else."
For the time being, Scruggs is focused on making the trek early in April to North Carolina's historic Rockingham Dragway for the PDRA's 2014 season opener. Rockingham also is the site of arguably his most memorable, if not most historically significant accomplishment when he broke the 200-mph barrier. It's certainly part of the lore that makes Scruggs one of the most popular and well-known doorslammer racers in the country, stemming from the late-'90s when he was tearing down tracks and tearing up track records with a blown small-block combination that probably shouldn't have been capable of going as quick and fast as it did.
Scruggs raced a lot back then, a lot more than he does today, building his reputation and his fan base 20, 30, 50 people at a time with record-setting runs at small tracks throughout Georgia, Tennessee, Alabama, Texas, the Carolinas, and of course, his home state of Mississippi.
"Wherever they were having the Quick 8s, I wanted to go, or if somebody wanted me to come match race or something, I'd be there," Scruggs recalls. "We run that thing pretty successfully back in those days, but it got to where that car was still fast for the tracks and everything and we'd go out there and run 3.90s consistently, win our share of races with it, but I kept telling my dad, 'I want to go fast; I want to go faster.'
Significantly, the first Dragstock race in 2004 at Carolina Dragway, the event that directly led to the creation of the ADRL, was one of the first in which Scruggs experimented with his now familiar screw-blown Hemi combo. In fact, he qualified both cars that weekend, though the small-block entry was withdrawn from competition before eliminations began, thus signaling the direction Scruggs ultimately was heading.
"I said I think if we built a Hemi car, we could run 3.80s; that's about the mindset I had 10 years ago. Then when we started to run 3.80s, I was like, maybe we can run 3.70s. And then in 2007 I run the first 200 mile an hour and 3.70 flat. That was pretty fast in that day, but if you look now, just since 2007, we went from 3.70 to 3.52—with a torque converter! You never would have led me to believe 10 years ago that we'd ever be running 3.50s with a torque converter.
"I think it's just technology and people getting smarter about how to run the cars, but a lot of it is track prep, too," Scruggs says. "When the Traction Twins come along and the tire machines, that changed a lot, and these tracks we're running on now are really nice and we've learned how to run on them, but bottom line, you've got to have a good track to run on to go this fast."
Comments
comments