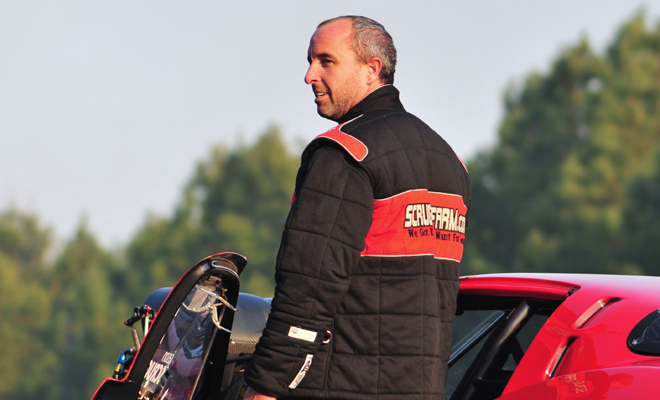 Features
Jason Scruggs is a Busy Man
By |
Given his obvious taste for going fast, it begs the question; why has Scruggs never ventured into the nitro arena? It's not that he hasn't thought about it at times, and his dad even made some fuel Funny Car inquiries back in the early 2000s, before the Scruggs found the ADRL. But Jason says in the long run he simply doesn't have time for it—"We do good just to get to the races we do now, a few a year."—and actually prefers what he's currently doing.
"I'm a doorslammer guy and I'd rather have a—not that it's legal for PDRA, before anybody gets any ideas—but I believe I'd rather have a nitro motor in a doorslammer, to be honest. There's just something about doors opening and shutting," he says. "I've always loved Pro Stock and Pro Mod, and I think there's something about making a car go fast on a suspension, too; they're a little bit unpredictable, so it makes it more exciting.
"And any nitro car, you've pretty much got to have a full-time crew. You basically go through so many parts and really, maybe I'm wrong, but it just looks like it's not that much fun. If you're the one having to buy the parts or the one working on the motors, it doesn't look like that much fun to me. So I just think it's a little bit of all those reasons why I've never really seriously wanted to do anything in a nitro car.
"But of course I think they're impressive and I like the kind of speed they're running and obviously that's what you're going to have to do, but for us, we're going to keep pecking away. Hopefully one of these days, I'll run 220s and 3.40s and be able to say I can do it in a doorslammer."
Perhaps a step closer to those magical numbers will come soon at "The Rock," when the PDRA's inaugural season finally gets underway.
"I can't wait," Scruggs declares. "Really, I can't. We've still got a few things we've got to get done between now and then, but Rockingham, we're excited. We know come April, we're going to have a great race. We're going to bring back the fun and the excitement. This is going to be a great year with the PDRA."
In the end it'll just be another juggling act for Scruggs, who if he's not the busiest man in drag racing, he certainly knows how that guy feels.
Comments
comments