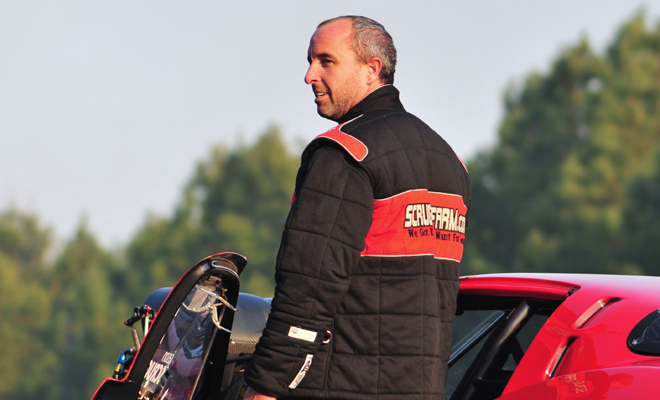 Features
Jason Scruggs is a Busy Man
By |
 Perhaps it was one of those moments of clarity that led Mitchell and Jason Scruggs to their latest endeavor, though more likely it was simply the recognition they needed to ensure a venue remained to race their highly specialized, purpose-built hot rod. So, along with fellow Pro Extreme team owners Roger Henson and Gene Hector, as well as Pro Nitrous team owner Tommy Franklin, the five decided late last year to implement and finance the Professional Drag Racers Association (PDRA).
Essentially a replacement series for the floundering ADRL, which financially overextended itself and ran into purse payment troubles toward the end of its 2013 season, the PDRA is touted as being "by racers, for racers," with veteran promoter Bob Harris of Piedmont Dragway's Big Dawg fame tasked with making it all happen.
The Scruggs were staunch supporters of the ADRL and its now-beleaguered leader Kenny Nowling since its inception in 2004, going so far as to lend Nowling the money he needed late in 2012 to buy control of the series back from Qatar's Sheikh Khalid Al Thani, whose Al Anabi Racing gained control in 2010 and placed chassis man Tim McAmis in charge for the 2011-12 seasons. Additionally, the Scruggs provided and solely sponsored the track prep equipment used by the "Traction Twins," Cale and Cody Crispe, throughout the 2013 ADRL schedule.
Multiple changes in management tends to upset things—sometimes for the good and sometimes not so good—"and then you've got stuff that splits off and it kind of hurts both series," Jason points out, referring also to the short-lived X-treme Drag Racing League (XDRL), a spinoff from the ADRL that faltered halfway through its inaugural 2013 campaign.
"Nobody meant any harm, I don't think. I mean, everybody has the same common goal. Everybody wanted the series that they were supporting to do good, and us, we were wanting the ADRL to survive and do well. We wanted to have a place to race. But I just thought that between splitting the cars and everything else that happened, it (ADRL) just wasn't meant to be."
Scruggs' doubt for the ADRL's future was not an isolated concern. With 2014 looming with little to no improvement in sight for the financial turmoil afflicting the St. Louis-based organization, on behalf of most ADRL-hosting track operators, Rockingham Dragway owner Steve Earwood announced early in December during the annual Performance Racing Industry (PRI) trade show, a hastily-thrown-together organization called the National Drag Racing Series (NDRS).
"As a group, we thought it was imperative to notify the racers that there will be a valid series for extreme Pro Modified racers in 2014," Earwood explained of their motive at the time. However, within a week of the PDRA's intentions being made public early in January, Earwood and the NDRS voluntarily ceded control and scheduling of the outlaw doorslammer world to the new organization.
"For the (ADRL) series to be in jeopardy prior to PRI, I just believed someone needed to address the issues and assure everyone that regardless of the sanctioning letters, there would be a series in 2014. Believe me, I do not care to run such an association myself," Earwood insisted in a CompetitionPlus.com article at the time.
Comments
comments