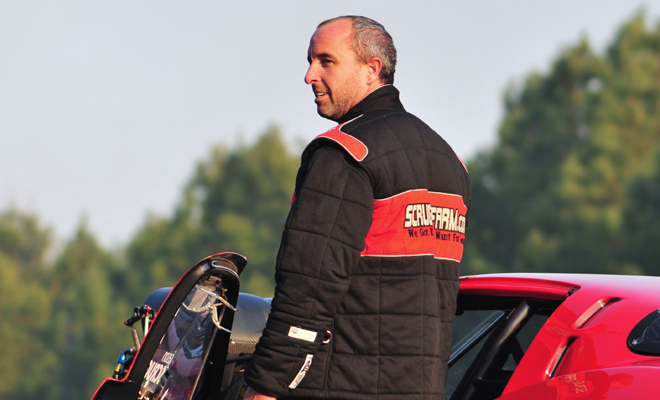 Features
Jason Scruggs is a Busy Man
By |
And just like Earwood felt compelled to act even if he didn't truly want the responsibility, Mitchell Scruggs says he and his son can relate to the mixed message. They were concerned that nobody else was prepared to step up and make certain there would be a place in 2014 to continue all the classes and race teams the ADRL had created and nurtured for so many years.
"Really, it wasn't anything Jason and I wanted to do. We'd a lot rather somebody else do it and that's the reason that we loaned Kenny the money to buy the ADRL back because we had high hopes he could manage it and keep everything going and everybody would have a place to race," Mitchell says. "It was a shame for ADRL, and for XDRL, that neither one could work out. It's sad for Jason and I both to see that happen.
"But the way we see it, there's probably around 300 of these door cars, or however many it is, that were depending on some type of association to have a place to race. And along with those 300 cars a lot of manufacturers depend on those cars to put their parts on, so it's for their livelihood as well. And then you have all these race tracks that need those shows to make the tracks run well, so it was something that needed to happen and it didn't look like it was going to happen. We just felt like we had to do something," Mitchell says.
"To be honest, if we hadn't stepped up, with Roger (Henson) and Gene (Hector) and Tommy (Franklin), too, I don't think it would have happened. And I'm not taking the credit for it because it's the manufacturers and race tracks that's really stepped up with us; it's been a team effort to put this together. Jason and I only had a small part of it. It's been a lot of people."
While certainly true that sponsors, tracks and racers have to buy in for the PDRA to gather momentum this year, Jason Scruggs realizes its success ultimately will require restoring confidence among everyone involved, including fans, by establishing stability and credibility within the organization. And like so many other things in racing, it all comes down to money.
"We've never really had a hand in trying to run an organization, but we just wanted to see something that we felt like was being run correctly and it takes a little bit of money to make that happen," he says. "We've just got to be able to put a good organization in and spend money where we need to and save money where we can, if that makes sense. And I think we can do that."
Having been involved with his dad in outlaw doorslammer racing since his mid-teens, Jason also is counting on his personal history and reputation, combined with those of Franklin, Hector and Henson, to help ease any concerns his competitors—now customers—might harbor about any start-up organization coming on the heels of the 2013 _DRL disasters.
"It's tough to make an organization work, especially one that has this many professional classes, because the payout is so expensive," he recognizes. "And so it's an art to it and we knew the first thing that we would do if we were going to do it is have a good foundation. So Roger Henson and Tommy Franklin and Gene Hector, I knew all those guys personally real well before this even started. They're obviously like myself; we've got a common goal and that's to have a real nice drag racing organization that we can all be proud of. We're all racers and we just want a good place to race. So if it rains the race out and you're the one that promoted it, you know you've still got to have enough money to pay it out of your pocket, even if it means losing money on that race. That's just the way it's got to be."
It's not all about the Benjamins, though. Jason remembers what it used to be like, the original ADRL, back when he was winning his championships. There was a genuine sense of camaraderie mixed with the knowledge that something new and good was being created that permeated the pits. With the PDRA he's hoping to bring at least some of that feel-good vibe back to the eighth-mile doorslammer world.
"I think we can have a great series and I think the PDRA this year, we're going to go through a few growing pains, just like any business does, any new business, but at the same time, we're not planning on making the same mistakes. And if we do make a mistake, we're planning on fixing it. That's our goal and there's nobody here any more important than anybody else," he states. "Every racer has a voice and we're going to be racer-owned, racer-operated and racer-friendly, because at the end of the day, it's all about the racers.
"I made a comment to Bob (Harris) the other day where I said, 'You know, if a guy comes to our race and—just like I've had happen a few times—the car don't cooperate or you don't get down the track on a good run, you don't qualify, I want all of them to still leave our races and say, Hey, you know what, I didn't do very good but man, it was a good atmosphere, the race was well-run and I had a good time. That's the attitude that I want the PDRA series to have. I know we can do it; it's just a matter of getting it done."
Comments
comments