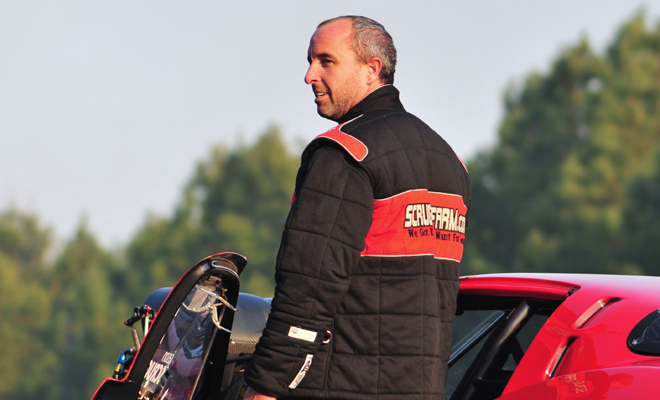 Features
Jason Scruggs is a Busy Man
By |
"I think it's because his day-to-day life is that way. Whether he's closing out a new house or going to meetings with the county or going out there welding or beating a bearing on or off, or just doing whatever he's got to do to keep something running, Jason can quickly move from one task to the next one and more often than not he's going to make the best decision on each one," Mitchell says.
Considering the pressures of maintaining such diverse and expansive business interests, it's no wonder Mitchell and Jason Scruggs need a release valve. But it's not golf or boating on a local lake that takes up whatever precious free time they may have; instead they turn to drag racing one of the nastiest, squirreliest, wildest rides on the planet, an almost unrestricted, screw-blown Pro Extreme Corvette.
And as in business, the Scruggs race to win. With Jason driving and Mitchell calling the tune-up as crew chief, they are back-to-back American Drag Racing League (ADRL) world champions (2007-08), the first to break the 200-mph barrier over the eighth mile in a doorslammer (2007), and just last October at Houston they reset both ends of the official Pro Extreme world records to 3.52 seconds and 219.47 mph.
All that success doesn't come easy, though. A Pro Extreme car is a demanding mistress, requiring the release of copious amounts of cash and many hours of careful attention between rounds and between races. The Scruggs, of course, take care of the first, but for the second they rely on long-term help from crew members Rhett Blankenship, Rickey Light and most recently Wesley Jones.
"If they knew I was in the field, Rickey and Rhett, they would come do what they could and try to help out. It's a two- or three-hour drive for them, but on the weekends they would come and do stuff on the car as far as getting it ready and cleaning stuff up and that kind of thing. And all that goes a long way. I mean, a lot of people don't realize just how much work goes into running one of these cars," Jason says.
"It's not like we've got all kind of mechanics. My dad and I do the majority of the mechanical stuff on the car, but there's so much more than that. It's a pretty good job just going from race to race, keeping the car clean, the fuel topped up, trailers cleaned out, the tires mounted, you name it.
"And all of our guys are volunteer guys; we don't pay them anything other than a little gas money or something," Scruggs adds. "They do it because they love it and we're just a pretty tight team that tries to go have a good time, but at the end the day we want to run fast and we want to win. We're pretty competitive."
Ironically, one of the most important people on the Scruggs team has never actually seen them race. Eddie Scruggs, Jason's uncle and Mitchell's younger brother, is the one who stays home and takes over the lead on the farm when they have to go racing.
"I leave eight to 10 times a year depending on how many races we're having. Which, I mean, it's hard for me to leave; I'm not going to lie about it. But we work it all out and he pulls my slack and they get by here, but if it wasn't for him I couldn't race at all," Jason states. "So we have him and another boy named Matt Hutchinson, he's been with us since he was 13 years old and he's kind of like part of the family, and between him and my uncle, they kind of cover things so we have time to get away.
"My dad, he's the same way. He's got some managers at the store that pulls his slack because he opens the store every single morning, seven days a week, so there's not a day off for him. There's some days he works from 5:30 to 9:30 at night and about half the time he does leave work about 6:00 or so in the evening. That's a short day for him."
Looked at from the outside it begs the question, why go to all that trouble? Why insist on racing a high-maintenance, high-dollar car that takes away so much time and commitment, not only from work but from friends and family at home? Why not just satisfy the itch with a weekend ride in one of Mitchell Scruggs' four classic Corvettes (1959, '63, '64 and 2004) or three Camaros (a pair of '68s and a '94)—all convertibles?
Comments
comments