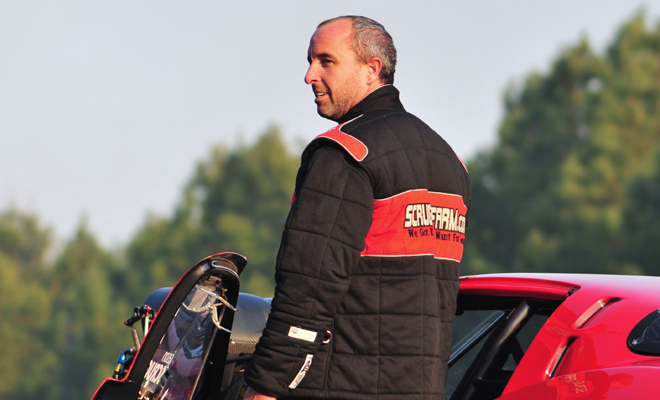 Features
Jason Scruggs is a Busy Man
By |
"I love those cars, especially the '63 like my race car, it's the most fun to drive," Jason says. "And we did start out like everybody else at our local tracks, just doing it for fun—and we still do it for the fun of it—but we want to go fast and when you go fast, you've got to pay the price, whether it's financially or through hard work or both.
"When we started following the ADRL series for points and stuff, we realized there was probably going to be three or four races that conflict in our busiest time, and it's a lot for us to get off, but we realized that we enjoy doing it enough to try and make compromises to be able to go to most of the races."
For Mitchell, the answer is simple; going racing with his son and teammates is fun. And believe it or not, relaxing.
Again, to the outside observer that statement may seem at odds with reality. Even on the best of days it doesn't necessarily look fun to perform even routine maintenance beneath a hot summer sun beating down on the black asphalt of the pits. And then there are times when the last qualifying run of the day sends the ScruggsFarm.com Corvette back to the pits with a blown-up engine, perhaps with a rod or two sticking through the block, the supercharger askew and oil coating nearly every part of the car from the front axles on back. Those 3 a.m. fix-it sessions with Jason elbows deep in motor up top, Mitchell on his back under the car and the rest of the guys carefully cleaning and cataloging parts for reassembly look neither fun nor relaxing.
Mitchell has been asked before: you've got the money, why not just hire a crew chief and mechanic to help prep and repair the car while you and Jason take it a little easier on race weekends—especially when things go wrong?
"Well, we enjoy working on the car. We don't like to tear up stuff, but when it happens that's all just part of it," Mitchell answers. "I think the sense of accomplishment comes when you do well yourself. If you've got other people doing everything for you, where does the fun come from? Where does the sense of doing well come from if you hire people to do it all? They're the ones that would have all the sense of accomplishment, the people that's actually doing it.
"If our team did everything and we didn't do anything, Jason and I didn't do anything, yeah, if we owned the car it would be nice for our car to win, but it's not the same as when you do it with your own hands and your own mind. Basically over the years Jason and I have done most everything on the car ourselves and I think it's better that way. I mean, we've got some good guys that go with us to help because two people, it's hard for two people to campaign a Pro Mod car themselves because it's so much to do and you've got to do it so quick that you do need people helping. But it would be different if we had everything done for us. Like I said, it takes the fun out of it.
"And when you come back from races, it's like you've been gone for a year or two and we haven't been gone but for a few days, but you've got clear eyes," he continues. "Everything looks different when you get back because when you look at something every day, it's like you miss things and so forth, you overlook things that you could do better just because you're used to seeing it all the time.
"When you're gone for a few days and you come back, everything is somehow new to you again and you see things that you wouldn't ordinarily see. So it can be really good for business, too, to have clear eyes, different eyes after you've been gone for a few days. It's good that comes out of being gone sometimes."
Comments
comments