The following is the fourth installment of a 7-part behind the scenes series that takes a look at the inner workings of an upstart NHRA A/Fuel dragster operation at the 2017 NHRA Carolina Nationals.
Previous entries:
Milestone
Jumping right back into the action post-Q3, we noticed after getting back to the pits that our BDK valve had malfunctioned during the previous run, allowing a large quantity of nitro to enter our air system. In order to remove the excess fuel, we had to take the body off the car and then blow all of the air lines out on the dash. This was the second of four times that we had to do this process during the weekend with 2 separate BDKs.
Side note: we've made 10 runs on this car so far, and we have had to take the full one-piece body off after 9 of them. Goal #1 for our 2018 season is to go an entire race without having to take the body off. You'd think we were racing a Funny Car if you came by our pits throughout the weekend and saw how many times it was on the ground after a run.
As we prepared our car for Saturday evening, we were staring down a matchup with Justin Ashley. Justin is as stout as they come behind the wheel and he had already won two races in his first season this year while piloting a car that ended up making the third-quickest run of all time at the end of the season. I'm ultra-competitive, but I was also aware of the circumstances that we were up against. We had made great strides to get to this point, but we were also about two tenths off the pace needed to run with Justin if he made a clean run.
From a Drag Illustrated perspective, this matchup was a "who's who" of 30 Under 30 alumni. J.P. Gutierrez and myself were fortunate to be honored in the inaugural class in 2015, and Justin Ashley and Chase Copeland were honored in 2017. As far as up-and-coming racers in this sport are concerned, it was pretty awesome having four honorees on the starting line all with a hand in this matchup (thankfully three of the four were wearing MBR gear).
Saturday – E1 – Corey Michalek's 5.446 @ 266.42 mph defeats Justin Ashley's 5.486 @ 266.95M mph
When we pulled up to the water box, you can see in the video that Mia Tedesco smoked the tires right at the hit in the pair before us. Justin had lane choice over us, so a lane swap wasn't an option for our team and we were stuck on the left side of the track. Knowing that we needed every ounce of performance possible to be competitive, we opted against dragging the brakes again to get the car off the starting line. Chase Copeland, however, decided to make a last-minute adjustment and move the car over to the right side of the groove on the starting line instead of lining up in Mia's tracks where she had troubles.
When the car was fired, it really cooperated with us on this run. The fuel trimming process was flawless and the vibrations in the cockpit disappeared and never returned (which kind of has us scratching our heads more than ever). Whether things just worked themselves out or not, we're not sure, but we'll be sending a bunch of parts out to get recertified over the winter and we'll be having things rebalanced just in case. We've also made it a priority to make sure we get the headers on the car fixed up over the offseason so that we don't have to deal with having to wipe them down every run on the starting line moving forward.
The race itself was kind of eerie. When the tree flashed, I actually didn't immediately focus my attention directly down track like I always do. Rather, I kept my eyes on the tree until I saw the green. Between being so amped up and then also having the thought in the back of my mind that I red lit by -.014 in Q2 from being staged deeper than usual, I wanted to make sure that I didn't jump the gun. When I saw the race was on, though, the run felt like it took longer than the 2014 final round in Charlotte when I was waiting for Brandon Booher to drive around me.
We got to 60', didn't see him. We got to 330', I looked again and he wasn't there. Half-track…I thought for sure he had to be coming on strong. Still nothing. At that point I started to wonder if maybe we could actually pull this thing off. Usually around 800 feet I'm reaching for the parachutes and I generally have a good feeling on whether or not we're going to win the race. I couldn't see him, but I could hear him, and the lead felt unsafe all the way through the lights.
But on that day, he never came into my vision and we did what many thought was improbable. We turned on the win light against one of the most feared driver/car combos in the class in our first National Event as car owners.
Now, let's set the record straight on something. As we mentioned in our post-race press release, Alan Reinhart's "it's a right place, at the right time kind of sport" analogy proved itself true once again. Our 5.446 was a tick better than the previous best run on the car for us, but it would not hold a candle to any of the previous runs Justin made during that weekend; especially not compared to what his car is capable of doing any time it pulls to the starting line. Flat out, we caught a break when he dropped two cylinders.
But, the fact of the matter is that we were given an opportunity to win the race when that happened, and we had to be prepared to capitalize if given the chance. For being so early in our careers as team owners, I'm proud that our team was able to seize the moment when it presented itself. That win light was a monumental accomplishment for us. As you can see in the video, my reaction in the car after the finish line goes to show that it was quite emotional as well.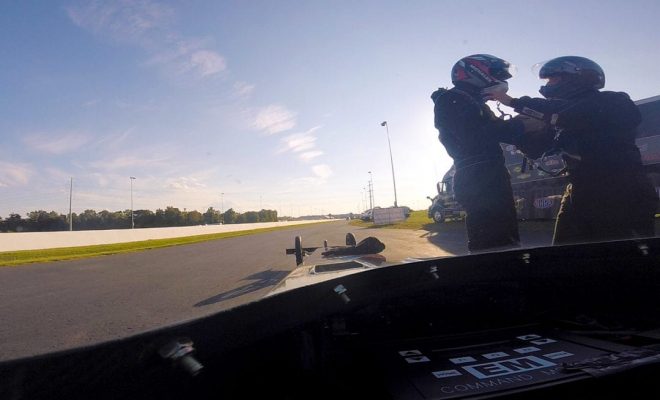 There was a great exchange at the top end after Justin and I each got out of our cars and said congrats to one another. I left the clip of the conversation out of the video because it was a private moment between two competitors, but I have a lot of respect for Justin and the way that he handles himself on and off the track. He's going to be a lot of fun to race with in the coming years and we'll need to continue finding performance if we plan to have any future success against him and his team.
But for the sake of this story, we were on to Sunday.
Check out Part 5 as Corey Michalek goes into round 2 of eliminations on Sunday with lane choice over Brandon Greco in one of the closest races of the weekend.