Ohio's Corey Michalek, 27, was barely interested in drag racing when he went to his first race with brother Kyle, 30, and their dad, John, to help IHRA Alcohol Funny Car great Mark Thomas. It was a promise to go after the race to Cedar Point, an amusement park famous for its "Top Thrill Dragster" ride, that truly enticed Corey. While his dad and brother wrenched on Thomas' Ethanol-branded flopper, Corey shot and produced videos of the action for Thomas to use in sponsorship meetings and speaking engagements. The experience proved to be priceless in Michalek's professional life and racing career.
Michalek, who now works as an associate creative director with clients like Nike and Derek Jeter's The Player's Tribune, went on to win the 2007 IHRA Alcohol Funny Car world championship as a crew member for Thomas. When Thomas retired, Michalek moved on to Pat Dakin's part-time Top Fuel effort, once again working alongside his brother, Kyle.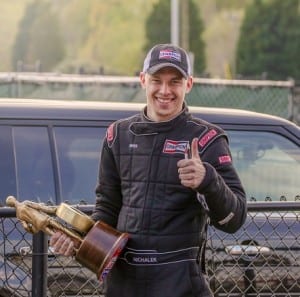 "Drag racing is a lot of fun first and foremost and it's something that we enjoy doing, especially being able to go out and compete," Michalek said. "It's been a way also for not only my brother and I to spend time together, but it's become this whole family affair. A lot of my family has never been to a drag race before we got involved with it. With everyone spread out across the country and doing a million different things, it's the one thing now that is consistently able to bring people together, so there's a greater purpose to the sport for us. Yes, we get to go out and compete and 'chase the dream,' but one of the greatest benefits is to be able to bring people together and get to do it with our family."
Michalek used his video production skills to create a video and campaign for Champion Spark Plugs' inaugural "Search for a Champion" contest. His two-minute video was ultimately voted the winner by Federal-Mogul executives and thousands of fans, netting the brothers a $50,000 sponsorship that they used to make the step up to NHRA Top Alcohol Dragster competition. Corey and Kyle both earned A/Fuel dragster licenses and took turns driving Jared and Randy Dreher's car at races in the Midwest. When he made his national-event debut at the 2014 Four-Wide Nationals, Corey got the attention of the class when he used consistently quick lights to race past frontrunners Randy Meyer, Bill Reichert and Brandon Booher to win the race.
"That was unexpected. We went into that race with high expectations, but high expectations for the first time are usually to qualify and not screw anything up. The way that that whole weekend played out was crazy," said Michalek, who also reached the final round at Norwalk, Ohio, later this year. "The car was running low 5.3s throughout eliminations. We caught some breaks along the way, too. It was a surreal weekend, something that we still talk about and I think we'll be talking about for a long time to come."
Michalek is now tackling perhaps his most daunting project yet, as he and Kyle purchased their own A/Fuel dragster over the summer. The brothers plan on running a limited schedule of regional and national events as they adjust to the challenges of fielding their own car.
Photographs by David Smith/Pro Sportsman Association
This story originally appeared in Drag Illustrated Issue 104, the Tomorrow Issue, in October of 2015.