Imagine a time when millions of Americans are tuned into a major television network to watch live coverage of the NHRA Mello Yello Drag Racing Series – a sport once relegated to 1AM timeslots and the occasional primetime billing on a sporting network's secondary channel. Now, think of an eighth-mile drag race in rural Georgia where a standing-room-only crowd numbering in the tens-of-thousands has gathered to witness drivers of radial tire-equipped cars dip well into the three-second zone at over 200mph while competing for a $50,000 winner's purse. Finally, picture a group of underground street racers from the Midwest as the hottest stars in reality television.
Such notions would be laughed at as recently as the turn of the decade, but they are all just a glimpse at the current state of drag racing in 2016. The NHRA "Western Swing" and prestigious U.S. Nationals were broadcast live on FOX this summer for the first time in history – a monumental achievement for the sanctioning body under the direction of new president Peter Clifford. Promoter Donald "Duck" Long literally shut down major highways with his Lights Out 7 event at South Georgia Motorsports Park in February, where about 450 on-the-edge, small-tired race cars battled for prize money that was previously unheard of in the drag radial world. Now in production for its eighth season, Discovery's STREET OUTLAWS show and its stars have created controversy and attracted legions of fans as they undoubtedly leave their mark on the industry. Top Fuel dragsters and Funny Cars are eclipsing speed records that were set when the nitro-gulping machines were still racing to 1,320-feet, and eighth-mile Pro Mods are now capable of performances in the 3.4-second, 230 mile per hour range. It's truly a captivating and important time for the sport.
Through a series of face-to-face interviews, DRAG ILLUSTRATED gathered opinions from five of professional drag racing's most powerful, prominent and popular figures to get a look at the state of drag racing from the inside. The panelists represent several different backgrounds and disciplines – from Alan Johnson's reserved stance as an elite Top Fuel crew chief and manufacturer to the driven nature of Leah Pritchett during her ongoing quest to find a major backer. Pro Nitrous superstar driver and owner Steve "Stevie Fast" Jackson tackles the topics with the signature tell-it-like-it-is, no-punches-pulled style of a proven grudge racer. As an original outlaw Pro Mod heavyweight and quiet co-founder-slash-owner of the Professional Drag Racers Association (PDRA), Jason Scruggs comments on the series' tumultuous season and what they're doing to improve in the future. Finally, NHRA Funny Car pilot Ron Capps provides insight from his standpoint as one of the sport's few textbook "professional drag racers", revealing how his corporate sponsors feel about the future of NHRA drag racing.
Part 4: Ron Capps
While there are always issues facing the sport of drag racing at any given time, here at the midway point of the season a large majority of racers, promoters and fans seem to be in high spirits. Where do you stand on the health and wellness of drag racing heading the heat of summer in 2016?
RON CAPPS: It's been unbelievable. The changes that Peter Clifford and his team have made have really raised some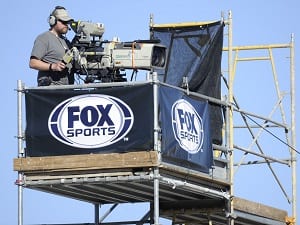 eyebrows – especially with sponsors – and not just the deal with FOX. I know with NAPA they were a little unsure about what all was happening – this was the first year we didn't shoot a new commercial. But I know talking to the guys at corporate – they're already working on 2017 based on what they've seen from the new TV show and the viewership numbers thus far. They're more than pleased. We've had several sellouts this year, and you never heard about that before this year. FOX Sports 1 has re-aired a lot of our races during the week, and I'm regularly getting calls and texts from people wondering why I'm racing in the middle of the week and I have to explain that it's a replay. But, to them, it's up on the TV at the bar or grill or whatever, and, man, that is huge. I can't stress it enough. We recently had the preliminary bouts of the biggest mixed martial arts event in history – UFC 200 – lead into NHRA Championship Drag Racing. It's unbelievable, and it's incredible to think of how many new people were introduced to our sport in that instance alone.
The people we've assembled for our 2016 State of Drag roundtable all come from different backgrounds and segments of the racing industry, but it's undeniable that the NHRA is the face of our sport and the organization's new president, Peter Clifford, has a full year under his belt with considerable praise and admiration. What are your thoughts on Clifford's first year in office and the future of our sport in his hands?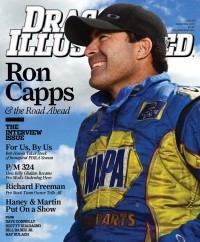 RC: First off, I'm a little unique in the fact that this is all I've ever done for a living. I don't have a business on the side or at home. Thanks to our sport, I own a house and a car and, I mean, legitimately make a living in the sport of drag racing. If you would have told me that when I was 20-years-old, I would have laughed at you. Having driven for Don Prudhomme for 9 years before joining Don Schumacher's team, I've had the opportunity to see how two completely different owners go about things. 'Snake' was that same way – he didn't have another business, drag racing was everything for him. Don [Schumacher], on the other hand, he's a businessman with an extreme passion for racing. He has a very large company away from drag racing – several of them across the world, actually, that he has to keep his fingers on. To think that he does that along with run as many as 8 pro-level NHRA teams and to know that I can call him anytime and he'll answer – it's pretty incredible.
So, these last few months where you can really see drag racing growing – visibly – under Peter Clifford has been rewarding on a multitude of levels. The last few years, honestly, I spent a lot of time worrying because I didn't want to have to go find a real job. With 'Snake' and with Don, I've never had to bring a sponsor. I've never had to go out and beat the brush like that, thankfully, and I've had the opportunity to represent these Fortune 500 companies, so watching what was happening prior to Peter taking over – it worried me a lot. These days, I feel much more comfortable. Just these last few months, the amount of times I've gotten recognized away from the race track – even without a stitch of racing gear on – has shown me that more people are seeing our sport.
Spectator attendance – from national events to regional and outlaw events – seems to be on the rise in 2016. For instance, NHRA reported a 20% increase in advance ticket sales for their event in Englishtown, as well as sellouts in Gainesville and Atlanta. Donald Long's radial shootout in February was quite-literally overcapacity. Do you see the fan attendance trending the right direction?
RC: Absolutely. I get to spend a lot of time with the NASCAR guys and the IndyCar guys having done that dirt track race for all those years. It really gave me a sense of where our sport was and how it was perceived by these other sports that are involved in NASCAR and IndyCar at the time, and right now it's the best it's ever been. In the past, I always kinda felt like I had to do a little grandstanding and try to talk up our sport – especially when you're racing with Tony Stewart and all those guys. I had to try and make drag racing seem a little more legitimate for some reason. I really shouldn't have had to feel that way, but I know that's not how I feel anymore. It just feels like we've become a little bit more mainstream, and just wait until we're racing live on FOX on a Sunday afternoon. That's going to be a game changer.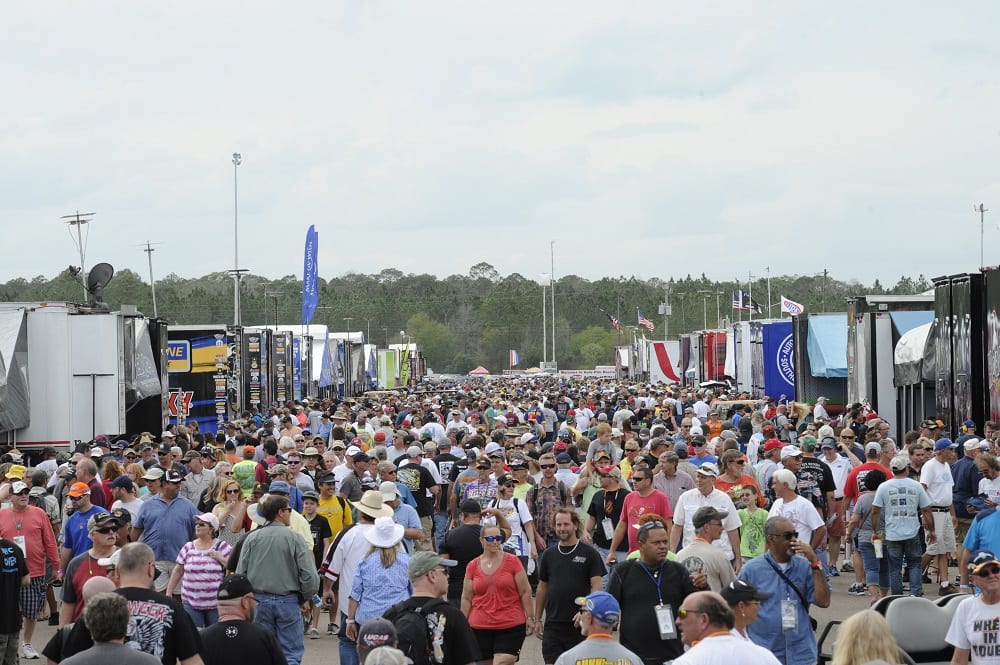 Where do you think drag racing stands, currently, as a marketing platform for corporate America? Be it individual team sponsorship, event sponsorship or series involvement – do you think the value or return on investment as a drag racing sponsor is increasing?
RC: I think the value has been there, but it's getting better. All motorsports series have faced issues in recent years, but I was consistently surprised that – even during the recession – we never had the big drop like other sports did, and I attribute it almost entirely to the accessibility. Listen, if I'm not a racer and I'm just a fan and I'm going to spend three- or four-hundred dollars on a weekend with my family, I'm going to take them to a drag race. For the amount of money you're going to spend, you can't go anywhere else and meet every player, hang out behind-the-scenes, get autographs and pictures before and after they play – the level of interaction is unreal. If we want to be rock stars like NASCAR drivers, all we would have to do is cut off the access to the pits. That's why it's such a big deal to see Jimmy Johnson or Dale Earnhardt Jr. – you don't ever see them. If they were always readily available, it wouldn't be a big deal. That would probably take our sport about three levels up in perception, but I hope they never do. Kenny Bernstein used to say it at our PRO [Professional Racers Organization] meetings and I get it now – we're never going to be NASCAR, so we don't need to try.
Amongst the many debatable topics in 2016, track prep – abundance of, lack of, or consistency of – has been largely at the forefront. Where do you stand on the preparation of drag strips in 2016? Have we reached a fair consistency on the NHRA level? Has class-specific prep become an issue? Do you have an opinion on the growing popularity of no-prep racing?
RC: It's great in our deal here. I think there are times when it could or should have been a little bit better for the conditions, but I think overall it's great. I think sometimes we get caught up in the rush for things like live TV and we don't do things the way we normally do – and I'm mainly talking about dragging and spraying. I think the process gets changed every so often, and it's no coincidence that cars will start going up in smoke. I'm not sure they are aware of what that does to these crew chiefs. I'd say 99-percent of the time the prep is great. I've been fortunate to get to do a lot of Nostalgia Funny Car racing at a lot of tracks that we don't go to on the NHRA tour and I think that's when I really realize just how spoiled we are by the NHRA Safety Safari.
At this point in 2016 we have 330-plus MPH nitro cars on the 1,000-foot, 5.7-second, 260mph Pro Mods, 3.4-second, 220mph Outlaw Pro Mods and 210mph eighth-mile street cars. Generally speaking, what is your opinion on the incredible performance of today's top race cars? Natural evolution of the sport? Out of control? Good? Bad?
RC: Considering all that we've seen in recent weeks and months in terms of the performance of Nitro Funny Cars, specifically, that's a great question. I guess in the last few weeks some teams have complained about the Funny Car headers being laid back, and they're claiming it's unsafe and that NHRA needed to step in and do something about it. Of course, it's just some of the teams that ran real well last year during The Countdown, which none of us complained about, that are now struggling to run at the front. They're talking about the cars being more difficult to drive and being unsafe. After Hagan went 335mph in Topeka they hit us with a couple things – more rev limiter and ignition timing. You can't put timing back into the engine at a certain point that is more than what it was at that time of the run. In other words, they're definitely trying to slow us down right now.
Honestly, we love to go fast, and we've got the best racing that we've seen in decades, not just years. I believe they will slow us down a little bit, but I don't want NHRA to have so many static rules on things that nothing is left to the imagination of these crew chiefs. More than anything, I don't want to see rule changes made in the name of safety when it's really about competition amongst all these great teams. Don't get me wrong, it's a compliment to hear these guys complaining because of what we're doing and, yeah, we're melting some decals off the side of the car, but we have the same set of headers on that all these other teams have.
I've had bad days at the track. Last year in St. Louis, I crossed the center line, took out cones, went through the gate, almost ran a guy over because I didn't want to go in the sand trap – one of the hardest weekends I've ever had as a driver. It's not that I couldn't drive, and I certainly didn't want to slow the car down to make it easier to drive. I wanted to be able to drive a car that was on the edge of being out of control. I just don't want to see these crew chiefs handcuffed completely.
Where do you stand on the level of safety in drag racing in 2016? The sport has, obviously, come a tremendous way since the early days. Where would you like to see improvements or increased focus as we move forward?
RC: Overall, it's great and it's come a long way, thankfully. It would be an injustice not to learn from the bad accidents that we've seen and the deaths we've had. Alan Johnson's younger brother Blaine is a great example. I grew up with both of those guys. I was close to Blaine, and I watched it happened – standing behind the car when he took off. Thank God, we learned from that tragedy, as we have with many others, and I think that's the key – to not let these things be overlooked or to let these thing come in vain. I was there when Eric Medlen's accident happened, and while that was a weird, strange, perfect storm situation that took Eric from us, but we learned a lot from it. I was sitting in my car the other day, looking at all the things that have changed over the years and I had to take a second and, literally, thank Eric for it. I know it saved John Force's life – I'm sure of it. So, anyway, those big accidents – you have to believe we're learning from them.
One thing that irritates me when people talk about going back to the quarter-mile is Scott Kalitta's incident, and you don't want to bring that card out, but sometimes I want to grab somebody by their neck and remind them of why exactly we race to 1,000-foot. I know Scott's death saved a lot of lives in the years following. You look back at my explosion a few years ago in Pomona – my helmet, all scared up and marked up, sits on my son's nightstand. It knocked me out. The car was rolling straight, almost to a stop, didn't hit anything, and didn't go off the track. The 'chutes came out on their own, the fuel went off, and everything that guys were complaining about when NHRA came out with all these safety mandates with the shutoff devices and electronics worked to perfection, and if they hadn't I probably would have been hurt real bad, if not killed. But, man, overall, we go 330mph and we're safer than any other motorsport, and we go 100mph faster than most of them.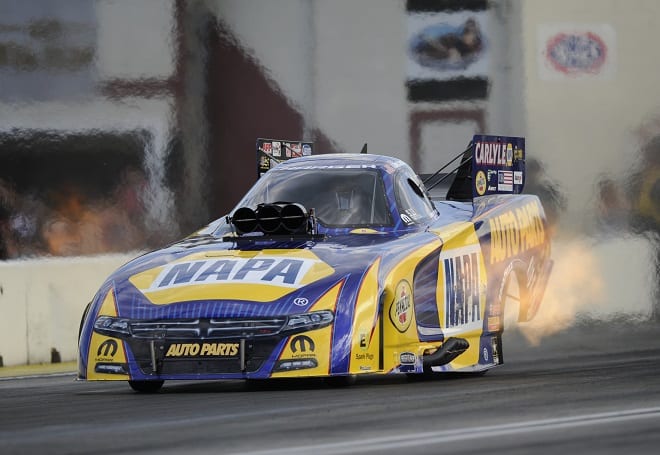 A significant storyline in recent years has been the popularity of Discovery Channel's reality television show STREET OUTLAWS, which is in production for its 8th season. The drag racing community is clearly torn as to the show's impact on drag racing – be it positive or negative – but the show's tremendous viewership (three-million-plus weekly) is undeniable. Where do you stand on the matter?
RC: We've had those guys hang out in our pit area and, honestly, it's so taboo nowadays that to even talk about it is tough. I should probably be careful. When I was younger, the stupid kid in me – when I was first hopping cars up and all the money I made went straight into my street car – we would roll outside of town to a desolate black top and test our cars. We wouldn't race, but that was dumb enough. They're a big deal, though, and it's undeniable. The viewership is so huge with that show. I appreciate seeing fast cars on television, so I do watch from time to time, but there's no comparison really to what we're doing and what they're doing. You can't deny the popularity of it, but I don't really think it brings any to our sport and I don't think it takes anything away. 'Big Chief' came out to one of our races a few years ago and the other guy with the truck, and there were fans screaming at them like they were Dale Earnhardt Jr. – it's just so popular. It's a reality show, but it's about as real as the Brady Bunch was, to be honest with you.
Photographs by NHRA Media
This is an excerpt of a story that originally appeared in Drag Illustrated Issue No. 111, the State of Drag Issue, in June of 2016.