Imagine a time when millions of Americans are tuned into a major television network to watch live coverage of the NHRA Mello Yello Drag Racing Series – a sport once relegated to 1AM timeslots and the occasional primetime billing on a sporting network's secondary channel. Now, think of an eighth-mile drag race in rural Georgia where a standing-room-only crowd numbering in the tens-of-thousands has gathered to witness drivers of radial tire-equipped cars dip well into the three-second zone at over 200mph while competing for a $50,000 winner's purse. Finally, picture a group of underground street racers from the Midwest as the hottest stars in reality television.
Such notions would be laughed at as recently as the turn of the decade, but they are all just a glimpse at the current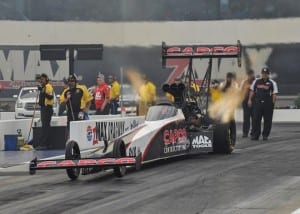 state of drag racing in 2016. The NHRA "Western Swing" and prestigious U.S. Nationals were broadcast live on FOX this summer for the first time in history – a monumental achievement for the sanctioning body under the direction of new president Peter Clifford. Promoter Donald "Duck" Long literally shut down major highways with his Lights Out 7 event at South Georgia Motorsports Park in February, where about 450 on-the-edge, small-tired race cars battled for prize money that was previously unheard of in the drag radial world. Now in production for its eighth season, Discovery's STREET OUTLAWS show and its stars have created controversy and attracted legions of fans as they undoubtedly leave their mark on the industry. Top Fuel dragsters and Funny Cars are eclipsing speed records that were set when the nitro-gulping machines were still racing to 1,320-feet, and eighth-mile Pro Mods are now capable of performances in the 3.4-second, 230 mile per hour range. It's truly a captivating and important time for the sport.
Through a series of face-to-face interviews, DRAG ILLUSTRATED gathered opinions from five of professional drag racing's most powerful, prominent and popular figures to get a look at the state of drag racing from the inside. The panelists represent several different backgrounds and disciplines – from Alan Johnson's reserved stance as an elite Top Fuel crew chief and manufacturer to the driven nature of Leah Pritchett during her ongoing quest to find a major backer. Pro Nitrous superstar driver and owner Steve "Stevie Fast" Jackson tackles the topics with the signature tell-it-like-it-is, no-punches-pulled style of a proven grudge racer. As an original outlaw Pro Mod heavyweight and quiet co-founder-slash-owner of the Professional Drag Racers Association (PDRA), Jason Scruggs comments on the series' tumultuous season and what they're doing to improve in the future. Finally, NHRA Funny Car pilot Ron Capps provides insight from his standpoint as one of the sport's few textbook "professional drag racers", revealing how his corporate sponsors feel about the future of NHRA drag racing.
Part 1: Alan Johnson
While there are always issues facing the sport of drag racing at any given time, here at the midway point of the season a large majority of racers, promoters and fans seem to be in high spirits. Where do you stand on the health and wellness of drag racing heading the heat of summer in 2016?
ALAN JOHNSON: Well, I think our sport's always been strong. Even during the recession we maintained a good presence; we didn't lose nearly as much as some other sports did. We have a great product – a product that kind of sells itself to some extent. This year with our improved television package with FOX, our viewership is way up. And, over time, the more people that are exposed to drag racing the more people are going to love it. I haven't had many instances where someone came out to the track for the first time and said, ' Well, turns out I can't stand drag racing.' They're always, 'Well, I love this! This is great! I didn't even know this existed!' Right?
The people we've assembled for our 2016 State of Drag roundtable all come from different backgrounds and segments of the racing industry, but it's undeniable that the NHRA is the face of our sport and the organization's new president, Peter Clifford, has a full year under his belt with considerable praise and admiration. What are your thoughts on Clifford's first year in office and the future of our sport in his hands?
AJ: I respect Peter and I really applaud his aggressive approach to making the changes they have felt are needed. He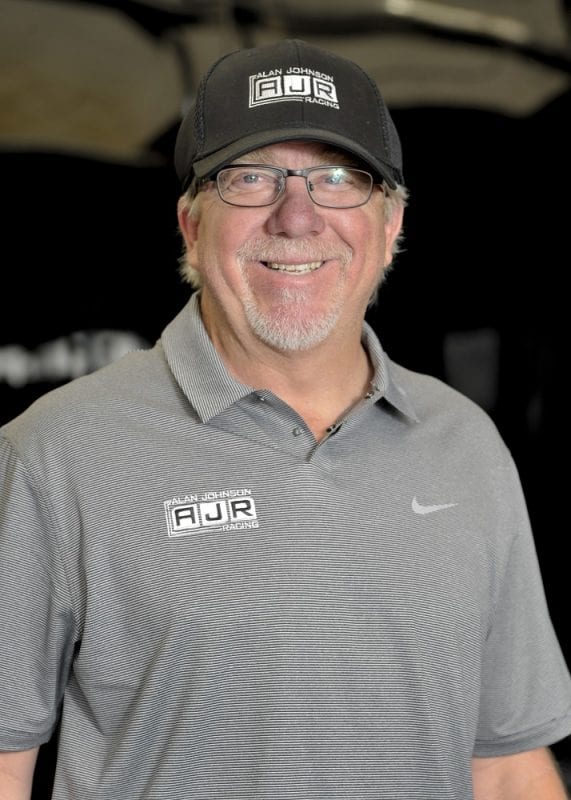 has invested a lot of energy into this, and I think his vision is good. We've created a new relationship between the professional racers and NHRA – partly us reaching out to them – but they're open to us. Now, they're to be transparent with us because we're all in this thing together. We have three partners: NHRA, the professional racers and the track operators. So, it's a three-way partnership and I think that's becoming strengthened through Peter's efforts – it's all positive.
Spectator attendance – from national events to regional and outlaw events – seems to be on the rise in 2016. For instance, NHRA reported a 20% increase in advance ticket sales for their event in Englishtown, as well as sellouts in Gainesville and Atlanta. Donald Long's radial shootout in February was quite-literally overcapacity. Do you see the fan attendance trending the right direction?
AJ: I think some of that is probably based on television, that exposure that we talked about, and some of it is just based on the weather. Weather has such a large influence on our sport and attendance. If the weather's good, you can generally count on good attendance. If the weather's bad, you can count on bad attendance. When fans are making their plans and they're looking at the weather report and it's showing that there's a chance of rain every day through the weekend, they're probably not going to make their plans around going to the drag race – they're going to wait till next year or whatever. The weather has such a big influence – it's hard to get by it – and it's something we'll always have. But when the weather is good and we have this increased fan interest, whether it comes through television or other marketing avenues, I think it's really going to pay off – especially in the months and years to come.
Where do you think drag racing stands, currently, as a marketing platform for corporate America? Be it individual team sponsorship, event sponsorship or series involvement – do you think the value or return on investment as a drag racing sponsor is increasing?
AJ: Well, that gets a little bit deeper because there are so many places for corporations to spend their advertising dollars right now. You've got companies that utilize highly targeted advertising through social media – directly targeting the customer they want – versus out here where it's kind of a shotgun thing where we're after this entire 18 to 49 demographic. And although we're really strong with that, it's still that entire demographic versus a direct marketing strategy. So, we have a little bit of uphill battle there because I think we're a little bit behind in the social media realm. But the NHRA and its teams are focused on that, and I think eventually we'll get caught up. I'm genuinely excited about where we're headed.
Amongst the many debatable topics in 2016, track prep – abundance of, lack of, or consistency of – has been largely at the forefront. Where do you stand on the preparation of drag strips in 2016? Have we reached a fair consistency on the NHRA level? Has class-specific prep become an issue? Do you have an opinion on the growing popularity of no-prep racing?
AJ: There could be too much track prep in certain circumstances, although NHRA does a really good job of avoiding
that. Inconsistency in track prep – there's a number of other factors that can cause that. When we go some place where we're going to see temperatures in the nineties with no cloud cover whatsoever – you're going to have a hot racetrack and it doesn't matter how hard the NHRA track prep staff works, you can only fix it to a certain extent. So, you're stuck with that and you can complain and bitch all you want about the track prep when a track's 135-degrees, but let's be honest, you can only make it so good. Put lipstick on a pig, it's still a pig. NHRA's done a great job in their track prep and their consistency with it. And you might get some pushback on that from certain individuals, but I think as a whole, they've done a really good job and you see that in numbers. We ran on 122-degree racetrack in Charlotte this year and ran 3.74. Those are numbers that you wouldn't even dream about 5-years ago or even two-years ago, and that's just a compliment to NHRA.
At this point in 2016 we have 330-plus MPH nitro cars on the 1,000-foot, 5.7-second, 260mph Pro Mods, 3.4-second, 220mph Outlaw Pro Mods and 210mph eighth-mile street cars. Generally speaking, what is your opinion on the incredible performance of today's top race cars? Natural evolution of the sport? Out of control? Good? Bad?
AJ: For Top Fuel and Funny Car – I don't have much to comment on the other classes – it's something that we are constantly addressing. I think the main focus for us it the cost that it takes to produce those numbers. I don't think we're in an area where it's not safe, but the cost that it takes to perform those numbers – when that outweighs what we can charge a sponsor for the exposure that they receive from it we have to address it. That's an important balance. We're constantly discussing our options.
Where do you stand on the level of safety in drag racing in 2016? The sport has, obviously, come a tremendous way since the early days. Where would you like to see improvements or increased focus as we move forward?
AJ: Well, it's kind of difficult to project what might happen. Even though NHRA's done a really good job of being proactive on things, there's always something out there that might happen where you have to be reactive, but I think our record speaks for itself. It's very safe. As many cars go up and down the drag race on a weekend or even in a year, the injuries that have resulted are very minimal. So, overall, the sport is really, really safe. Of course, anything that comes up – we're the first ones to address it.
A significant storyline in recent years has been the popularity of Discovery Channel's reality television show STREET OUTLAWS, which is in production for its 8th season. The drag racing community is clearly torn as to the show's impact on drag racing – be it positive or negative – but the show's tremendous viewership (three-million-plus weekly) is undeniable. Where do you stand on the matter?
AJ: I have so much going on in my life that I don't spend a lot of time even thinking or talking or watching reality television about street racing. I think NHRA is founded on safety for the most part, and that's counterproductive to illegal street racing, so there's probably some conflict there. Other than that, I don't have much of an opinion.