Imagine a time when millions of Americans are tuned into a major television network to watch live coverage of the NHRA Mello Yello Drag Racing Series – a sport once relegated to 1AM timeslots and the occasional primetime billing on a sporting network's secondary channel. Now, think of an eighth-mile drag race in rural Georgia where a standing-room-only crowd numbering in the tens-of-thousands has gathered to witness drivers of radial tire-equipped cars dip well into the three-second zone at over 200mph while competing for a $50,000 winner's purse. Finally, picture a group of underground street racers from the Midwest as the hottest stars in reality television.
Such notions would be laughed at as recently as the turn of the decade, but they are all just a glimpse at the current state of drag racing in 2016. The NHRA "Western Swing" and prestigious U.S. Nationals were broadcast live on FOX this summer for the first time in history – a monumental achievement for the sanctioning body under the direction of new president Peter Clifford. Promoter Donald "Duck" Long literally shut down major highways with his Lights Out 7 event at South Georgia Motorsports Park in February, where about 450 on-the-edge, small-tired race cars battled for prize money that was previously unheard of in the drag radial world. Now in production for its eighth season, Discovery's STREET OUTLAWS show and its stars have created controversy and attracted legions of fans as they undoubtedly leave their mark on the industry. Top Fuel dragsters and Funny Cars are eclipsing speed records that were set when the nitro-gulping machines were still racing to 1,320-feet, and eighth-mile Pro Mods are now capable of performances in the 3.4-second, 230 mile per hour range. It's truly a captivating and important time for the sport.
Through a series of face-to-face interviews, DRAG ILLUSTRATED gathered opinions from five of professional drag racing's most powerful, prominent and popular figures to get a look at the state of drag racing from the inside. The panelists represent several different backgrounds and disciplines – from Alan Johnson's reserved stance as an elite Top Fuel crew chief and manufacturer to the driven nature of Leah Pritchett during her ongoing quest to find a major backer. Pro Nitrous superstar driver and owner Steve "Stevie Fast" Jackson tackles the topics with the signature tell-it-like-it-is, no-punches-pulled style of a proven grudge racer. As an original outlaw Pro Mod heavyweight and quiet co-founder-slash-owner of the Professional Drag Racers Association (PDRA), Jason Scruggs comments on the series' tumultuous season and what they're doing to improve in the future. Finally, NHRA Funny Car pilot Ron Capps provides insight from his standpoint as one of the sport's few textbook "professional drag racers", revealing how his corporate sponsors feel about the future of NHRA drag racing.
Part 3: Leah Pritchett
While there are always issues facing the sport of drag racing at any given time, here at the midway point of the season a large majority of racers, promoters and fans seem to be in high spirits. Where do you stand on the health and wellness of drag racing heading the heat of summer in 2016?
LEAH PRITCHETT: I believe it's growing exponentially due to a lot of factors. I'm not sure that it was entirely purposeful that it's all coming together at the same time, but I think there are a lot of different positive forces that are helping move the sport in the right direction. On the NHRA side of things, FOX has been a huge contributing factor, as well as the upper management at NHRA finally being open to input from racers, team owners and fans. Honestly, from a general health and interest perspective, I think you have to give the show STREET OUTLAWS some credit for getting people excited about fast cars and racing as a whole. I think the show has done a lot to attract a new fan base for drag racing. Like I said, intentional or not, drag racing's status in the sporting world is elevating right now, and it's a good thing.
The people we've assembled for our 2016 State of Drag roundtable all come from different backgrounds and segments of the racing industry, but it's undeniable that the NHRA is the face of our sport and the organization's new president, Peter Clifford, has a full year under his belt with considerable praise and admiration. What are your thoughts on Clifford's first year in office and the future of our sport in his hands?
LP: Given the tremendous pressure and heavy weight placed on his shoulders, I feel he's done a terrific job. Someone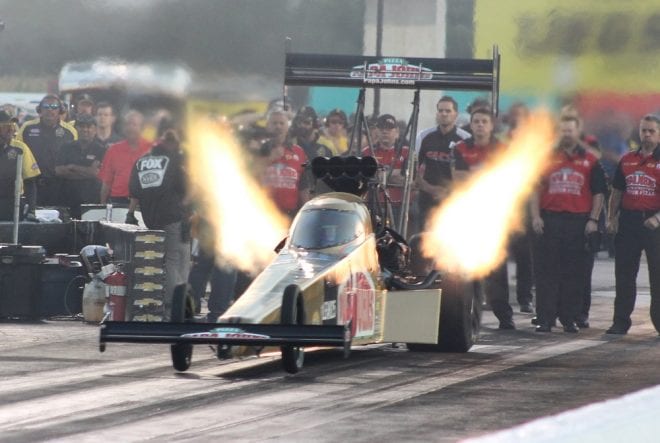 in that position isn't going to please everyone, but he has to look at what's best for the sport, for team owners, tracks, and the fans. Every decision he makes is going to have a positive and probably negative effect somewhere along the line. You can go back to the college studies – the greatest good for the greatest number of people, or the greatest good for one. From the outside looking in, I think he's focused on the big picture and what needs to happen to grow. He's maintaining the integrity and spirit of the NHRA, while at the same time trying to meet the demands and expectations of society today. NHRA All-Access, inviting 'Big Chief' out to the races, not totally shunning other series and parts of the sport – Peter Clifford is doing a good job. I've had a couple interactions with him in this last year and it's been great, and that's important to me. I may technically be a professional racer, but I'm still a fan standing outside the ropes at heart. For him to listen to my opinion on certain topics – whether he's even listening or not – is a big deal to me.
Spectator attendance – from national events to regional and outlaw events – seems to be on the rise in 2016. For instance, NHRA reported a 20% increase in advance ticket sales for their event in Englishtown, as well as sellouts in Gainesville and Atlanta. Donald Long's radial shootout in February was quite-literally overcapacity. Do you see the fan attendance trending the right direction?
LP: I believe our spectator base is growing, but I'm genuinely concerned with car counts. That's something that I've been working on – trying to change the rules from only allowing owners to field four cars in each category and trying to address the cost that is involved with running these cars. I'm seeing the growth firsthand, though, because I'm hearing more people than ever tell me it's their first time at a drag race. I've been out here for so long, and I swear I've never heard it so much.
Where do you think drag racing stands, currently, as a marketing platform for corporate America? Be it individual team sponsorship, event sponsorship or series involvement – do you think the value or return on investment as a drag racing sponsor is increasing?
LP: I have a lot of thoughts on drag racing's marketability in the corporate world. For one – and someone like me shouldn't be saying this – but for a long amount of time, the dollars we asked for from sponsors was based on the operational costs to run a team, and it shouldn't be that way. The number we ask for should be based on the media value and the value of the program we're able to offer. When we go out and ask for three-million-dollars or more and the exposure we're able to generate – specifically in years past when our TV coverage was subpar – does not match, well, you're not being a good partner. You need to come in with at least a three-to-one ratio. Your return-on-investment (ROI) needs to be three-to-one, and those are the kind of programs that I work on – creating projects, alliances, campaigns that provide the necessary ROI. I think Ron Capps and NAPA and Antron Brown and Matco Tools are perfect examples. Those relationships are so successful because they use it with their franchises to create more business.
I'm excited though because I definitely think that ROI is growing. That's why I'm not giving up because I finally see the growth that I believe will justify a pure sponsorship. As a driver, though, I think we all have to be doing our part to create our own personal brands that have value. Case in point, I've only been with Don Schumacher Racing for a few races now and he recently asked me why I'm always wearing a flat-bill hat, and I told him, 'Don, that's just who I am. I'm a SoCal girl, and I've always worn my hat that way.' I mean, if we're all out here looking the same, sounding the same, saying the same thing we're going to get the same results. I'm making an effort to put myself out there right now, and do things a little bit differently than they've been done in the past. We need change. We can't expect our sport to grow and change if we keep doing the same things over and over.
Amongst the many debatable topics in 2016, track prep – abundance of, lack of, or consistency of – has been largely at the forefront. Where do you stand on the preparation of drag strips in 2016? Have we reached a fair consistency on the NHRA level? Has class-specific prep become an issue? Do you have an opinion on the growing popularity of no-prep racing?
LP: I think this season in NHRA we've all gone through a little bit of change with the unfortunate passing of Mark Lyle. But I have to say that I feel like it's basically a non-issue. Every track we've been to so far has been a 'dual laner'. For me, the prep seems to have been very consistent and is one of the lesser issues we see in NHRA. I have to admit that I'm intrigued by the no-prep races and I'd like to see what that deal is like.
At this point in 2016 we have 330-plus MPH nitro cars on the 1,000-foot, 5.7-second, 260mph Pro Mods, 3.4-second, 220mph Outlaw Pro Mods and 210mph eighth-mile street cars. Generally speaking, what is your opinion on the incredible performance of today's top race cars? Natural evolution of the sport? Out of control? Good? Bad?
LP: I don't believe that any more limitations should be set on Pro Mods at all. That class is the epitome of extreme and hardcore drag racing – giving it all you've got and being creative. When you start putting unnecessary limitations on that, you're taking away from that class – no way around it. I get it with the speeds, but this is drag racing. We're all about going quicker and faster sooner than the next guy. I do not agree with the additional weight put on turbo cars in NHRA, nor do I agree with them decreasing boost. The weight is an issue because these cars need to stop – it's math. I've been in them and I see it.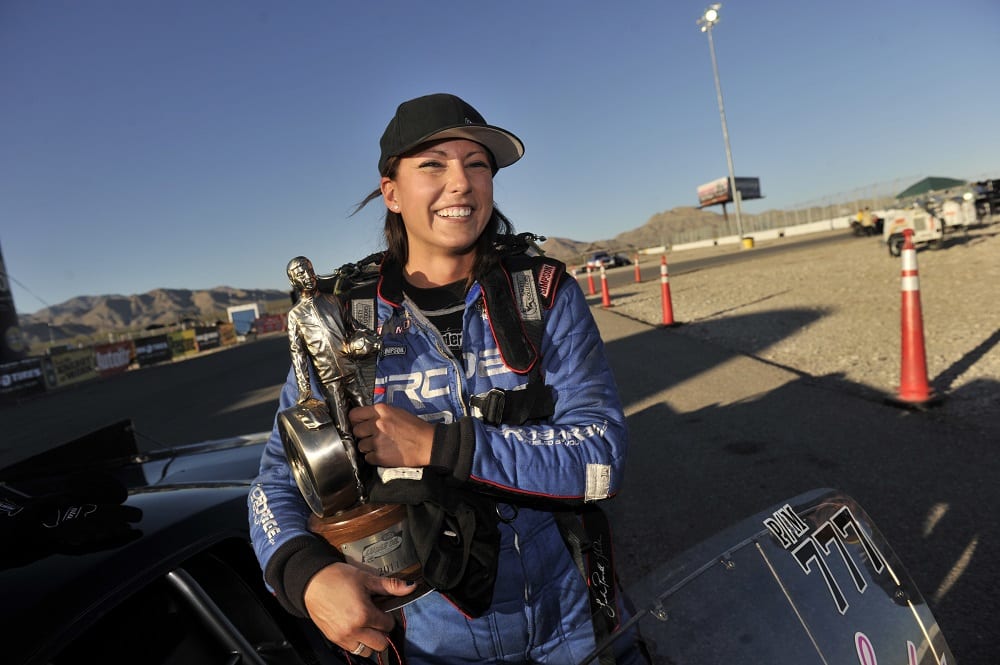 I don't know why NHRA hasn't let the Pro Mod series blow up to what everyone knows it could become, but I do think there are things in the works. Those cars are makin' bacon to the eighth-mile and I understand that in the quarter-mile there probably needs to be some limitations because of the limited down force that is available. The thing about Pro Mods, specifically, is actually kind of a rule that I've always had in those cars – you can make almost any move in a Pro Mod car before the eighth-mile and you can probably save the run. If you start driving the car past there, though, it's going to be disastrous. I'm really only speaking on Pro Mod here, but I just don't want to see one of our sport's most promising and exciting categories lose its spirit.
Where do you stand on the level of safety in drag racing in 2016? The sport has, obviously, come a tremendous way since the early days. Where would you like to see improvements or increased focus as we move forward?
LP: At the moment, driving four different cars this season in 12 races has made me particularly pay attention to how I fit in the car, my safety gear and everything from fuel shutoffs to switches on the pedal to parachute length to the automatic shutoff after the finish line. Those are all wonderful things. Are we missing something in safety? We're always missing something in safety. Unfortunately, you really don't figure that out until one of those one-in-a-trillion events happens. At the moment, I think NHRA has done a good job. I'm glad to see that non-NHRA racers, like no-prep racers, are taking safety more seriously, seeing the effects of what happens when you don't. From a chassis standpoint, I think a lot of people have more access to better built cars, especially in the Pro Mod category. I've been very fortunate to work with a lot of different teams and DSR is very passionate about safety. I guess it's difficult for me to see what we're missing with safety when we're looking at head pad clearances in quarter-of-an-inch measurements.
A significant storyline in recent years has been the popularity of Discovery Channel's reality television show STREET OUTLAWS, which is in production for its 8th season. The drag racing community is clearly torn as to the show's impact on drag racing – be it positive or negative – but the show's tremendous viewership (three-million-plus weekly) is undeniable. Where do you stand on the matter?
LP: My opinion of STREET OUTLAWS has definitely changed in the past couple of years. I remember watching my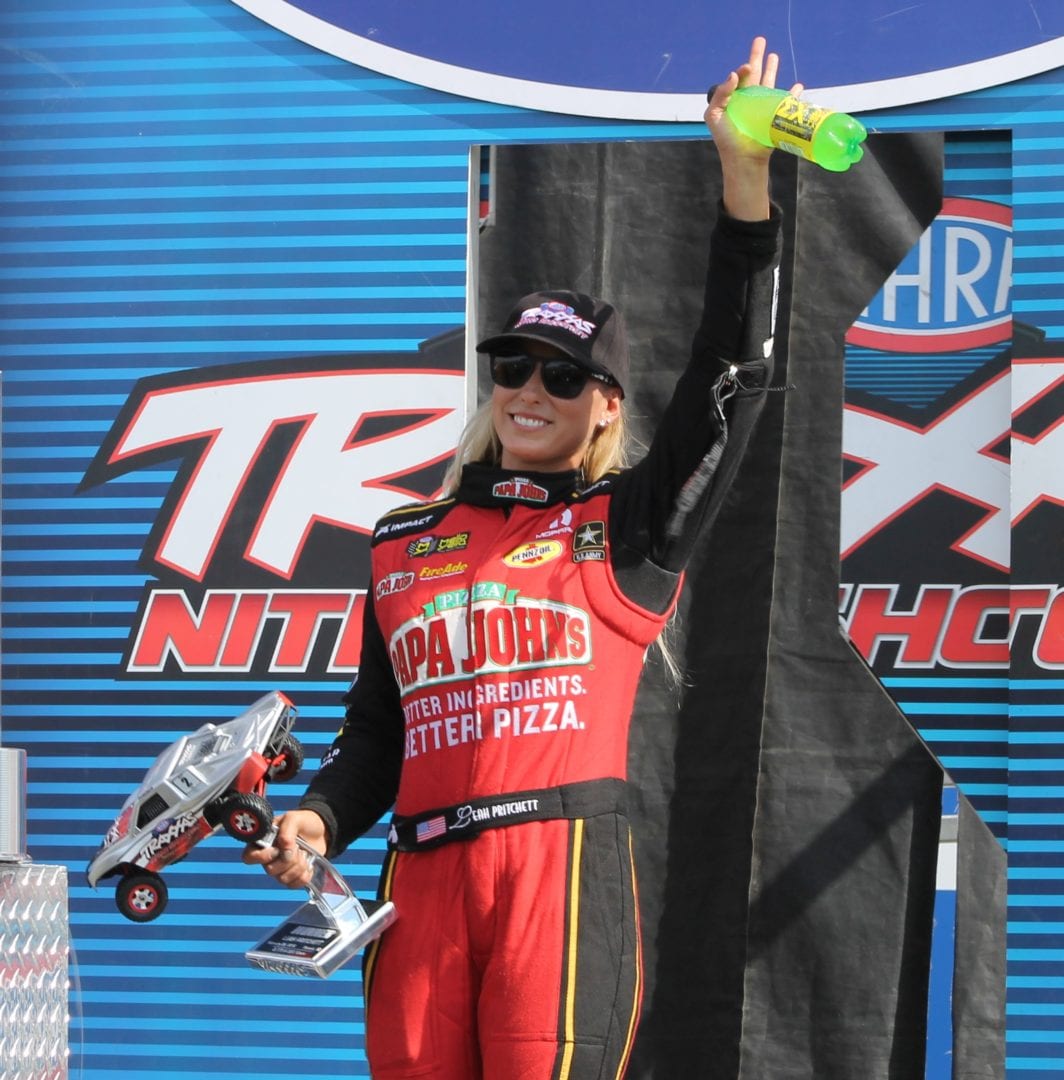 very first episode at home a couple years ago, thinking it was cool and wanting to tweet about it – just some random fact or something about the show with the hash tag. It was right around the time NHRA pulled their licenses. I thought, 'Wow, even my freedom is taken away that I probably can't even tweet about it without some negative repercussions.' That has probably flipped 180-degrees in part by NHRA allowing them to get their licenses and, for lack of better phrase, jumping on their bandwagon. They've opened their eyes and said, 'Hey, that's what's moving the needle. That's what people want to see. They're reaching people that we obviously can't reach. Let's work together.'
My opinion of them – and I've watched these last couple of seasons intensely because I think it's just one of the coolest shows – is that they have the same love and passion for winning as we do. No matter who you are, if you're playing baseball, basketball or volleyball, winning is winning. I get it. And going back to growing the sport of drag racing, I believe they have filled a void with some casual fans that may not have known NHRA existed or that drag racing existed. Now, do I agree with going out on the street and racing? Hell, no. I do think there is a lot to be learned from the way the stars of those shows interact with fans in the offseason and between shows, and NHRA should take a page out of their book on some of that – as well as NHRA drivers. There's way more going on than what happens at the racetrack.
Photographs by NHRA/National Dragster and Nate Van Wagnen
This story originally appeared in Drag Illustrated Issue No. 111, the State of Drag Issue, in June of 2016.