PDRA racers, crew members, race fans, media and marketing partners:
I want to formally introduce myself to you. My name is Tyler Crossnoe and I am extremely excited to be a part of the Professional Drag Racers Association in 2019 as your series director. Last season, it was an honor to be a small part of a large team that brought forth a competitive eight-race series that ended with the World Finals at Virginia Motorsports Park, where I was honored to be announced as track manager at VMP. Since that date, several things have changed within both organizations and things are coming together for the new year.
I am far from a public speaker and always hated writing stories growing up, so I will refrain from boring you with the details about myself. I've been extremely blessed with an amazing opportunity to come on board with this series and work for the owners, Tommy and Judy Franklin. Over the past three months, I've had the honor of getting to know this family and if there is one thing that they all love with their entire heart, it is the PDRA and all of you that are a part of this series. Being around a family like the Franklins has taught me a lot in just three months and seeing how much they care and want to see this series succeed has lit a fire deep inside me to do the best that I can do to make their visions become reality.
Over the past five years, I've had the honor of traveling to three different continents assisting in track preparation, facility consultation and more at over 135 drag racing facilities, creating several memories and experiences that I will cherish forever. Moving forward and putting the best foot forward, I am truly excited about the direction that the PDRA is headed and the picture in mind for the future.
As for 2019, most of the team is returning for the events along with some new and old faces. I am extremely excited to announce that Lonnie Grim has come on board to the series as the Competition and Technical Director, along with Paul Cartwright moving into a new position as assistant race director. Lonnie comes to the PDRA series after a stint with another organization, along with specialized one-off events, including LS Fest, Engine Masters Challenge, Roadkill Nights and even the event that one of my best friends and I own, the Outlaw Street Car Reunion. Lonnie has become a personal family friend that I've grown to have the utmost respect for and trust him with some of the most important aspects of my life. I feel that having his professional respect for others, along with his attention to detail in the competition and technical portions of the series will bring us into a new place to start the 2019 season.
Paul Cartwright and I have had a very detailed and successful past. A lot may not know this, but Paul gave me a job at Memphis International Raceway as the drag strip manager when I was 21 years old and just found out that my father was diagnosed with cancer. At the same time, Paul's lovely wife was going through a fight of her own, yet they both continued to support and encourage me in the toughest time of my life. He played a large part in the early success of the Outlaw Street Car Reunion during its time at Memphis and spending nearly a year working alongside Paul every day taught me so many things about life in general, as well as how to run an event in a rapid but smooth pace. Since then, I lost my father and Paul lost his wife, but our friendship has grown to be closer than ever.
I was as excited as a kid in a candy store to get to work with Paul when I got the call to come on board for the 2018 season and now in 2019, with us both working in the race direction positions. It will not only bring back a ton of old memories, but it will put Paul in a position where he can shine in the role where he taught me so much years ago. These are two of many changes that have occurred in the PDRA series, but we are extremely excited as a team to continue the great things that the first five seasons of the Professional Drag Racers Association have given the racers and fans of this great motorsport.
Enough of the patting on the back stuff, it's time to talk about how this series is going to refine its direction for the 2019 season. Starting with our season opener in April, we will be debuting our new event schedule that is geared more towards the race fan but also for the racer! The goal for 2019 is to condense what the fans want to see the most in a timely matter so the fans can see it! As racers, we know how difficult it is to stay in the zone when there is a long break between runs. We have recognized this and taken it all into consideration as we put this new plan into motion.
To lead off will be Friday's qualifying sessions, which will carry through the day into the night with back-to-back sessions for the professional classes starting at a set time and on time for each event; we will call this "PDRA Friday Night Fire!" Not only will fans be treated to rounds two and three of professional qualifying, but they will also get to see two runs by the flame-throwing "Blazing Angel" jet dragster, along with free t-shirts, games for the adults, kids and more!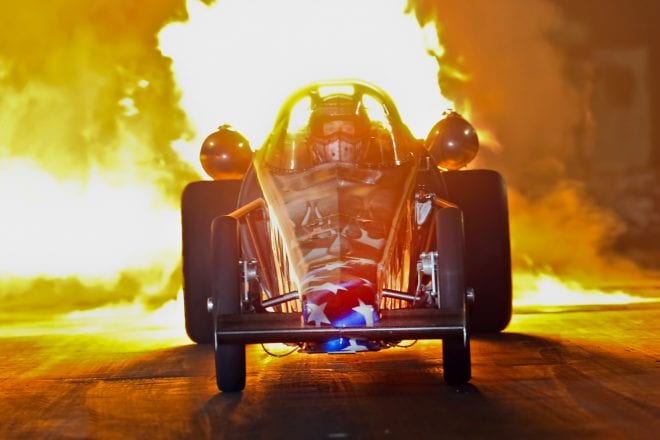 For select events, we may just toss in a match race or two to spice things up. Each event will add a different flare as the year goes on and we hope that race fans are able to adapt to this by not missing any of their favorite action on Friday due to work or school and packing two amazing sessions of qualifying with the baddest doorslammers on earth running twice within a 3-hour window, under the lights in prime conditions to see big numbers blast on the scoreboards at their home track. What drag racing fan would not love this?
Moving forward into Saturday is none other than the Main Event! What's an event without the headliner – and what's the headliner in a drag race? Only the quickest and fastest cars on the grounds that fans love to see! Saturday carries the same type process as Friday. We will dictate our run schedule around a time period of when the guests can schedule their time around family and ballgames with their kids to bring the entire family out to end their Saturday night at the dragstrip. For the racers, it will be a better chance for guests to accomplish their daily chores at home, at work or fulfill their family duties then call up their friends or grab the kids and go watch the best in the world throw down for well over $100,000 in event payouts across all classes.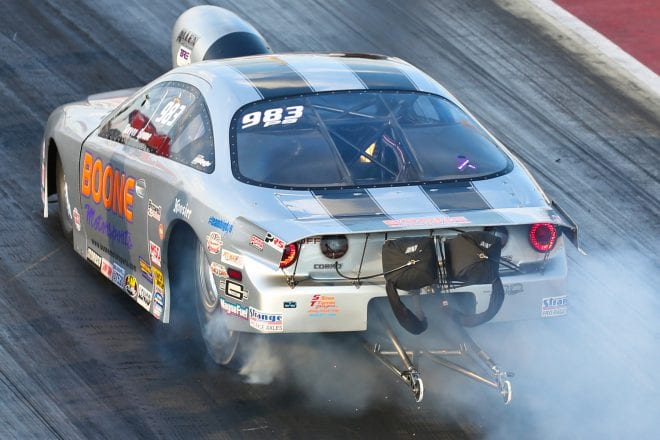 Carrying our theme into Saturday's Main Event, professional eliminations will begin in the afternoon hours, while sportsman final qualifying and early rounds of eliminations will carry us through the morning hours. Once the Main Event kicks off, only the strong survive as the waters get deeper as those hard-to-achieve win lights get tougher to reach for as the ladder gets shorter until the finals are in the lanes. As champions are crowned, the PDRA winner's circle awaits you with a coveted "660 Man" trophy, a custom and sought-after trophy for racers young and old. The world's best payouts are up for grabs across all classes. Over a million dollars in purse money will be paid out over eight races to be held at some of the best racing facilities in the world including: GALOT Motorsports Park, Virginia Motorsports Park, Maryland International Raceway, South Georgia Motorsports Park, Dragway 42 and the 2018 PDRA track of the year, Darlington Dragway.
Our sportsman racers at the PDRA are hands-down some of the toughest that I've ever laid eyes on, including the Jr. Dragsters. Watching these kids fight it out just to get qualified in the 16-car field for race day is a feat. Top Sportsman and Top Dragster have continued to yield such amazing car counts that the field is broken into two classes (Elite and Regular) and two separate purses are paid for one class with one entry fee – not many other series can say that! Bracket Bash continues in 2019 as it allows the local star at one of the six amazing host facilities along the PDRA tour to race on the big stage for not only a good purse, but also for a coveted 660 Man trophy to put on the mantle.
Across the eight races will be a long road for over 300 racers who will begin their journey for a championship on the Road to the Finals. The Road to the Finals will be an ever-popular theme throughout the 2019 season as we highlight the troubles, the huge runs and the breakage that can occur while drivers and teams chase the common goal known as the series champion. No other doorslammer series pays out over $100,000 in just championship earnings across the classes on top of the per-event purses, which are over a million dollars yet again in 2019. The Road to the Finals will be long, it will be winding, and you'll wonder at times, "Why am I doing this?" but when you are able to stand in front of a room filled with racers, teams, media and marketing partners as champion, all will be understood in those moments where you stand tall as a champion of the PDRA.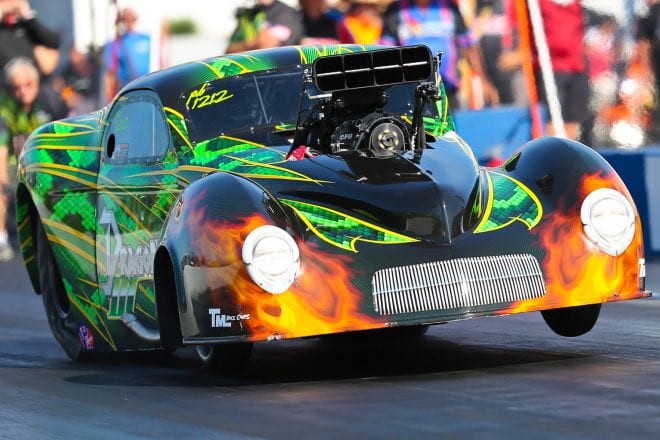 Our goal as a racing organization this year is to provide an amazing entertainment show for the fans – motorsports is an amazing sport but drag racing is a gem. The sheer determination of man or woman and machine to conquer 660 feet of specially prepared concrete faster than the other is just exciting to watch. One thing that is true about every single human being on this planet is that you like to win – everybody likes to win. Face it, if you sit down with me at a desk and ask to play cards, what do you want to do? Win. I'm not playing to lose, I promise you that! To stand between two Pro Nitrous or Pro Boost cars, with fans in the stands, kids cheering for their favorite driver, wives praying for their husband's safety or crew members giving a fist pump to each other before their driver puts it in the lights is special because it's all about going for that win. Drag racing highlights these moments, the highs and the lows, the wins and the losses and puts them on display better than any other sport on the planet.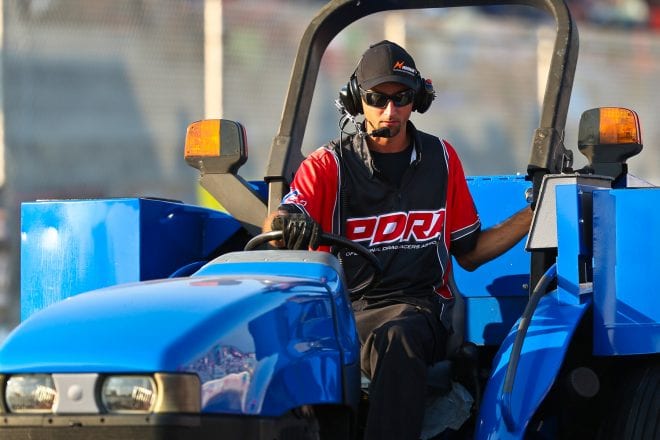 My friends, it's an honor to be in this position in 2019 as the series director for the PDRA and I absolutely cannot wait to kick off this season. There will always be ups and downs and bumps along the way, but I can promise you that this team that the Franklins have assembled will keep their heads high and keep marching forward to lead this series to the front of the drag racing market and do it with a positive mindset and a fair attitude. One thing is for sure, PDRA is here and strong, we aren't going anywhere but up in 2019 and in the years to come with this incredible team that continues to grow and get stronger as the season opener grows nearer.
We are drag racers, we all love our sport and we are the entertainment for some little kid out there watching YouTube with his parents or siblings right this moment. It's time to make 2019 the absolute best it can be for all walks of life, including grabbing your first win in the PDRA or maybe even hoisting that championship trophy in front of a packed house at the PRI Show in December. If you want to be the best, you have to line up against the best and the best race at the PDRA. See you on April 5-6th in Benson, North Carolina, as we knock the gate off the hinges at GALOT Motorsports Park and show the world what the PDRA is all about.
Tyler