Sportsman drag racers have long been the backbone of drag racing, but the sportsman racing scene has transformed drastically from its early days when a racer could show up with his buddy, a tire gauge, a handful of tools and his car on an open trailer with expectations of glory. The current landscape features technologically advanced race cars, $300,000-plus haulers, and drivers who race professionally across the country on a weekly basis. Racers and sponsors are shifting their focus from the prestige of sanctioned racing to the prosperity of big-dollar bracket racing. There is even new technology in play today that changes the way bracket races have been decided for decades.
DRAG ILLUSTRATED recently spoke with five successful sportsman racers to discuss the state of sportsman racing, with topics ranging from the successes and failures of today's contingency programs to the cost of participation in 2016, as well as the new TruSTART system.
Part 4: Kyle Seipel
Kyle Seipel goes big in whatever he does in drag racing, whether he's racing in one of several NHRA classes or co-promoting the rich Spring Fling bracket races with Peter Biondo. Seipel collected 22 NHRA Division 7 championships before he turned 30 and has won on the national level in five different categories. He's hugely successful as a race promoter, with the Spring Fling events in Bristol and Las Vegas continuing to draw massive car counts and award some of the richest prizes in drag racing, like the $270,000 total purse at this year's inaugural Spring Fling Million in Vegas.
Today's bracket racers can look at their calendar and choose from races ranging from $10,000 to $100,000-to-win on any given weekend. Are the big-money bracket races getting too common, too big, too quickly?
Kyle Seipel: That's a great question and I don't know how to answer. I know for a fact that there are definitely a lot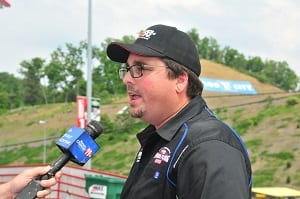 more big-money bracket races coast-to-coast than there ever has been. Are there too many? I wouldn't say yes or no. From a racer standpoint, it really gives them a lot of options – not so much on the West Coast – but the East Coast for sure. Every racer has a different strategy. A lot of racers like to stay close to home. They like to have a points series. They like to race 15 to 20 times a year and all they want to do is focus on that points series. I've done that and there's something to be said for that. You can still be home and go to your kids' games; you're not going to miss a lot of things. On the flip side, let's say you chase the NHRA championship points. Well, you'll have to go to a minimum of 14 races to have a chance to win a championship. You can almost guarantee a majority of those 14 races will be one- or two-day trips, so you're going to be gone away from home a lot. Then the middle ground is you have the big dollar bracket races. I think what we find is that most of our clientele are racers that are on the upper echelon at their local track. They pretty much have done everything they can as far as winning and track championships. You could race against the best bracket racers in the country at our two races. I think a lot of racers want to see how they stack up against the best racers.
The way I look at our business is that we have a very good restaurant and a lot of racers like coming to our restaurant because they feel that the quality of food is great. The location of our restaurant is in a very nice spot. It's kind of along the lines of you only want to go out for a really nice dinner once or twice a year, but when you decide to go there you have a great time. We kind of build our races around that to where we have more racer appreciation giveaways than any of our competitors. We try to pamper our racers the best we can. From a racer's standpoint, the more competition there is the better the races are going to be. It's also going to weed a lot of them out; it's just like anything else – it will be hard for a lot of them to survive. For racers, I'd say there are never enough races, but from the promoter perspective, from my point of view, every race that pops up costs us 10-15 customers.
Bob Brockmeyer and Compulink unveiled the TruSTART system at the Spring Fling Vegas race earlier this year. In the case of a double red light, the new software disqualifies the driver with the worst red light rather than the driver with the first red light. When do you expect that to be utilized at other tracks and events in the future?
KS: Basically, Brockmeyer built us the software. The bottom line is it's going to be available to the public probably by the end of the year. He has a waiting list for about 30 tracks right now. I think you're going to see a lot of tracks have it by the first of the year and then as far as sanctioning bodies, that's a great question. Quite honestly, I think with the response we've gotten so far, I would have to say I would see NHRA utilizing it probably within the next year to year and a half. That's pretty much a guess. We haven't talked to NHRA and they haven't talked to Brockmeyer, but they're a smart group of businesspeople – they want to try to do what's best for their customers.
What are the pros and cons of racing at a sanctioned event, like a national or divisional event, versus a big-money bracket race?
KS: Divisional races are very hard. If you had to list them one, two and three, divisional races are going to be at the bottom of the list every time. Most divisional races you're going to be racing for three or four days, you only have one chance, and you don't get a whole lot of track time. National events, in my opinion, have prestige. There's something to be said for racing on the same track as the pros. The stands are full. Most of your coworkers don't know anything about bracket racing, but when your national event comes into town and you tell them, 'I'm going to be racing at Englishtown on the same track as John Force', a lot of your average fans or friends, they'll say, 'oh, I heard about that on the radio. That's great, you're going to be racing on the same track as John Force, blah, blah, blah.' There's something to be said for that.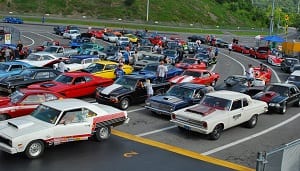 On the flip side, if you're strictly about competition and you want to get the most amount of runs down the track in a four-day period, you can't beat bracket racing because you get a separate event each day. I think that the competition is definitely toughest at bracket racing. At national events, if there's any type of bad weather or oil downs, typically the sportsman racers are going to be the first ones to feel the effects. NHRA has the time constraints with the live TV and that sort of thing, whereas if you go to a bracket race you are the show. You don't have to ever worry about getting bumped, so to speak.
In your opinion, what are some of the shortcomings of modern contingency programs?
KS: When you win a national event, let's say in 2016, in one of the sportsman classes, with contingencies you're going to win $8,000 to $10,000. Three to four years ago, that number was almost double. You probably won $14,000 to $15,000. I think manufacturers aren't getting enough ROI so they decided to pull out from being a contingency sponsor for obvious reasons. The dollars and cents just aren't adding up. Let's just say they have to do $4,000 or $5,000 in sales to be able to break even for that program per event. Well from what I understand, they're probably doing half that. It's just not feasible for a lot of manufacturers to do that any longer. The check you get from NHRA is typically $1,500 to $2,000. A majority of your winnings always came from your contingency sponsors. Now you're getting half the amount that you used to.
From a promoter's perspective, we have a lot of manufacturers turning to us, wanting to get involved with our races because they want to get into different venues that they haven't hit on before. We've had a lot of manufacturers show up at our events because they're trying different things.
I'm not sure what the answer is. NHRA has been proactive. They have a program now to where there's no type of money needed to be able to be a sponsor. You basically talk to NHRA and they will approve you to be able to pay on a contingency basis without having to pay the money upfront. That's very proactive, but it hasn't made a huge difference either, so I'm not sure what the answer is.
What is the biggest problem facing sportsman racing right now?
KS: My dad has been racing for over 50 years and he keeps great notes. In the early '80s, 1982 I think it was, he won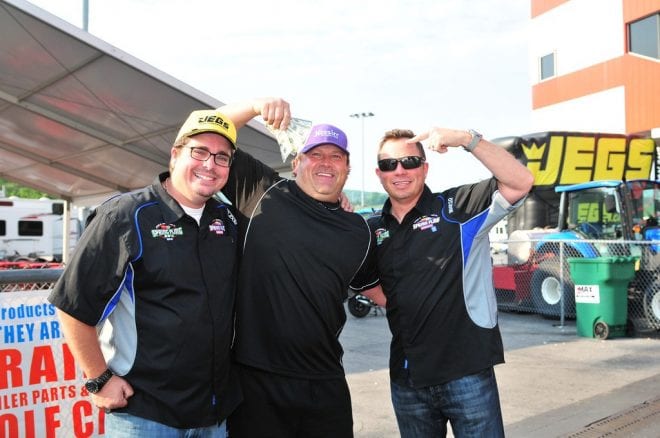 a divisional in Sacramento and with contingencies he won over $4,000. Now, here we are 30 years later and that $4,000 is more like $2,300-2,400. The expenses certainly haven't gone down; they're probably double or triple. So, that's a big challenge – the potential for profit is getting smaller and smaller. That said, I think we will continue to see a lot of sportsman racers that have typically been NHRA/IHRA regulars show up at more bracket events because, first and foremost, they're having more fun and getting more track time, but also because they can make some money.
This is an excerpt of a story that originally appeared in Drag Illustrated Issue No. 110, the Sportsman Issue, in June of 2016.