Sportsman drag racers have long been the backbone of drag racing, but the sportsman racing scene has transformed drastically from its early days when a racer could show up with his buddy, a tire gauge, a handful of tools and his car on an open trailer with expectations of glory. The current landscape features technologically advanced race cars, $300,000-plus haulers, and drivers who race professionally across the country on a weekly basis. Racers and sponsors are shifting their focus from the prestige of sanctioned racing to the prosperity of big-dollar bracket racing. There is even new technology in play today that changes the way bracket races have been decided for decades.
DRAG ILLUSTRATED recently spoke with five successful sportsman racers to discuss the state of sportsman racing, with topics ranging from the successes and failures of today's contingency programs to the cost of participation in 2016, as well as the new TruSTART system.
Part 1: Michael Beard
Michael Beard is a three-time IHRA world champion with experience in several different roles within sportsman racing. When he's not competing in Footbrake or IHRA Super Stock, Beard and his Loose Rocker Promotion brand handle nearly every stage of event promotion, from designing and producing event flyers to handing out the big checks to the winners. His resume includes both hosting and winning races in the $10,000 range.
Today's bracket racers can look at their calendar and choose from races ranging from $10,000 to $100,000-to-win on any given weekend. Are the big-money bracket races getting too common, too big, too quickly?
Michael Beard: The market will kind of take care of itself. There have already been some events that have failed or
are not returning to the schedule anymore. Competition is good for the marketplace. Now, there are certain regions where you're seeing too many all close together both in terms of the schedule and geographically. There are still a few markets out there that are untapped. The competition makes us better. When we started out with our Loose Rocker Promotions, we started out at a fair level. As the car counts grew, we raised the payouts. Car counts grew some more; we raised the payouts some more. There's been some guys, like Kevin Pollard, with his recent MoneyTree Triple 10s, he came out of the gate swinging with an incredibly cheap deal with huge round money and everything; the total package. I've noticed some other races trying to follow his format. When Anthony Walton and I started with our races, we wanted people to copy what we were doing because obviously the races we put together were the kind of races we wanted to go to. I love having things like Powers' Money Tree races and the World Footbrake Challenge and the No Box Nationals and Southern Footbrake Challenges. I'm not even running NHRA Super Stock at all this year and I'm probably only going to one or two IHRA Super Stock races. I'm going big-money bracket racing this year. It's a much better value.
Bob Brockmeyer and Compulink unveiled the TruSTART system at the Spring Fling Vegas race earlier this year. In the case of a double red light, the new software disqualifies the driver with the worst red light rather than the driver with the first red light. When do you expect that to be utilized at other tracks and events in the future?
MB: Well, the biggest thing is going to be cost because the tracks are more than likely going to be the ones to pay the cost to have that installed in their system. Granted, Bristol and Vegas, because of the Spring Fling, those two tracks are going to have it, but it's probably going to take quite a while before your local tracks are going to see that come their way. As a promoter, I can't see going out and spending that kind of money at this point. As a racer, I'm good with it either way as long as I know what the rules are going into it. It's cool. We've all been on both sides of a double red.
I definitely admire what Peter and Kyle have done; putting themselves out there and their wallets to get that done. I think it made it very interesting. I spent some time doing a lot of statistics after they made the announcement that they were going to do it, and of course everybody was bantering online for or against. I took stats from some previous Spring Fling events and a number of our Loose Rocker events that we've done and found that it changes the result of a round typically about one percent of all elimination rounds in the event. It's not a huge thing, but for that one driver that's affected it's a huge thing.
In your opinion, what are some of the shortcomings of modern contingency programs?
MB: That's one thing where class racing doesn't have the value that it once had because the contingency list has gotten smaller and smaller over the years. If you take a look at it, NHRA contingency postings are lower now than where IHRA was when I started out with them around 2003. Where are they going to be 10 years from now? Are they providing the value for the contingency sponsor?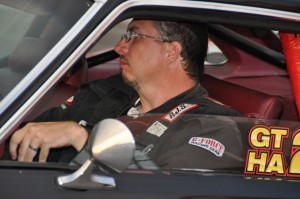 At all the big-money bracket races, they've gone a different route. Contingency all goes to winner and runner up, whereas at big money bracket races it's typically not cash out of the sponsor's pocket, but rather typically product that we're awarding for best losing package or even pulling a tech card and somebody gets something other than just the winner and runner-up. We spread it around. I think the round prize deal probably originated with Dave Szerlag and Mike Fuqua with their JEGS US Open Series that they used to do. I think they really set the bar. Sincerest form of flattery, everybody saw a really good idea. We've all copied it. Going back to how many big money races there are these days, I'm sure the sponsors are going to start getting tapped out on how much they can do, but so far, so good. I was just at the No-Box Nationals at Lyons Raceway Park in Indiana and I had a semi and a quarter so I paid for the weekend financially. I didn't have a final round, but I also came home with three gift certificates for various things. That product stuff adds up. Anything that you don't have to buy out of pocket is just about as good as cash.
What is the biggest problem facing sportsman racing right now?
MB: Cost is always the first thing that comes to mind. With so many big money bracket races going on right now, the market is going to weed out some of those events based on what people can afford. We're actually pretty lucky right now. Gas prices have come down in the last year or so. We saw a tremendous spike at our November race last year. That's right about the time that the gas prices dropped significantly. We had nice weather and gas prices came down. We picked up like 50 or 60 cars in a single class. At some point racers are going to have to pick and choose which races they can go to, not only based on their budget, but time away from home. There's a ton of cost in the time. Unless you're retired or run your own business, like I'm fortunate enough to do, it's pretty difficult to put the time and money together to do a lot of this. A lot of guys are going to hit a few big money races a year. For some people it's going to be one a year. As long as we keep doing our job and providing the best value that we can for the racers and the sponsors both, we've seen continued growth for years and years now.