Sportsman drag racers have long been the backbone of drag racing, but the sportsman racing scene has transformed drastically from its early days when a racer could show up with his buddy, a tire gauge, a handful of tools and his car on an open trailer with expectations of glory. The current landscape features technologically advanced race cars, $300,000-plus haulers, and drivers who race professionally across the country on a weekly basis. Racers and sponsors are shifting their focus from the prestige of sanctioned racing to the prosperity of big-dollar bracket racing. There is even new technology in play today that changes the way bracket races have been decided for decades.
DRAG ILLUSTRATED recently spoke with five successful sportsman racers to discuss the state of sportsman racing, with topics ranging from the successes and failures of today's contingency programs to the cost of participation in 2016, as well as the new TruSTART system.
Part 2: Luke Bogacki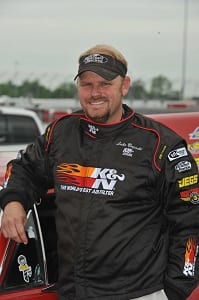 Luke Bogacki is one of the most accomplished drivers in sportsman racing. Between NHRA and IHRA national and divisional competition and big-money bracket racing, Bogacki has amassed over 250 event wins and more than $1,000,000 in prize money. He owns two NHRA national championships (Super Comp and Super Gas), five NHRA divisional championships, and four IHRA divisional titles. On top of his incredible on-track work, Bogacki runs ThisIsBracketRacing.com, a website full of video and written tutorials featuring some of the most notable names in bracket racing.
Today's bracket racers can look at their calendar and choose from races ranging from $10,000 to $100,000-to-win on any given weekend. Are the big-money bracket races getting too common, too big, too quickly?
Luke Bogacki: Yeah, it's definitely oversaturated right now, which I believe goes in cycles. Up until the last couple years, there weren't really enough of them to keep up, which was great for the races that were going on. I think for the most part, tracks and promoters saw this handful of races that were so successful and everybody felt like there was money to be made, and now there are too many people with their hands in the pot. But like I said, that's all cyclical. The strong will survive and the weaker races will go away, and it'll probably cycle back again.
I don't even know if it's good or bad, but it's nice from my vantage point to see the purses, particularly in big dollar bracket racing, begin to match the investment. We kind of got to the point, especially 10- or 15-years ago when I was basically bracket racing for a living, I basically made it a point that I wouldn't leave the house if it didn't pay at least five grand to win. Well, at that time I might have had $100,000 in my whole program, and that's like tripled. The purses over the last couple of years were essentially the same. From my standpoint it's great. I'm sitting here with a quarter-million dollar operation. It doesn't make sense to race for five or ten grand anymore so it's nice to see those 25-granders, 50-granders, and multiple "million dollar" races for me, but long-term for the good of the sport, I don't know that that's necessarily the answer. We've kind of priced the average guy, especially the average young person, out of the sport at a level that is really supposed to be grassroots. I don't know how you turn that back. Selfishly, I think it's great, but I don't know that it's the best thing long-term.
Bob Brockmeyer and Compulink unveiled the TruSTART system at the Spring Fling Vegas race earlier this year. In the case of a double red light, the new software disqualifies the driver with the worst red light rather than the driver with the first red light. When do you expect that to be utilized at other tracks and events in the future?
LB: Probably sooner than later. I think it'll trickle down to the other Compulink tracks and the major series. It wouldn't surprise me if it was in place at NHRA like next year. I haven't really heard any buzz about that but it just makes sense. Along the bracket tour and the smaller tracks, obviously the other timing manufacturers will have to adopt their own system and write that software. It'll take a few years to get it where it's really uniform. I just don't see any disadvantage to it.
What are the pros and cons of racing at a sanctioned event, like a national or divisional event, versus a big-money bracket race?
LB: There's a lot both ways. Running the NHRA tour, I think the biggest thing is the prestige of it and the ability to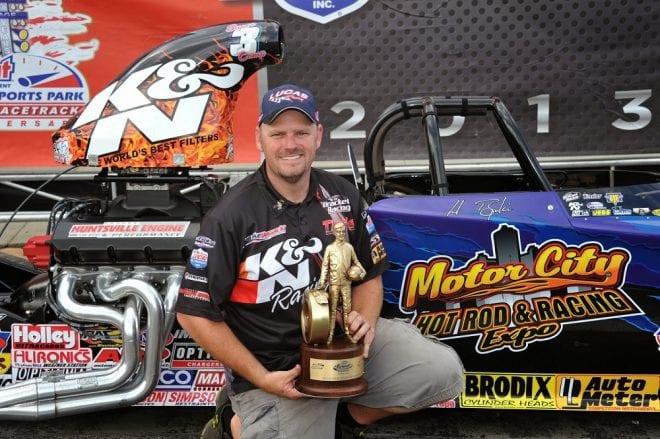 attract outside money in terms of sponsorship more often than not. And then I think a big advantage to it for somebody like me is that there's still a gap. I think that style of racing, mainly because it's still quarter-mile, particularly the classes I run where you bring the throttle stop into effect and it's one race contested over multiple days, it really magnifies or maximizes the discrepancy between the inexperienced and the experienced, the prepared and the unprepared, and the confident and the unconfident. Whereas bracket racing nowadays has gotten so immensely competitive that the gap isn't there between, say, the best racer at the track and the worst racer at the track. There's not much in between them because it's eighth-mile, because equipment has gotten so good, because of all of the aids that are available, you know, through technology not only on the race cars but in the way we're running the races. It's a more level playing field. I don't even want to say it's easier to win one or the other because they're both incredibly difficult. They kind of require different skill sets. But for somebody like me, I'm going to win more often on the NHRA tour than I am at big-dollar bracket races.
In your opinion, what are some of the shortcomings of modern contingency programs?
LB: Obviously, involvement. I don't know if this is necessarily a common opinion, but I think the new regime at NHRA is doing a better job. They're heading down the right road. We aren't necessarily seeing the results yet in terms of a ton of increase in manufacturer involvement, but they've made it a lot easier on manufacturers to get involved and much more cost-effective. They seem to be listening to the manufacturers. It's going to take some time, though. It would benefit everyone involved to pay at the racetrack, and I don't see the downside to it, as long as you have the right people in place to verify product and placement. I've said for years, and I don't know why it hasn't been adopted, but they do the annual tech inspection – I don't know why we don't do an annual contingency inspection that somebody really spends some time and goes through each individual car piece-by-piece, bit-by-bit, to actually verify that you've got all the right stuff like once a year. It would speed things up and make sure the guys getting paid have the right products and are playing by the rules. I don't see a disadvantage.
What is the biggest problem facing sportsman racing right now?
LB: Cost. You could argue it a couple of different ways. I guess you could say it all started with the advent of electronics back like 30 years ago, bringing the delay box into our form of racing. On a positive side, whether you're talking about technology in general, delay boxes, electronic ignition, all of the technological advances that our cars have, and then on down to the actual competition, like LED bulbs and crosstalk and auto-start, all of the stuff that makes it easier to make good runs, that's good because it's created so much parity. In reality, somebody could come in off the street and basically buy a store-bought combination and they could come out and be competitive immediately. The downside to that is we've driven the cost up so much that it's an elite group that can take advantage of that. Like I said, I don't know that you can necessarily turn back the dial on that, but I think that's the biggest problem with our sport. It's just too expensive.
This is an excerpt of a story that originally appeared in Drag Illustrated Issue No. 110, the Sportsman Issue, in July of 2016.