Since being founded in 1984 by engineers Spencer Eisenbarth and Ron Armstrong, Racepak has been leading the quest to extract as much information as possible out of race cars, pulling tractors, hydroplanes, and just about anything else with an engine. What started as one simple data logger has expanded into a line of dashes, gauges, software, and data loggers for a variety of applications. Drag racing has been especially to receptive to the data acquisition products ever since legendary nitro crew chief Dale Armstrong worked with the company to develop the technology. Racepak's products can now be found on everything from the most elite Top Fuel dragsters to near-stock muscle cars competing on the local bracket racing scene.
As Racepak continues to evolve as one of the most forward-thinking companies in drag racing, the company's higher ups realized they needed a fresh, young face to help represent the brand's image. Enter 31-year-old Cameron Ferré, who started taking sales and tech calls for Racepak when he was still in college. The former child actor was recently moved up to the new position of digital marketing coordinator, a title that broadly describes his tasks; creating and posting meaningful content on Racepak's Facebook, Twitter, Instagram, and YouTube profiles, as well as heading up the Team Racepak sponsorship search.
"I handle anything that's digital," Ferré says. "I do a lot of tech videos and lifestyle videos to help build the brand. The position is heavy into digital, but it's also basically being a brand ambassador. Whether I'm on the track or I'm at a race track representing the company, I'm out there doing it, living it, and showing people that we're not just a bunch of people who sit in the office."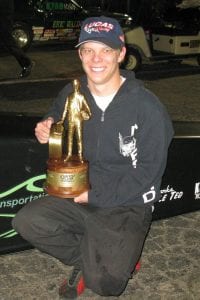 As Ferré says, he's not just a SoCal surfer boy with a marketing degree. He's been actively competing on the drag strip since age 13, using his earnings from acting to purchase his own Junior Dragster operation. The first-generation drag racer worked his way up, gradually moving from the sportsman ranks of Super Comp and Top Dragster to the explosive world of nitro racing, hopping in nostalgia Funny Cars, nitro-injected A/Fuel dragsters, and most recently, NHRA Top Fuel dragsters. He's been competitive at every level, having won Super Comp at the 2012 World Finals, and appearing in Top Alcohol Dragster final rounds at Indy and Pomona.
Ferré also recently made the ultimate move up to what many consider to be the pinnacle of the sport: Top Fuel. After licensing in the Paton family's dragster in 2015, he made his competition debut at the NHRA Carolina Nationals this year, earning his first round win over Tony Schumacher. Now, Ferré has even bigger things planned as he works toward his goals of racing Top Fuel full-time while building the Racepak brand.
Speaking to DRAG ILLUSTRATED from his office in Racepak's Rancho Santa Margarita, California-based headquarters, Ferré discussed the evolution of both himself and the brand he represents, as well as what's next for the world of data acquisition.
When we talked a little over a year ago for DRAG ILLUSTRATED's annual Sportsman Issue, you were just starting to lay the groundwork for your move up to Top Fuel. In that time, you've not only earned your license, entered your first race, and qualified at your first race, but you also earned your first round win over the most successful driver in Top Fuel history. What has that process been like?
It's honestly been a lot of hard work and dedication and never giving up. I set out to do this when I was nine years old and my goal and dream and desire was to be in a Top Fuel car and I wasn't going to stop until I got it. It's not just getting in the car and stepping on the gas. There's so much more that goes into doing something like that.
That even comes back to my college experience and my daily life at Racepak. I started at Racepak because I wanted to break into the industry and learn and meet people because I didn't come from a motorsports family. I had to figure out how to get into the industry and let people know what I'm doing and what I want to do and where I plan on going. Racepak was an amazing fit to execute that. I hope to continue and get a full-time ride, but in the meantime it's a fun journey, that's for sure.
You've driven and worked on cars in several different classes in addition to your work at Racepak. Do you think that lends to your credibility as a professional drag racer?
One hundred percent. I started here at Racepak with the intentions of meeting people within the industry. I didn't know anybody from anybody when I went to my first Junior Dragster race; I literally knew not one person. I went with my dad and a family friend of ours and we just gave it a go. We barely knew how to start the thing, seriously.
My dad is mechanically inclined from being in the body shop industry his whole life and we figured it out as we went, but it wasn't like we could go call so-and-so if we had a question. I had to figure out a way to get into the industry. I bought a Super Comp car, started meeting people through that, and that's what led to my job at Racepak. I tapped out in Super Comp as far as meeting people and I knew I had to progress.
Next thing I knew, I met Donny Cummins, who's in charge of the Pro systems here at Racepak. I went up to Bakersfield to do the clutch on Leah Pritchett's nostalgia Funny Car and Donny was doing the bottom end on the car. We started talking and I expressed interest in working at Racepak. Sure enough, he called me in for an interview a few weeks later. I was still in college at the time and I thought, here's my dream job and I won't be able to take it because I'm still in college. They were actually willing to work around my college schedule because they saw something in me. They took me under their wing and here I am.
Like I said, the stuff that I've been able to learn just as far as race car mechanics and computers from the people here has been one of the best things I can do for my career.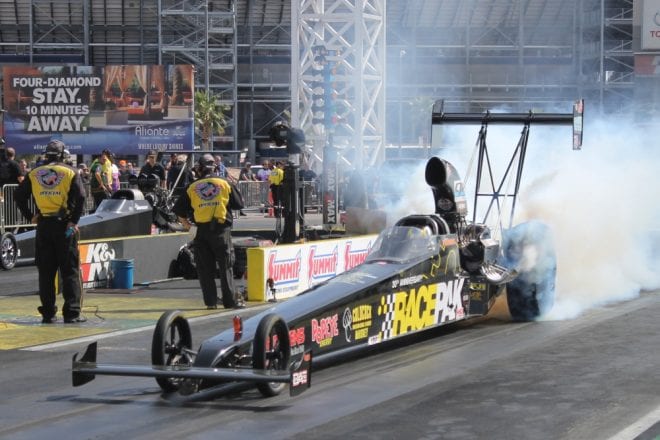 On the flip side, how does your real-world experience lend to your credibility as a Racepak representative?
We came up with the "We Are You" tagline because we sat back and realized how amazed people would be if they knew how many people in our office raced something, whether it's a go-kart, RC cars, PSCA cars—anything—or they work on a car, or they've worked for John Force Racing for 20 years.
We have a really cool story. There's not too many companies you can call and say, "Hey, can I talk to one of the Top Fuel drivers there?" We have multiple people who are licensed to go very, very fast here. That's something that we wanted to show; we're just like our customers. Yeah, we happen to come into the office Monday through Friday and get to talk about race cars, but at the end of the day we're in the garage working on our own stuff. We just took that and ran with it.
It's been very good for us because it shows the end user that we're struggling on the weekend just like they are. Maybe not with our data loggers, but we use our data loggers to learn about the other problems in our cars so we know how to help our customers with their problems when they call us.
As the digital marketing director for Racepak, you introduced the #TeamRacepak promotion, a campaign to find brand representatives who will promote Racepak on the track and online. Why did Racepak choose to use grassroots racers to represent the brand?
The biggest thing is trying to build brand awareness for the company. We opened up the selection process so that anyone could apply. The whole program is based around social media, so if you don't know what a Facebook page is, it's probably not a program for you. We're looking for more than just a sticker on the side of a race car; we're looking for more brand awareness, and social media is a big part of that.
At the end of the day, we're giving out thousands of dollars worth of product for free. The way marketing works is we should be able to get double or triple that in return. With me being a guy who tries to find sponsors myself, I've learned what sponsors are looking for and I applied that to the program that we decided to make.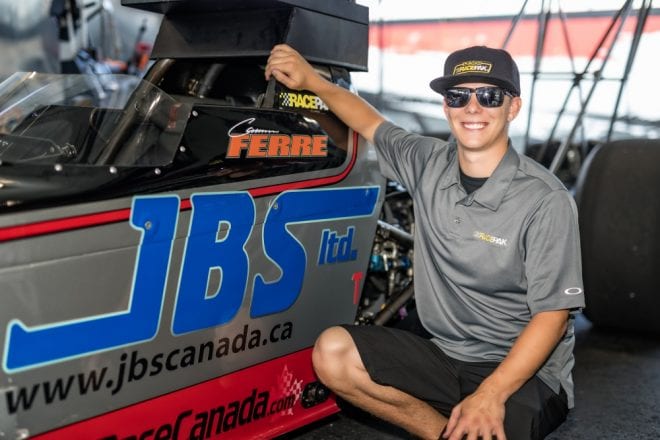 How has your opinion of data acquisition changed since learning the ins and outs at Racepak?
When I first started working here I was pretty green. I knew my away around a computer, but I was just getting into Super Comp and I didn't really know the importance of data until I started working here. I was learning so much even in the first couple months that I wondered how I even raced without a data logger before. I used to think, "Oh, Racepak is the company that makes those really cool digital dashes. I'd like to have one of those." Then I learned how much you can learn in just one run, even in a Super Comp car.
I was in such left field when I started in Super Comp. I put a data logger on the car and learned so much in just a few races, and it allowed me to start going more rounds. It definitely changed my program, and I'm not just saying that because I work here. The more you know, the more dangerous you can be. Even if I didn't work here, I would have the best of the best data logger on my car. I'd rather have a smaller motor and a better data logger.
Teams in the professional classes are seemingly obsessed with data, but sportsman racers haven't embraced the technology to the same extent. What's the biggest misconception within the sportsman ranks as far as data acquisition goes? Is there not enough emphasis placed on data acquisition?
I feel one of the biggest misconceptions is it's too expensive. When I first started here, the average data logger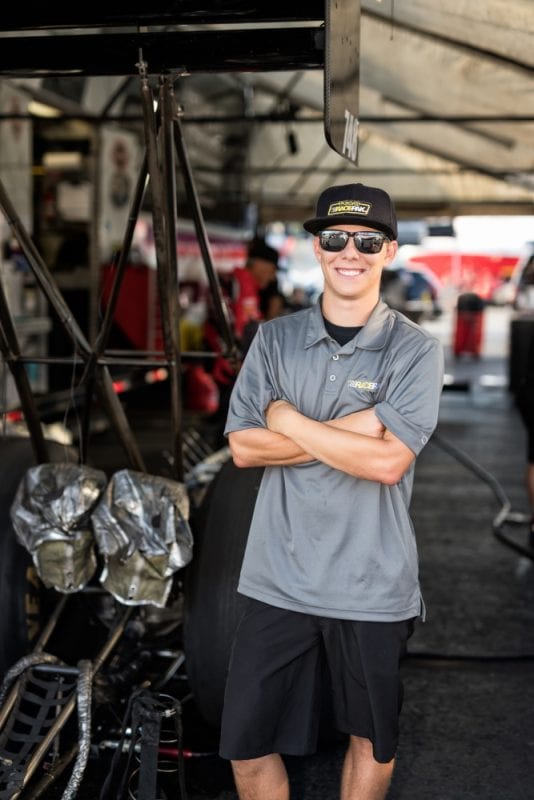 was a couple thousand dollars. I've been here almost nine years and in that time we've developed cheaper data loggers to cater to the sportsman people. A lot of people used to think data is just for the John Forces and Kenny Bernsteins and Kalittas of the world. That's not the case. Now an entry-level data logger is eight hundred bucks. When someone says an $800 data recorder is too expensive when a set of four tires for a dragster is about $1000, it's hard to justify that excuse anymore, especially in the bracket racing world. I've seen a lot of people make the move to data loggers since we introduced the lower-priced, entry-level loggers.
The other misconception is people don't think they need it. Well, you don't think you need it until you have it. We get people calling in who say they're not going racing this weekend because they broke a sensor (on their data logger) and they can't get a replacement in time. It's that important that people don't want to race without it.
Data acquisition has evolved tremendously since the field was pioneered by Racepak, and even in the comparatively short time you've been working there. What do you see as the next breakthrough in data acquisition?
The sky is the limit. There's a bunch of stuff going on behind the scenes to improve data. We just released a new Racepak app that allows your crew guy to monitor your data on an iPhone or iPad. I just see things going in that direction, with wireless and GPS technology, to allow people who maybe aren't computer savvy to whip out their phone and start learning about data.
Flat screens are also starting to make their way into data logging. I think that's going to revolutionize it as far as the displays. Cloud-based technology is also being adapted. When it comes to electronics and technology, there are constantly new developments. It's just like getting a new phone or computer; your phone might be replaced with a new and improved model six months later. A lot of that can happen with data loggers, but we try to make sure that everything we do is reverse compatible so if you have something that's 15 years old we can hopefully try to resurrect it for you. That happens quite a bit.
Racepak recently started developing ways to monitor data on the driver, specifically heart rate in relation to reaction times. What prompted the move to start looking closer at the driver?
The driver is such an integral part of racing. You live and die by your crew, but you also live and die by the driver. We're talking races decided by thousandths of a second, so any advantage that you can get out of the driver is a key factor in getting a leg up on the competition. That's why we started looking into data on the driver. Formula One racing has been monitoring drivers like that for years, but we wanted to find a cost-effective way to be able to adapt that to drag racing. It's something that we're still playing with, but we've had a lot of interest from some of the other drivers.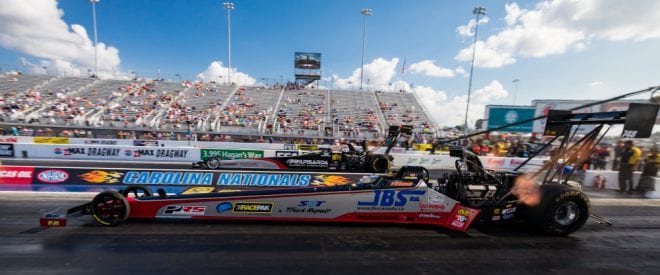 Being someone who didn't have a family background in racing, how rewarding has it been to go out and get a good job in motorsports, make your own connections, find your own funding, and then have it all come together the way it has?
That's honestly what I'm most proud of. My parents have always supported me in whatever I've done, be it BMX, motocross, surfing, or skating, and they always told me, "If you're going to something, you need to do it full-bore. Don't just dabble in it and 'be there'. If you're going to do it, you better do it hard." Even though I didn't come from a family that was financially wealthy or had a name in the industry, I didn't really take that as, "Poor me, I'm not going to be able to do this." I kind of used it as firepower and decided I'm going to do it myself. With my parents being able to support me even as far as moral support is huge. I had to chase my dreams.
That's what I pride myself on the most, to go from a kid from Huntington Beach who just surfs a lot and watched Top Fuel on TV wishing he could do it to actually doing it. It takes a lot of hard work, but it's something that I wouldn't shy anyone away from doing. Sure, there are sleepless nights and "What am I doing?" moments, but I don't want to stop.
It's an addiction even as far as trying to find the sponsors. I get enjoyment out of signing a deal to be able to do something that I've wanted to do forever. I hope to be able to sign a deal to race full-time at 24 races per year. That's the end goal. Just because I don't have a family background in the industry doesn't mean that I can't do this. It's just one more step, and I'm okay with that.
This story originally appeared in Drag Illustrated Issue No. 114, the Technology Issue, in October of 2016.