Clay Millican remained a contender for the Top Fuel world championship securing his 10th No. 1 qualifying position on the season Saturday afternoon at the NHRA Toyota Nationals at The Strip at Las Vegas Motor Speedway.
Tommy Johnson Jr. (Funny Car), Jeg Coughlin Jr. (Pro Stock) and Hector Arana Jr. (Pro Stock Motorcycle) are the No. 1 qualifiers in their respective categories at the fifth of six playoff events during the 2018 NHRA Mello Yello Drag Racing Series Countdown to the Championship.
Millican was able to carry his 3.699-second pass at 327.82 mph on Friday night in his Parts Plus/ Great Clips dragster for the second No. 1 position at this event. He will face Greg Carrillo when eliminations begin on Sunday.
"This team is incredible," said Millican "This is something I would have never dreamed of. So proud of what this team has done all season long. It is amazing."
Millican trails points leader Steve Torrence who is qualified second. Torrence will face Shawn Reed and can secure his first world championship if he goes one round further than Millican during eliminations.
Johnson earned his third consecutive No. 1 with his pass of 3.879 at 327.82 during the final pass of the fourth qualifying session in his Make-A-Wish Dodge Charger R/T. Johnson has 18 career No. 1 positions and races Jeff Arend.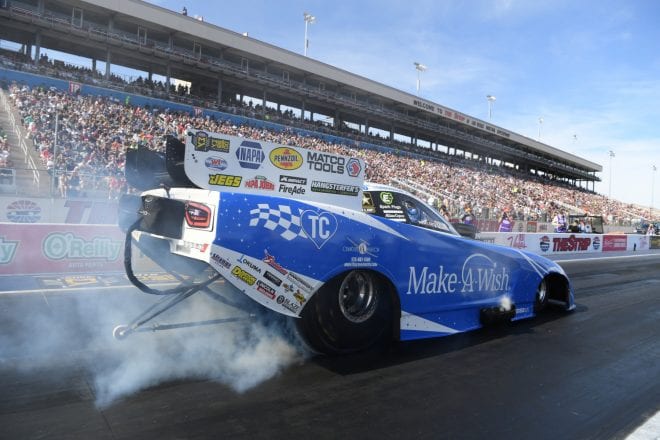 "Our car has been running so well as of late," said Johnson. "You want to come into the Countdown and you have to bring everything you got for all the races. You have to perform your best you have all season. We have done that except for Sunday. I'm excited about tomorrow, I don't know if I will be able to sleep tonight. I'm ready to go."
Robert Hight, who leads the Funny Car points is qualified seventh and will race Shawn Langdon on Sunday. J.R. Todd trails Hight in the standings, he qualified second and races Richard Townsend.
In Pro Stock, Coughlin powered to his fifth No. 1 position of the season during the first session on Saturday with his pass of 6.628 at 206.95 in his JEGS.com/Elite/Chevrolet Camaro. This is the first time in his career the veteran racer has posted five top positions in a single season. Coughlin is second in the category points and line up against Steve Graham in eliminations.
"It is certainly coming at a great time," said Coughlin. "As the Countdown narrows tomorrow and two seeks in Pomona, every point counts and every round counts. Right now we are second in the points and have a long way to go to climb up to that top spot and need a lot of help from some of our competitors but to sit on pole here in Las Vegas feels great."
Points leader Tanner Gray qualified fifth and will face Alan Prusiensky on Sunday.
Arana Jr. moved to the No. 1 position in Pro Stock Motorcycle during the first qualifying position of the day on Saturday with his run of 6.845 at 196.44 on his Lucas Oil Buell. This is the third No. 1 qualifying position for the season, first since the event in Richmond, Va., and the 22nd of his career. He will race Make Paquette when eliminations begin on Sunday.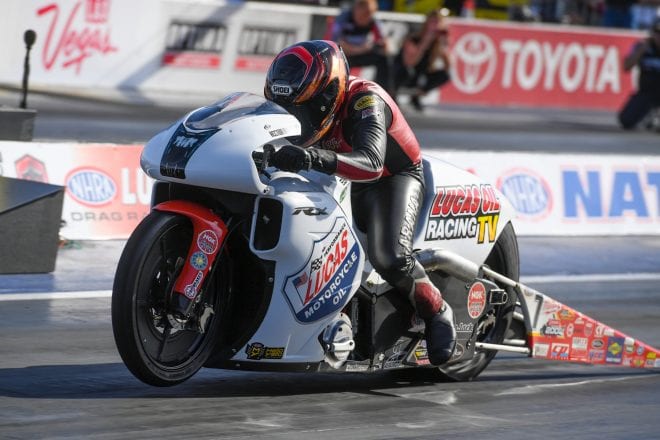 "We made a really good pass the first session," said Arana. "Right there that gave us the confidence boost and the momentum to be able to go as fast as we are going. We didn't have to play catch up or figure out a tune-up. The tune-up we nailed it right away, then we were able to tickle it a little bit. We really feel confident going into race day tomorrow."
Points leader Matt Smith qualified eighth and will face LE Tonglet who is second in points and qualified ninth. Eddie Krawiec who is third in points qualified second and races Ron Tornow when eliminations begin.
Eliminations for the NHRA Toyota Nationals begin at 11 a.m. on Sunday.