Loghan Ashline, 22, of Mooresville, NC, of is the newest development driver for the Larsen Motorsports jet racing team. Growing up in the heart of Race City USA, Ashline has been immersed in the racing industry from day one. Both of her parents worked in motorsports during her childhood, and her father still works as a safety engineer in motorsports today. Attending races and car shows quickly became her favorite pastime, especially with her father and grandfather.
Pursuing adventure has been an element of Ashline's life that she takes great pride in. Her adventures in motorsports started out with her first four-wheeler that she started riding at just three years old. From there she went on to racing quarter midgets and go-karts for various periods of her life before finding her home on the quarter mile. Drag racing and dirt tracks were always her favorite spectator sports, but she knew that she wanted more from drag racing than sitting on the sidelines.
Ashline met Chris and Elaine Larsen in 2017; during that year she toured the LMS facility, attended her first jet dragster race, and visited Florida Tech. Needless to say, she fell in love with everything that the company and the university had to offer. Ashline started her undergraduate degree in the fall of 2018, studying business administration.
Starting off as an intern, Ashline was able to learn the ins and outs of the business and marketing side of LMS. She was quickly promoted to a paid position at the company in early 2019, which included traveling to races for the full season to assist with marketing and specifically photography.
From 2019 to 2021, Ashline was the traveling photographer, amongst other jobs, for the race team. In 2020, she started learning the crewing process for a jet dragster. By 2021, she was the newest crew chief for then development driver, Josette Roach. The girl power team empowered Ashline to acknowledge the importance of a proper team backing each driver.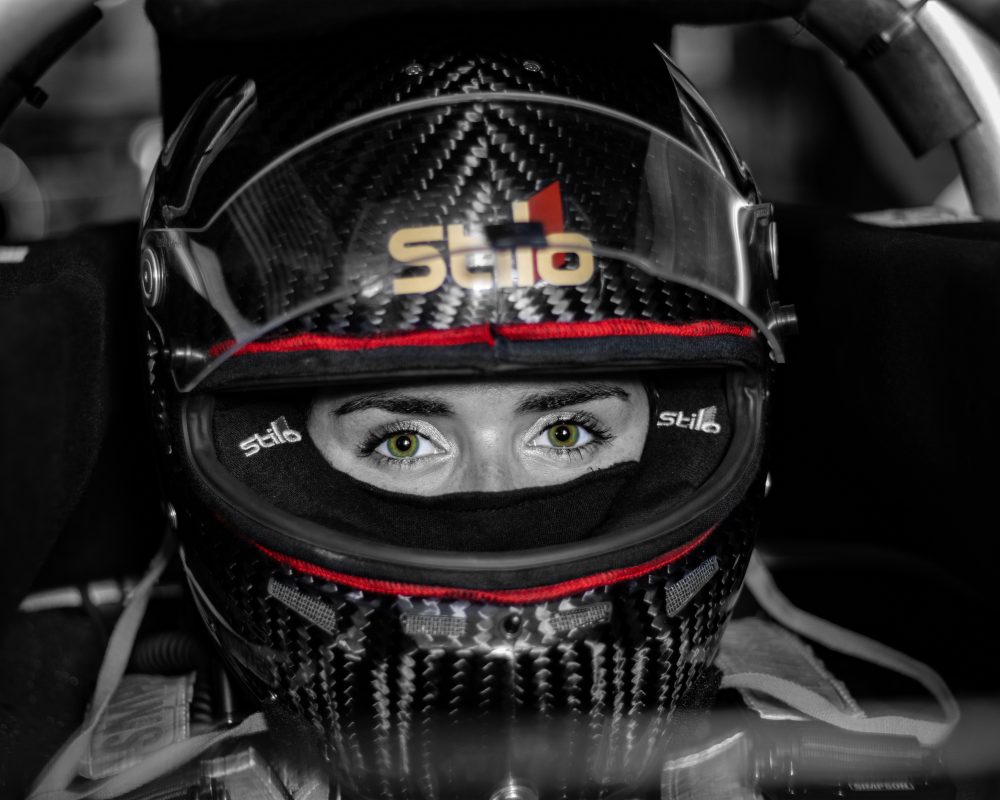 In December of 2021, Ashline graduated with her B.S. in Business Administration from Florida Tech and took a full-time position at LMS. While she plans to go back to school for her MBA at Florida Tech, Ashline decided it was important to take some time away from school in order to pursue her Jet Dragster license with LMS.
"She has literally touched every aspect of on-track race operations, first as a photographer, then as a crew chief, and now as a driver. These elements amount to the perfect formula for Loghan's success at LMS," says Elaine Larsen, Co-Owner and President of LMS, regarding this next step in Ashline's career.
"Being a part of the development driver program at Larsen's is beyond a dream come true. This is my opportunity to try something entirely new and hopefully get licensed to learn," states Ashline when asked about this new endeavor.
The daydreams of a young girl have been realized through the Development Driver process that Ashline is now going through with LMS.
"God has been so gracious to put me on this path with the Larsen's and the rest of the team," Ashline acknowledges regarding this time in her life.
This new adventure is one that the entire LMS team has shown support for, which has been such an honor for Ashline. So many members of the #JetFamily are chasing their dreams, and Ashline is no different.
Chris Larsen, Co-Owner and CEO of LMS states that, "Arguably one of the greatest parts of my job is seeing this next generation of high-performance vehicles professionals live their dreams. When we can be a part of that, successfully, I have done my job."
Her team, friends, and family offer the encouragement she needs for success in this new adventure.
A Rookie Season?
This season is all about training the new generation to uphold the high standards that the current LMS team has set. The transition from crew chief to driver's seat for Ashline has been exciting, but she is eager to get back to the crewing side of LMS as well. For the 2022 race season, Ashline has been named the primary crew chief for the Florida Tech team with primary driver Elaine Larsen and back-up driver Zach Costello. The team is looking forward to what the 2022 season holds.
The Florida Tech team is not the only team that is going through a transition period this year. The Dominator team has a new primary driver and a new primary crew chief as well. Josette Roach will be filling the role of primary driver with back-up driver Dewayne Hill. Roach will be joined by a Florida Tech student, Mark Vasapollo, as her crew chief. This will be Vasapollo's first season as a primary crew chief. Mike Mathes will act as a secondary crew chief for the Dominator race team.
The LMS team members that have the most experience will be taking extra time this year to allow the new generation of drivers and crew to take on additional responsibilities. While the new generation will be setting the pace this year, it is vital for support from all sides of the team.