Tony Gillig made a name for himself racing in IHRA and NHRA Pro Stock in the 1990s, driving a family-owned Oldsmobile Cutlass with considerable success. His career continued through the 2000s as a hired-gun wheelman in the Fun Ford Series, securing a championship in his first season before returning to IHRA Pro Stock for the 2003-2006 seasons. He made his last pass down the track in Extreme Pro Stock in 2011, unsure when he would race again.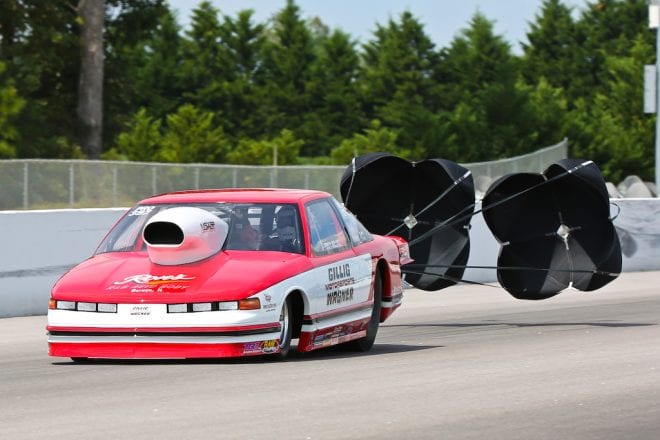 Gillig made his triumphant return to the eighth-mile earlier this summer at the PDRA Firecracker Nationals at Virginia Motorsports Park, where he made his debut in East Side Auto Transport Pro Outlaw 632. Driving a throwback '96 Cutlass powered by a MadCap-built 632 ci engine with a Liberty 5-speed and Ram clutch, Gillig raced Jordan Ensslin and No. 1 qualifier Johnny Pluchino before a carburetor issue bit him in the final round.
During a break in the action at PDRA Drag Wars at GALOT Motorsports Park, Gillig sat down with DRAG ILLUSTRATED to talk about returning to racing, finding a new home in Pro Outlaw 632, and racing with his family.
What was it about Pro Outlaw 632 that caught your interest?
I think it's pretty cool. I think it gives guys like us – guys who have been diehard Pro Stock fans and like to race naturally aspirated with a clutch – a place to race. We won't race NHRA Pro Stock – it's ridiculous. The Mountain Motor Pro Stock stuff here is pretty cool. I've done it in the past and did well. We wanted to do something maybe a little more low-key. This thing fit into some other classes, too. We have some Nostalgia Pro Stock stuff going on in the Midwest that this can fit into. If we had to, we could also run in A/Altered in Comp over in NHRA. We kind of built this thing with the intention of being able to run it other classes, too, rather than something specific like a mountain motor or 500-inch Pro Stock car. Plus, we're just NA guys that won't run nitrous and won't run automatics. This is a good fit for us and it came along at the right time. This class came along right when we were wanting to get back into racing, so we were lucky.
Your new Gillig-Wagner Motorsports Cutlass is a beautiful piece. What went into bringing it out for its debut?
We decided to build this car for the 632 class and we wanted to build a replica of our original Cutlass that we built in the '90s and ran in IHRA and NHRA Pro Stock. We quit racing in '01 and sold the car. We tried to buy the car back from the guy who bought it from us, but he wouldn't sell it. My dad found this car out in Vegas. It's an old Don Ness car that Mike Edwards drove in NHRA Pro Stock. We bought it, brought it home, stripped it and started over. Just completely and totally redid the car and put it together the way we wanted to do it. We had a motor built by MadCap. So far, so good. There's only 15-16 runs on it, so we're still trying to figure some things out on it, but so far, it's been a pretty cool deal.
Did you exceed your expectations by making it to the final round at your first race?
We didn't know what to expect. We thought we had enough power to run in the top half of the field and go out and make some noise. The car ran pretty good, but we had some struggles that weekend. We beat Johnny Pluchino second round and we had a bye into the finals. In the final round we had a needle and seat stick in the carburetor and I couldn't get it to unstick. It was flooding the motor over after the burnout. I just staged the car and hoped for the best. In all reality, just being out for the first time with the car, things went pretty well for us. I can't complain about going to the final.
Who do you have working on the car?
My dad is the brains behind this thing. My brother-in-law, Billy Wagner, is our crew chief. He's been around this stuff forever. He was John Montecalvo's crew chief in the '90s, Larry Morgan's crew chief in the late '90s through early 2000s when he was with Mopar, and he worked for Bob Benza, too. My sister, Chrissy Wagner, also comes with us. We've got some pretty good knowledge here, we just have to get our stuff together and get this car worked out. It should be pretty fast when we're done with it.
Your family has been deeply involved in drag racing for decades. How special is it to be able to all race together now?
We're having a blast together. We never raced together, by brother-in-law, my dad and I. It was always my dad and I, then Billy was somewhere else and we were racing against him. This is a family deal and we're all doing it together now. That's the most important thing: getting us all together and spending time at the racetrack together.