Holley/MSD is pleased to announce the release of Holley EFI Pro Dashes, which feature a huge 12.3-inch viewing area and a full-color low-glare/high-brightness/high-contrast capacitive touchscreen for easy viewing even in broad daylight. Completely customizable for use in countless motorsports applications, they offer plug-and-play functionality with all Holley EFI systems and real-time ECU tuning that makes it easy to make quick tune-up adjustment without the hassle of hooking up a laptop.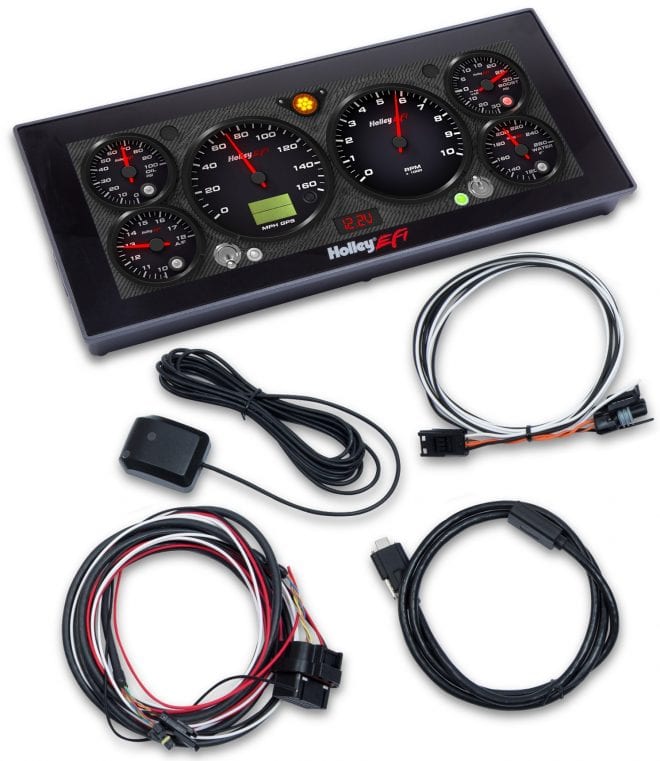 Capable of monitoring up to 238 real-time values such as RPM, TPS, and boost, the Pro Dash's huge assortment of inputs and outputs greatly expands the functionality of Holley EFI systems, including a 34-pin connector with 13 multi-configurable inputs for Holley EFI sensors such as pressure and temperature. (The inputs are totally configurable, so it's just as simple to use non-Holley sensor scaling calibrations.) Two dedicated speed inputs are available for RPM, driveshaft speed, or any other Hall Effect input, and four ground-switched outputs can be used with the switch-panel feature to quickly turn on auxiliary accessories such as a master nitrous switch or an electric water pump.
The Holley EFI Pro Dash's 1280×480-resolution touchscreen has built-in GPS with an odometer function (the antenna is included), onscreen data-log playback, and expandable storage via USB. Sixteen background skins are preloaded (you also can import custom layouts), and you can quickly swipe between multiple active screens – tune, warm-up, race, drive, etc. – instead of having to resort to an external toggle switch.
Measuring 13.44 inches wide, 5.81 inches tall, and a compact 1.25 inches deep, the Holley EFI Pro Dash features user-defined channel alarms and warnings for any input, USB keyboard and mouse functionality to setup new layouts, on-screen data-log playback to review vital run information, and manual or auto-brightness settings, all in a weather-resistant aluminum housing with flexible mounting options. Everything required for installation is included, and the entire system is upgradable with future software enhancements.
For complete product details for 12.3″ Pro Series Digital Dashes, click here.