Diamond Pistons is announcing what they believe to be the lightest ever billet aluminum pistons with button retainers for big-block power-adder drag race engines.
Produced from 2618 material and designed for use in Pro Mod, Alcohol Dragster, Alcohol Funny Car, and Outlaw 10.5 race engines, these latest innovations reduce reciprocating mass by up to and beyond 40 grams per piston. Changes in the layout of the piston's struts and webs as well as the introduction of sizable apertures to the pin bosses account for impressive savings of 20 to 30 grams. Further changes that include shortening the piston pins yield another 10 to 15 grams.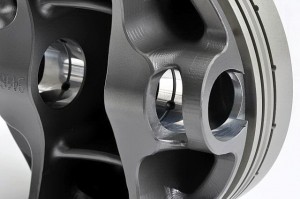 Moreover, this efficient arrangement of struts and webs has had a profound effect on the piston's strength-to-weight ratio. According to Diamond's senior designer of racing pistons, John Kempf, "Our success or failure depends on correctly processing all the statistics and creating a light, sound structure. The thickness of the ribs and gussets, their locations, how they intersect each other and how they transfer their loads to the main structure, especially around the pin bosses, are critical to gaining a structural advantage." Significantly stronger than a conventional forging, these new pistons possess the inherent strength to combat poor rod-stroke geometry.
In addition to their lightness and strength they are center balanced. That is, they are balanced about the piston pin centerline, an attribute that is at its most effective during peak revs. Nothing undermines a good tune-up on a big-block at full chat like an out-of-balance piston.
Available with dished, flat top or domed profiles, these pistons are supplied with top or side gas ports (or both) to maintain thorough ring seal. They are also equipped with button retainers for rapid piston changes. End play is limited to 0.020in (0.010in on each button).
Predictably, Diamond completes the kit with Trend's toughest and hardest piston pins, the new TP1, and Total Seal's ring packs 1/16, 1/16, 3/16in or 1.5, 1.5, 3mm. Lastly, these pistons are offered in Diamond's double-coat (hard anodized with moly skirt) or uncoated.