John Force Racing and Chevrolet announced Thursday that the 18-time NHRA Funny Car championship team will field a trio of Camaro Funny Cars for the 2015 NHRA Mello Yello Drag Racing Series season and beyond. The three JFR Funny Car teams and one Top Fuel dragster team will carry Chevrolet branding, including the iconic gold bowtie, as part of a multiyear partnership. The move was touted as a return home for Force, who started his career behind the wheel of Chevy race cars. You can read the full press release here, but we've also broken down Thursday's teleconference into eight points you need to know about the announcement.
1. John Force is excited.
He's using phrases like "I'm financially strong" and "I'm going home". This is a good thing for drag racing, and yet another sign – not that we needed one – that drag racing's biggest hero isn't going anywhere anytime soon.
2. This deal is exclusive.
That's important to Force and company. They didn't want to share a manufacturer with a slew of other teams and justifiably so. They'll get all the glory if they're able to put Chevrolet in title contention in Funny Car and/or Top Fuel, but they'll also have all the pressure. It'll be 100-percent on their shoulders to make this a good investment for Chevrolet. But, hey, let's be honest – the bowtie boys more than likely just landed the biggest bang for your buck drag racing has ever produced.
http://instagram.com/p/x4uqchOBZZ/
3. This is as important for NHRA as it is John Force and John Force Racing.
NHRA needs a guy like John Force to be active, competitive and stable – looks like they got it with this deal. As our own Ian Tocher pointed out during the press conference, this is a pretty solid nod for NHRA, too. It certainly doesn't hurt to have a big-name corporate sponsor like Chevrolet touting their involvement with the sport.
4. John Force cares about his legacy.
During the press conference Force made multiple mentions of Dale Earnhardt, his relationship with Chevrolet, and the legacy that created in NASCAR and motorsports in general. It's clear that Force cares about his place in the history of drag racing, and he wasn't interested in going out amidst a highly-publicized struggle to secure a sponsor. John Force's legacy is cemented already, but it's interesting to note that it's not something lost on the 16-time champ.
5. Chevrolet cares about winning.
When asked about the value of Courtney Force's star power, and the collective star power offered by John Force Racing, Jim Campbell, VP of Performance Vehicles and Motorsports at Chevy, admitted that he was most interested in their collective ability to win and how they place a high value on success on the race track.
6. These sponsorship contracts are serious business.
Force outlined in great detail the lengths to which they're willing to go to honor their agreements with companies like Chevrolet. He talked about flying Brittany Force out to their Brownsburg, Indiana location in recent days to get fitted for a Funny Car in the event that he, Courtney or Robert were unable to drive and fulfill their contract obligations.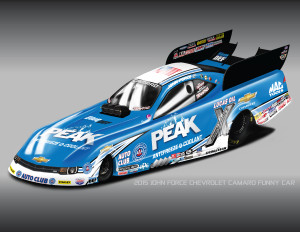 7. It might not be as big as it sounds.
January 15th, 2015 was a great day for John Force, NHRA and drag racing in general, but there's no denying that this announcement was somewhat vague. We're not sure if this partnership between Force and Chevy is worth the millions of dollars that he supposedly lost with the departure of Ford and Castrol or if this is a deal for bodies and technology. We're working to uncover these details, but it is a bit worrisome that there's not some super-cool new Chevy Camaro SS body that's soon to be presented. Force and Hight all but admitted that they'd basically be sticking Chevy decals on a carbon fiber wedge and calling it good.
8. Expect more news from JFR in the coming weeks.
Force and his teams are still recovering from the offseason departures of sponsors and high-ranking personnel, so the full 2015 line-up wasn't discussed in great detail. Force did, however, mention a series of younger "Next Generation" crew members who are moving into higher-ranking positions, and will announce those names before the Winternationals. When asked about funding for Brittany's car, John revealed that a new sponsor will be announced at Phoenix or Gainesville.
GOOD READS
GOOD VIEWS
Last year John Force returned to the site of his first-ever Funny Car win, Sanair Raceway in Quebec, and recalled memories from his 1987 NHRA Le Grandnational Molson victory.
The Professional Drag Racers Association announced Thursday a new class to be included at five of its ten 2015 races, featuring dragsters and altereds racing heads-up in the eighth-mile. As a preview of what to expect from the Powershield Coatings Pro Open Outlaw class, here's Mark McElwee in the Powershield Coatings Top Dragster at last year's PDRA Georgia Drags.
If you're into wild Pro Mods AND Fuel Altereds, it doesn't get much better than NitroAmerica's video from the 2013 Pro Mod vs. Fuel Altered Showdown at North Star Raceway. You can almost smell the nitromethane, and you can certainly hear the cackle.
BONUS: Beginning at 10:30 AM today, Bangshift will live stream all day from the PRO Winter Warm-Up in South Florida. NHRA Top Fuel dragsters, Funny Cars, Pro Mods and jet dragsters will be testing Friday and Saturday with side-by-side racing planned for the evenings.