NHRA announced today that competitors in the Top Dragster and Top Sportsman classes will compete for NHRA national championships beginning in 2015.  Both season champions will be awarded with NHRA national champion's Wally trophies along with national championship rings and jackets.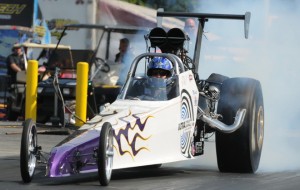 The two classes will be contested at 14 NHRA Mello Yello Drag Racing Series national events across the country, as well as the three NHRA JEGS SPORTSnationals events and at all NHRA Lucas Drag Racing Series divisional events.  To earn NHRA National Championships, drivers in both classes will count their best three of their first five national events, and their best five of their first eight divisional events.  The JEGS SPORTSnationals events will be counted as national events, with competitors earning national event points.
The six-second, 200 mph race cars featured in both classes have continued to increase in popularity and participation.  The addition of three new events in 2015 will include the Route 66 NHRA Nationals near Chicago, which also plays host to the JEGS Allstars.
"We've seen the two categories grow since 2002 with the introduction of Top Sportsman and 2005 with Top Dragster," said Josh Peterson, NHRA vice president of racing administration.  "Recognizing an NHRA National Champion in Top Sportsman and Top Dragster is the next step as interest by racers, sponsors and fans continues to grow."
Class field sizes will not change as a 32-car field will be contested at all national events, including the three JEGS SPORTSnationals, and at Lucas Oil divisional events in divisions 1-5.  Divisions 6 and 7 will continue to contest 48-car fields with the final Lucas Oil divisional event of the year held at The Strip at Las Vegas Motor Speedway hosting a 64-car field.