It's almost here. The biggest, richest Pro Mod race in the history of the known universe – the Drag Illustrated World Series of Pro Mod – takes place next Friday and Saturday at Bandimere Speedway in Denver.
There's a $100,000 winner-take-all grand prize on the line for Saturday's main event winner, as well as a $10,000 payout – and an entry into the main event – for the driver who wins Friday's Aeromotive Wild Card Shootout. With 16 of the best Pro Mod drivers in the world competing on Saturday, the race has shaped up to understandably be one of the most anticipated in Pro Mod history.
With that in mind, we gathered media members, including Drag Illustrated's Nate Van Wagnen and Josh Hachat and CompetitionPlus.com's Bobby Bennett, as well as Drag Illustrated Editor-In-Chief Wes Buck, to give us the lowdown – including predictions – on what they expect to go down next weekend on the mountain.
With so many unique things going on in regards to the World Series of Pro Mod – location, scoreboards off, Friday's shootout – and so much energy building, what are you most excited about?
Nate Van Wagnen: I have to admit I'm most excited to go to Denver. It's one of the few tracks on the NHRA tour that I haven't visited yet, and it's been at the top of my list of tracks I want to check out. It's one of the most unique settings for a drag strip. A lot of these teams have never been there either, so we're all in for a new experience.
Bobby Bennett: I remember the excitement of the very first (Pro Mod) event back in 1990, in Darlington, and remember the emotions flowing through the place that we were witnessing a part of drag racing history. It was the first time in my drag racing life, I had something to tell the younger drag racing fans I was there when it started. I hope to have the same opportunity.
Josh Hachat: Seeing the Pro Mod class grab the spotlight in this regard is going to be really cool. Even in its relatively short history, the Pro Mod class has persevered through so much over the years, and it seems to be in a really great place right now. It's exciting to see and imagine future potential, and an event like this could be just the cusp of something special and that next step for the class.
Wes Buck: What am I most excited about? I'll be honest – it has nothing to do with the racing. What I'm most
excited is seeing these guys, these Pro Mod superstars – get the treatment, respect and "headliner status" that I believe they deserve. I feel good about it. I feel good about having worked hard to celebrate, spotlight and grow Pro Mod racing, which, I believe is the universal language of drag racing. These cars are exciting to watch, dangerous to drive, and it's been our number-one priority to have an event where these guys and gals get the rockstar treatment they deserve. But am I excited to see them race for $100,000? Absolutely.
There are so many good first-round matchups. Which one do you have your eye on?
NVW: All eight pairings have at least one interesting aspect, but the one I'm really interested in is the matchup between Stevie Jackson and Mike Janis. You have the two-time IHRA Pro Modified world champion in Mike and the NHRA Pro Mod rookie in Stevie. I've seen Mike and his team fight through some daunting challenges, and Stevie has proven he can figure out just about any combination and any track conditions you throw at him. Whoever wins this pairing will likely go deep into eliminations.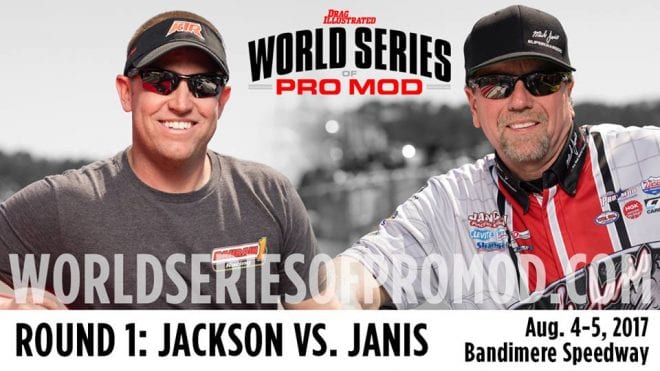 BB: Anybody who races Stevie Fast – the guy is a media magnet.
JH: There are great elements with all eight first-round pairings, but I really like the blower versus blower matchup of Jim Whiteley and Pete Farber. There wasn't grand trash talk, but both had great lines in regards to the magnitude of the event. Farber saying he would have to literally be on fire to miss the event, and Whiteley stating the race is what history is made of was awesome. It made for a great build-up between two well-respected drivers who both recognized what this event means and could be. Both are major threats to win as well.
WB: I have to say that I'm excited about Danny Rowe versus Eric Latino. These are two guys that are high-passion, high-energy, and two cars that are almost always "hopped up". "Stevie Fast" Jackson and Mike Janis, honestly, might be the biggest race of the first-round, though. There's a lot on the line there. The whole nation-versus-nation element, that's very exciting in my opinion, and there's also the fact that Mike Janis has "legend status" in Pro Mod and "Stevie Fast" basically represents the new guard. There's a lot of layers to that race, and I think they may well steal the show.
The most memorable part of the weekend will be what?
NVW: Without a doubt, the final round of the World Series of Pro Mod is what I think I'll remember the most. The final round at any race is a magical moment. I can only imagine what the atmosphere will be like when our two finalists roll through the water box with the $100,000 check and bragging rights on their minds.
BB: I'm looking forward to bringing the stories from behind the scenes. To me, this is as much about winning for us in the media, as just another race.
JH: For me, it's just going to be the win-at-all-costs these super-talented drivers are going to have on Saturday. You'll have this really cool build-up in testing and on Friday, and then it all gets unleashed during eliminations on Saturday. Seeing them all in action, how they react to the different challenges, watching how competitive it gets, I think it's going to be really fun.
WB: It's hard to know where to start with this one. As far as individual moments, I think I'm most excited about the final round on Saturday night – two drivers going head-to-head with $100,000 on the line, and with everyone – fans, drivers, crew members, etc. – all knowing that now the scoreboards will be on, and we're going to see what kind of performance these cars are capable of on the mountain. I know that these pre-determined matchups have been weighing on the racers, I know that almost all of them will be competing for a prize that is larger than anything they have ever raced for before. I think everyone involved is excited for something new and different. That's what we have with the World Series of Pro Mod, and that's what I think drag racing needs right now.
Not many of the drivers have ever raced at Bandimere. What are they going to have to accomplish during the test session to have a chance to win on Friday and/or Saturday?
NVW: The most important thing will obviously be figuring out how to adapt their setups to the high altitude. The test session will be valuable in that regard, but the conditions during daytime testing won't be like what the teams will see once the sun goes down and we start eliminations.
BB: The team which doesn't have unreal expectations is going to have the best chance. The one who realizes racing with no air will require a one-off tune-up to win. With this said, a deep spare parts inventory will indeed come in handy.
JH: I'm with Bobby in the sense that having consistent expectations will be important. But, as we saw with the NHRA event last week, there may be some impressive times out there. We know the track will be impeccable and with the talent involved in this event, I think you'll see some considerable strides made in a short time during testing. With that, I think some of these guys won't be afraid to take some big risks if and when the situation calls for it. That's part of what will make Friday and Saturday so exciting.
WB: I think there are a lot of elements to this. There's certainly going to be the a lot of guys just trying to establish a baseline for the conditions and the track, which will be prepped by Larry, Cale and Cody Crispe, and will be absolutely perfect, but I think there's going to be a good amount of poker playing. I don't think we're going to see guys going out and making full pulls, running the thing out the backdoor. Based on the calls I've received, there's a lot of concern as to racers finding out what other racers run. They're worried about that. I've assured them all that we have a procedure in place and that we have an extremely limited number of people that will be privy to the performance numbers of these cars in testing and on race day, but I think that we're going to see a lot of planned early shut off runs. I can tell you this, I was against adding testing days to this event early on – fiercely. I actually completely resisted it for several months. But I have to admit that I'm glad we've allowed it. Not only are we ensuring that our fans are going to see some epic side-by-side racing, but we've just added to the story of the event. We've got two days of pre-race testing that is sure to keep everyone talking, generate a lot of fan interest and, again, ensure that Friday and Saturday is bad-to-the-bone.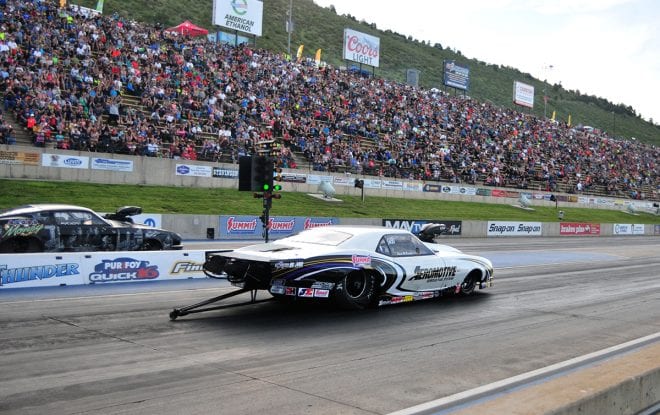 Once we get to Saturday's main event and into the thick of things, what kind of action are you expecting to see?
NVW: While most people have been speculating about the way the cars will perform, I'm maybe more interested in how the drivers will perform. The stakes have never been higher for the competitors who have signed on to compete in the main event. With that in mind, I think we'll see some games played on the starting line. I wouldn't be surprised if we see a few of the races decided by the time the tree drops.
BB: I'm expecting cutthroat competition. A few examples of gamesmanship on the starting line will not be a surprise.
JH: Oh, to be a fly on the wall in the pits and in the staging lanes on Friday and Saturday. Obviously it's high-pressure, high-stakes and I think we all win in that regard. The pressure is all on the participants – we're the ones who get to enjoy the tremendous theater from that. Hearing the talk, seeing who can gain the edge on the starting line and then the on-track action, all of it combined under the lights at such a cool place like Bandimere will make for some awesome action.
WB: I'm with Nate. I think we're going to see guys take the gloves off. I'm excited to see these guys on this kind of stage, under this kind of pressure and racing for stakes this high. I think we're going to see some red-lights, I think we're going to see some staging duels, I think we're going to see some heated exchanges. There's no second place prize here. There's no way to spin it positive. We're not going to see anyone go, "Oh, well, we may have lost, but at least we're still No. 3 in the points." There will be none of that. Not to mention, there's no Funny Car, there's no Top Fuel. Pro Mod is the show, just as God intended, and I'm anxious to see how these guys embrace the spotlight. There's not going to be an autograph session featuring Tony Schumacher, Robert Hight and Greg Anderson – it's going to be Eric Latino, Pete Farber, Shane Molinari.
So, final question. Who's going to win this deal and be $100,000 richer by the end of the night?
NVW: I'm expecting big things from Stevie Fast. However, I think we don't yet know the identity of one of the
strongest competitors: The winner of the Aeromotive Wild Card Shootout. Whoever gets a taste of the high-pressure, high-altitude situation during that Friday night race will be a tough customer in the main event.
BB: Stevie Fast – kind of hard to bet against (him).
JH: Hate to sound like a broken record, but it's tough to bet against Stevie Fast in situations like this. But when you get a group like this together, I'm not going to be shocked no matter who wins. Like you've seen on the NHRA Pro Mod side, there's so much talent that anybody who qualifies can win. It's going to be the same thing in Denver. All 16 drivers in Saturday's main event have proven they can win, which again will make Saturday so exciting.
WB: I wish they could all win. And that's the truth. I am forever in debt to these guys for believing in me and my vision for this event and I won't ever forget it. This isn't a walk in the park for any of these guys. This isn't cheap. This isn't easy. I had plenty of people turn me down, plenty of people offer their support and, ultimately, vanish. This is a group of people who I have tremendous respect and admiration for; a group of successful businessmen, world-class racers and, above all else, downright awesome people. I am forever humbled and truly excited about what the future holds. Again, if I had it my way they'd all win.