There are a lot of ways to signify the surreal journey of Terry McMillen, one that incredibly led him to the winner's circle at the U.S. Nationals on Monday.
But one that sticks out is where McMillen was just three short years ago. That year, he ended the Top Fuel season with just six round wins and five oildowns, the sign of a guy who might not be in the sport much longer.
In fact, McMillen was ready to walk away after the fifth costly oildown in Charlotte. The frustration had reached a tipping point, but McMillen was talked down and never missed a race. The fan favorite continued to work and he and crew chief Rob Wendland started to click.
Their first finals appearance came in 2016, the first win followed in 2017 and now McMillen has a victory at drag racing's biggest race.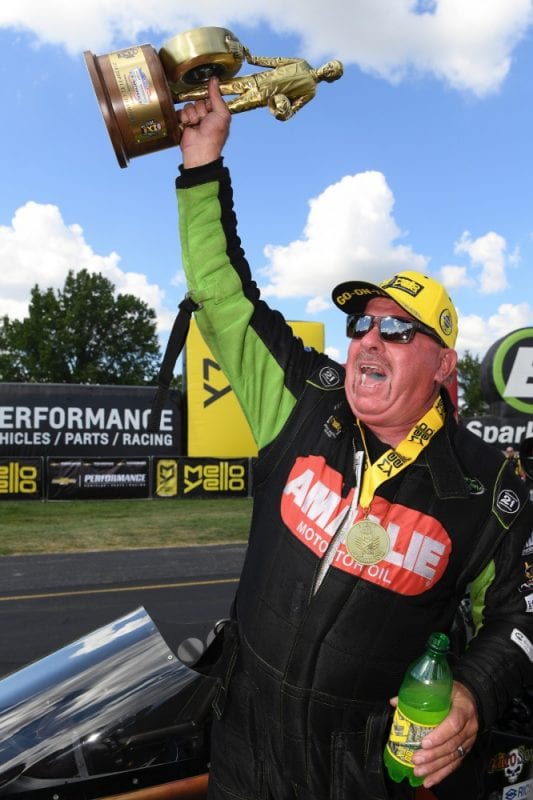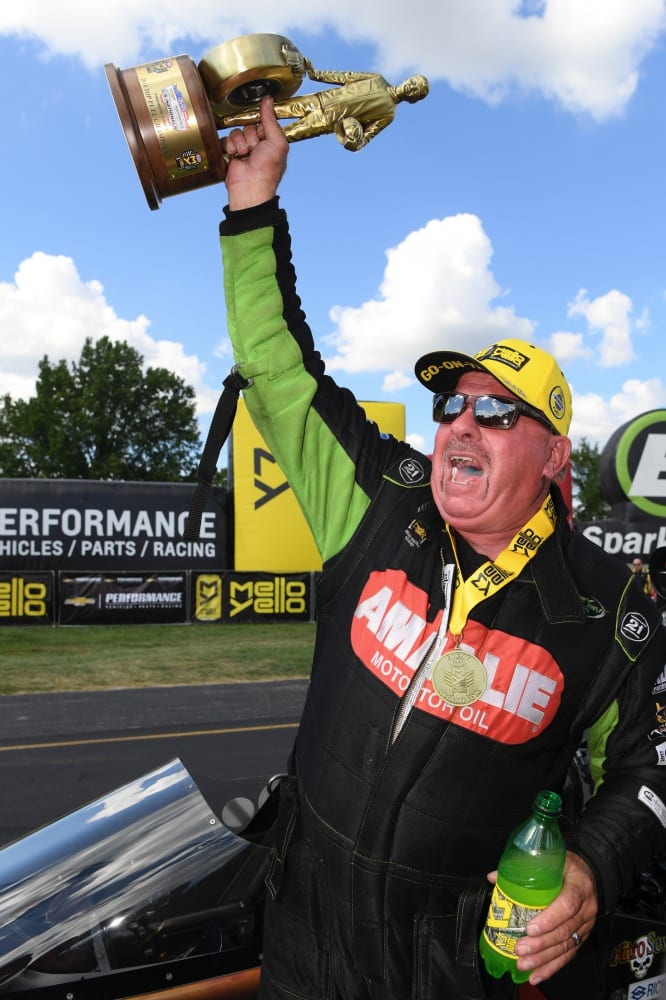 "It's so surreal. To have your name at Indy, that you won Indy, that's one of the highest accomplishments you can have," McMillen said. "It's just incredible. As a kid, you dream of winning Indy and I used to bring my kids down here and watched the race. Man, I'm the most blessed person in the world right now being able to walk out here and say I won Indy."
It's moments like McMillen winning that make the sport so magical.
A guy just a few years removed from being first-round fodder and having to get talked out of retiring to becoming the oldest U.S. Nationals winner in Top Fuel history.
It's the perfect tale of perseverance and passion, two words that sum up McMillen. He's forever been a one-car team trying to run with the mega-teams and now, suddenly, McMillen has championship visions.
He'll start the Countdown to the Championship – advancing to the playoffs for a second straight year – in seventh on the strength of five final-round appearances in 2018.
Those are all numbers and facts that seemed like a pipe dream just a couple of short years ago for McMillen.
He credited Wendland's impressive talents and organizational skills, and they returned a full team that finished ninth a year ago. But after a strong start, they ran into a clutch disc issue over the summer. McMillen lost in the first round five straight races heading to Indy as the clutch disc problems threatened to put a damper on what seemed like would be an impressive season.
But then Indy came and something special followed. McMillen was solid in beating defending winner Steve Torrence and Blake Alexander, and then topped it off with a final-round win against Doug Kalitta, a matchup that had not been kind to McMillen in the past. He was just 1-13 against Kalitta, but this time it went to McMillen, giving the 64-year-old his first U.S. Nationals win.
It's a script nobody would have believed three years ago and yet here was McMillen, celebrating the biggest moment in his career.
"I've always known this year was going to be a good year," McMillen said. "As we start getting some momentum, it's pretty phenomenal. It's pretty awesome. This is special and it validates all those years of hard work."
CAN'T-MISS NEWS
TODD GOES BACK-TO-BACK: J.R. Todd called it a dream come true to win the U.S. Nationals a year ago. Now he's on a select list of Funny Car drivers who won it in back-to-back years after knocking off Matt Hagan in the final round.
Todd downplayed any talk of a dominant weekend, but the numbers indicate he was. Todd posted his first career No. 1 qualifier in Funny Car with a thunderous run of 3.91 on Friday and was consistent throughout.
He'll start the Countdown to the Championship in fifth, which is where Todd wanted to be as he seeks his first championship. After two early wins in 2018, things went awry, making the second Indy win even sweeter.
Doing it in back-to-back years made it even more difficult to comprehend for Todd, a Lawrenceburg, Ind. native who grew up close the track.
"I'm just happy to get a win," Todd said. "The Funny Car division is so tough. We came out really strong this spring and really fell off this summer. We made some pretty big changes going into the Indy test. It's really gotten my confidence up as a driver. To come out and perform the way we did, I don't know if I've ever been as happy."
GRAY JUST WINS: This was the biggest win of Tanner Gray's short, but absolutely spectacular Pro Stock career, but it just continued a theme that the 19-year-old simply knows how to win.
By beating Jeg Coughlin Jr. in the final round at Indy, Gray now has 10 wins in 42 career starts, an incredible number to open a career. It took him just two years to win the U.S. Nationals and winning the same prestigious race his father, Shane, did four years ago was meaningful. As for the torrid pace he's opened his career with, Gray said his approach is simple.
"That's definitely pretty cool. I guess the main thing is I want to strive to be the best driver I can be," Gray said. "I've always worked to be better today than I was yesterday. You pull in the gates and you can kind of feel the buzz around Indy, so it's pretty cool (to win). Getting to be able to share that with my dad, it was pretty special."
TONGLET GRABS SECOND INDY VICTORY: LE Tonglet is ready for a championship run and he's got the Countdown 'Stache to prove it. More importantly, he's got a bike capable of running with Eddie Krawiec and Andrew Hines, proving that by going 6.864 in the final-round win against Krawiec, who dominated Indy and the Countdown a season ago.
"We just go up there and try our best," Tonglet said. "We're out here to have fun, and Jerry's bikes are so smooth and fast. It feels good. To win the biggest race of the year twice is just huge.
STEVIE FAST DOES IT: You can read more about Stevie "Fast" Jackson's unreal run to the Pro Mod crown at the U.S. Nationals here, but it's safe to say it's a weekend Jackson won't ever forget.
DEFLORIAN, MMPS HAVE SUCCESSFUL INDY DEBUT: The Mountain Motor Pro Stock class had a special exhibition at the U.S. Nationals, a first-time for the class and the drivers involved. It was a memorable moment for the group of John DeFlorian, John Montecalvo, Elijah Morton, Trevor Eman, John Konigshofer, Dillon Voss, Dwayne Rice and John Waddle, but it was DeFlorian who was the most impressive, posting the best time (6.351 at 220.94 mph) and winning the Chicago Style format the group set up.
Of course, the hot rumor is MMPS being added to NHRA Pro Stock for the 2019 season and their inclusion at Indy may have very well been their test. If that was the case, they definitely put on a show.
FURTHER VIEWING
LEAH GETS AN INDY WIN: It wasn't in Top Fuel, but Leah Pritchett had her Indy moment, beating DSR teammate Mark Pawuk in the Factory Stock Showdown finals at Indy.
Pritchett was the No. 1 qualifier (8.002 at 172.56) and ran low E.T. of every single qualifying and elimination round, going 8.108 at 170.26 mph pass to claim her first Factory Stock win in her first final-round appearance in the class.
"That's what we call a picture-perfect weekend over here on the left side of the racetrack," Pritchett said. "Absolutely overwhelmed and impressed. The developmental work by Mopar and Dodge to not only be fast, but to make more power than anybody else, to stick it to the ground and do it time and time again, reliably, is so impressive. For one, I love having fun when I race and this is the epitome of having fun and racing."
VIDEO: @LeahPritchettTF and "Cowboy" Mark Pawuk face off in the #USNats #FSXX final round. Congratulations to LP and the "El Bandito" guys on picking up a huge Indy win. @NHRA | @OfficialMOPAR | #ThisIsMopar pic.twitter.com/ZwkNCwhVRD

— Don Schumacher Racing (@shoeracing) September 3, 2018
MONGOOSE TRIBUTE: Drag Racing knows how to do tributes, especially the one to Tom "the Mongoose" McEwen, who passed away in June. From McEwen's Funny Car going down the track in a ceremonial and touching tribute, to the awesome homages Top Fuel No. 1 qualifier Mike Salinas and Funny Car's Shawn Langdon made, it was awesome to see so many drivers paying their respects to McEwen.
Quick photo op with the OG #Mongoose machine & @ShawnLangdon333's tribute ride before we get FC Q4 started at the #USNats! Pretty sweet to see these machines side-by-side! #NHRALegendsTour #NHRA #FastestNameInCreditCardProcessing pic.twitter.com/fsbNpj3xR2

— Kalitta Motorsports (@TeamKalitta) September 2, 2018
GLIDDEN TRIBUTE: Bob Glidden, the legendary Pro Stock champion who passed away in December, also received a spectacular tribute from Bob Tasca, who debuted his Glidden throwback Mustang Funny Car this weekend.
This was an incredible sight, as was having the Glidden family on the starting line for Tasca's run on Friday.
In the lanes in Indy… so honored to run this car in memory of my hero Bob Glidden. Here we go! @NHRA pic.twitter.com/yldIH0YSpU

— Bob Tasca III (@Tasca3) September 1, 2018
Drag Illustrated Live Episode
Make sure you check out Episode 112 of DI Live with Wes Buck, as well as this week's episode, which will be loaded with winners from the U.S. Nationals!
ANGELLE GETS EMOTIONAL: I think it's safe to say that qualifying for the Countdown to the Championship at Indy meant a great deal to Pro Stock Motorcycle's Angelle Sampey.
In an emotional final qualifying session @AngelleSampey made a run that got her in show and will keep her in contention for the #NHRACountdown! @ChevroletPerf #USNats full qualifying recap on @FS1 at 10p ET. pic.twitter.com/2WFB4eKszI

— #NHRA (@NHRA) September 2, 2018
ON SOCIAL
CONGRATS U.S. NATIONALS WINNERS!
Soak it up @TerryMcMillen! You just got your FIRST @ChevroletPerf #USNats WIN! pic.twitter.com/JpH9k0pEw5

— #NHRA (@NHRA) September 3, 2018
Celebrate with the team that got you there! #USNats pic.twitter.com/SRM5YIiyQQ

— Toyota Racing (@ToyotaRacing) September 3, 2018
A WIN at the @ChevroletPerf #USNats AND the No. 1 seed in the #NHRACountdown?! Have a weekend @TannerGray5! pic.twitter.com/WHihyTiRUb

— #NHRA (@NHRA) September 3, 2018
WINNER WINNER! Congrats @LETonglet!@ChevroletPerf #USNats pic.twitter.com/btlZqc2hH3

— #NHRA (@NHRA) September 4, 2018
TASCA'S BIG BOOM
The weekend didn't end as well as it started for Tasca, who blew up the body on his Funny Car and just missed qualifying for the Countdown.
BANG! @Tasca3 suffers big explosion in @MQL_Racing @FordPerformance Mustang during rd1 @NHRA #USNationals @LucasOilRaceway Tasca uninjured! @CanonUSApro #NHRA pic.twitter.com/MJYrPoSM71

— Mark J. Rebilas (@rebilasphoto) September 3, 2018
LEGENDS
Snake and the Rad Man.
Caption this.@ChevroletPerf #USNats pic.twitter.com/0a6q1Xaidv

— #NHRA (@NHRA) September 2, 2018
Bernstein, Garlits and Muldowney
We've got Kenny Bernstein joining us NOW on #NHRAonFOX! Watch on FS2 and https://t.co/WSntDTMXBp! @ChevroletPerf #USNats pic.twitter.com/EAXOmWzvuY

— #NHRA (@NHRA) September 1, 2018
The full legends lineup at the U.S. Nationals
The @ChevroletPerf display is the place to be at the #USNats! #NHRALegendsTour pic.twitter.com/bJT99zbIgK

— #NHRA (@NHRA) September 1, 2018
EMAN THRILLED WITH MMPS DEBUT AT INDY
Love seeing that kind of emotion from drivers.
TATTOOED DEDICATION
That's, well, an interesting way to show your support.
Today is already a great day cuz @BrittanyForce & I met this awesome fan who got all the @JFR_Racing cars tattooed on him, as well as our signatures!😱I absolutely LOVE when I come across fans who have this much passion for the sport of @NHRA & our teams!🏁🙌🏻#TeamForce #Diehard pic.twitter.com/vGKXFUyPWb

— Courtney Force (@courtneyforce) September 1, 2018
GOOD NUMBERS
Lots of eyeballs tuned into the U.S. Nationals. Definitely a good thing.
.@FoxTV earned a 0.8 overnight rating for yesterday's @NHRA Mello Yello Series #USNats in Indy, up from a 0.7 for last year's event.

➖ That's the best for the event for Fox since it started airing the race in '16.

➖ Top three markets:
– Indianapolis
– New Orleans
– Birmingham pic.twitter.com/lN3VfgNHxX

— Adam Stern (@A_S12) September 4, 2018
COUNTDOWN VIBES
The regular season didn't go the way Brittany Force wanted, but she's motivated to defend that Top Fuel championship.
Motivation after officially locking into the @nhra countdown! Game on boys! @monsterenergy 🏁👊🏼 pic.twitter.com/EJUYGE7e1z

— BrittanyForce (@BrittanyForce) September 3, 2018
FINAL WORD
The Return Road is back for Indy and the Countdown to the Championship, and we are excited. It's been a fantastic regular season and there's still so much to go down over the final six events. Plus, we've got No Mercy, the end to the PDRA season and much more. Buckle up, it's going to be an awesome fall.