New Yorker Petey "Small Block" Avram is a Northeast street racing legend, and has dominated the grudge racing scene up there for years. He even earned a reputation as "KINGUVNY" from all the races he's won and even has the matching vanity plate on the back of his nitrous-fed, 440 SBC-equipped '82 Mustang to remind everyone in his rear mirror.
Avram's got the lowdown on what it's like to race for real, and what it's like to race for a television production crew as a guest on Street Outlaws. From the excitement of outrunning cops to his newfound celebrity in the eyes of millions all over the world, Avram stays true to his roots.
How did you get interested in street racing?
My family all had race cars. My mom would take me on weekends to go cruising around, and my cousins really developed my love for it. I had a neighbor who would bring me to the street races when I was like, 12, at Fountain Avenue in Brooklyn.
When did you start doing it yourself?
I started street racing in '95. We'd go to the diner on 150th and Conduit Ave [in Queens]. We would race seven days a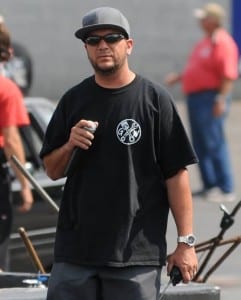 week until three in the morning. It was way before the Internet days, so we'd all meet up and everyone would bring their cars, decide who they'd race, and get a pot going. Even food trucks would show up because they knew there was so much business. We'd lock down Nassau Expressway near JFK airport, and we'd have cops coming up the side walking on foot to try and stop the race. We'd only run three or four a night, but it was every night, and it was a totally different scene than today where everyone's fighting on the Internet. Back then, it was bring your car and race. We'd run for $2,500 up to $10,000.
Then the imports killed it. They started going to the Expressway and sitting there all night around '01 or '02. They'd shut it down for hours upon hours whereas we'd get everything ready at the diner and shut it down for five minutes just to do the race. The cops got a hold of it, the spot got really hot, and they started cracking down with zero tolerance in '07 or '08. The scene up here was totally dead because of it. You could still get races, but it wasn't like the old days with hundreds of people.
You raced X275 in 2013. What inspired that, and why did you stop?
I got bored, so I ventured into X275 and had a lot of fun with it. It's different because when you grudge race, you're putting up your money and everyone else's. There's all that pressure, and people are counting on you. At a class race, you put $200 on a tech card fee and you race for $3,000 and there's not nearly as much pressure. Then we went back to grudge racing, because the all-nitrous, small block, no-time shootouts were coming up and paying great money. I've been doing those and winning—I've got three belts now—but I can't run X275 at the same time because if I light up the boards [with an ET and MPH in a class race] then I can't run any more no time races for the rest of the year.
How did you get involved with Street Outlaws?
It was really a spur of the moment thing. Justin [Shearer] and Shawn [Ellington] were real big names in the street racing game and I knew of them before the show started. They reached out to me for the nationwide call out and asked if I was interested in coming down. I had two weeks, but we busted ass to get the car ready.
How did the race go?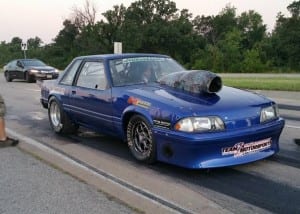 I went down to Oklahoma, tested for two nights there, and broke my transmission at seven in the morning the day of the race. I went to the race, couldn't find a trans and couldn't fix mine because I didn't have the parts, but Brian "Chucky" Davis from Detroit lent me the trans from his car after he raced Monza. The race itself was awesome. It wasn't a prepped road like everyone thinks. There was a lot of rubber when we went to test, but we had been testing in the east-bound lane, and on race night, they had us run in the west-bound lane towards opposite traffic with no rubber.
There was a bit of controversy around your race with Boosted GT. What happened there?
They said we left early, I still feel that we left dead on with the light. In slow motion on the video you can clearly see I didn't leave early. But I guess controversy's good because it gets people talking. They really are a great group of guys, though, and I'd go race again in a heartbeat. The best part was when we got to the finish line, cops were sitting there and we didn't have to run.
This story originally appeared in Drag Illustrated Issue No. 102, the State of Drag Issue, in August of 2015.