Hi everyone, and happy 2016! The past few months have been very busy at Michalek Brothers Racing as we continue to go through the car and get it back to race-ready condition. As we stated in our previous blog, we are in the process of rebuilding the entire car from top to bottom. This blog will focus on A/fuel engine basics and the engine inspection process; specifically the crankshaft and connecting rods.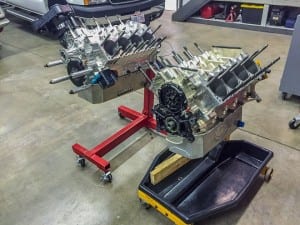 First, let's discuss the basics of A/fuel engine combinations to provide context for the type of setups that are available for injected nitro cars. Our operation came with two Alan Johnson Performance Engineering (AJPE) engines that include TFX -.500 short deck blocks with 4.375" bores and Stage 1 muscle heads. Per NHRA rules, A/fuel dragster entries are permitted to run engines between 410 and 456 cubic inches of displacement. The engine's displacement directly affects the car's minimum weight using a 5lbs per cubic inch ratio. The rules also state A/fuel dragsters must weigh at least 2,125lbs at the end of the run. Simple math reveals the max displacement an A/fuel car can run while still being eligible for minimum weight is a 425 cubic inch setup (425 x 5 = 2,125). Each team has their own preference for engine setups with the most common setups being 421 and 433 cubic inches (each setup uses a 4.375" bore; 421 = 3.500" stroke, 433 = 3.600" stroke).
You may be asking why would you want to run a combination less than 425 cubic inches? There are a few reasons in no particular order: the 3.550" stroke crankshaft required for a 425 cubic inch setup is not a standard size, some teams prefer a particular bore and stroke combination for their setup and believe the shorter stroke is preferable, and when you put 95% nitro in the tank the old saying, "no replacement for displacement" isn't completely valid – technically speaking.
Now that we have reviewed the guidelines for A/fuel engine setups, we'll dive into the process we use to validate the components we currently have available and we'll focus specifically on crankshafts and connecting rods (more to come on other parts of the drivetrain in future blogs). We currently have both 421 cubic inch and 433 cubic inch engines, and since we're on a budget, we plan to go through both engines to ensure we have a strong core that can hold up through the 5+ seconds of hell each component experiences each time we stomp the loud pedal.
Inspecting the crankshaft on an A/fuel car isn't much different from inspecting a crankshaft on a street/strip engine
except the consequences of a mistake are much more costly… We found both of our crankshafts measure within tolerance on both the rod and main journals (good start). The surface finish on the 421's main and rod journals appeared to be in like-new condition; the 433's main and rod journals appeared to have weathered a previous engine failure and will need to be polished before reuse. While looking at the journals of each crankshaft, we also look for cracks. Historically speaking, cracks seem to appear most frequently around the oil hole for #1 and #2 connecting rod journal. We couldn't see any cracks, but to be safe we sent the cranks to be wet-magnafluxed and they came back OK which is good news since we don't have to purchase new $3,500+ crankshafts (no guarantees after the next run, but they're good for now).
The connecting rods of any race engine take a beating; A/fuel engines are no exception. The abuse in an A/fuel engine does not come from high RPM's (the highest RPM's in an A/fuel engine are experienced during the burnout), but dropped cylinders and detonation are particularly brutal on the connecting rods. There are a couple ways to check to see if used connecting rods are still in race condition. The easiest and cheapest way is to run the cap bolts in and out by hand. If this can't be done without tools, the rod is junk due to stretch or bending. If the connecting rod passes this basic test, then it can be checked for straightness and length. We use a WESCO (made by nitro tuner Johnny West) fixture to make these checks and use a new connecting rod as our "standard" to check used rods against ensuring each is within .005" of a new rod's length and straightness as our threshold for continued use.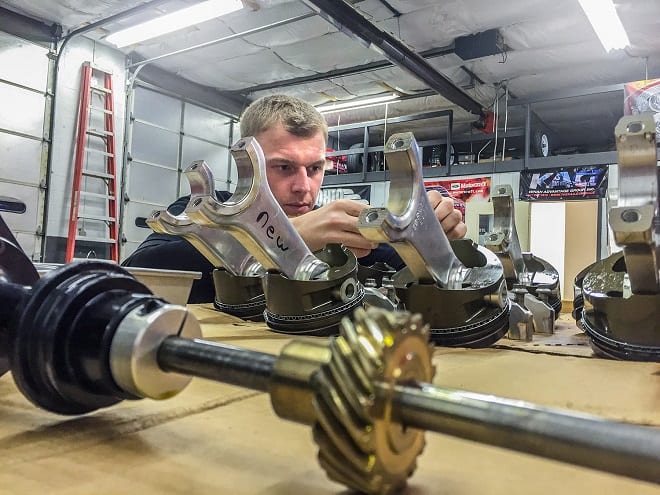 Another critical check during connecting rod inspection is cap bolt length. We use a fixture to ensure our bolts have not stretched and therefore become incapable of achieving the necessary preload to hold the connecting rod together. Our racing budget does not include line items for sacrifices to the aluminum gods so it is critically important we stay on top of our used inventory to ensure it is still fit for use.
If there is one thing we have learned since purchasing our A/fuel car, there is no shortage of work; however, that provides ample opportunities for us to continue learning and sharing our insights with you as we make this journey. Thank you for checking out our progress; we'll be back soon with more updates from the reassembly process and a look into the safety upgrades that we've made to the car!
Corey and Kyle Michalek
Stay tuned for the next MBR blog post, where Corey and Kyle will go over the safety upgrades they've made to their car over the offseason.