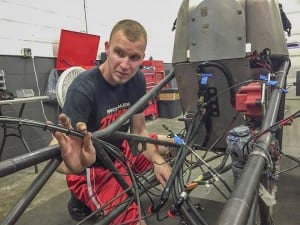 Hi race fans and welcome to blog #2 for Michalek Brothers Racing! We have been busy making progress since our initial blog entry disassembling and inspecting our recently purchased 2010 Spitzer 300" A/fuel dragster. This is MBR's third overall dragster; all of which have been previously used cars. The post-purchase teardown and inspection process is not new to us, and is an important step in the preparation process. As much as we want to pour nitro into the tank and go to the track to make some noise, we know we have to establish a consistent and reliable foundation to build upon. We are very particular about how we put our cars together and always find things that need addressed each time we complete our initial inspection, and this car is no exception.
Our approach to preparing a new (to us) racecar involves three steps: disassembly and inspection, modifications and updates, and reassembly. The disassembly and inspection process must be deliberate so we can develop a better understanding of the car by looking at everything from a safety and performance perspective including the chassis, fuel system layout, wiring layout, and drivetrain (more on the drivetrain in a future blog). As we disassemble each part of the car we are careful to take pictures, make notes, and label components and connections for reference during reassembly. This is not to say we will reassemble the car the same way, but it is always good to have notes for reference.
When we got the car down to the bare chassis, we wiped everything off and looked over each weld and joint. We knew we were going to take the car to Spitzer's for an overall inspection as well as updates, but we wanted to make sure we did not miss anything. During our disassembly process we found a couple areas on the chassis we wanted to
have double checked and noted a few areas that we wanted to update or modify. We also made the decision to change the motor angle for performance considerations to help get the car off the starting line as efficiently as possible without smoking or shaking the tires. Also, since Corey and I are on the taller end of the driver height spectrum we elected to raise the roll cage by 3" inches to get a little more head room. In addition to the chassis updates, we will use this time to send out the ignition system for evaluation and fuel pump for flow rates. We will also send out all of our SFI certified components for safety inspections and recertification.
The disassembly and inspection process is not quick, but it is necessary and worthwhile. This approach falls in line with our overall incremental growth in the sport. We know where we want to go, but we know it's up to us to put in the hard work to make it happen. Being the metal heads we are, this reminds of us of the classic AC/DC track "It's A Long Way To The Top (If You Wanna Rock 'N' Roll)". Substitute whatever worthwhile endeavor you're working towards in life for "Rock 'N' Roll" and this song resonates just as true today as it did when it was released 40 years ago. We'll pick up our next blog with updates on the modifications completed at Spitzer's and a look at the drivetrain disassembly and inspection process. Thanks for following our progress!
Stay tuned for the next installment of the Michalek Brothers Racing driver blog, where Kyle and Corey will go into details on the nitro-burning A/Fuel dragster's drivetrain.