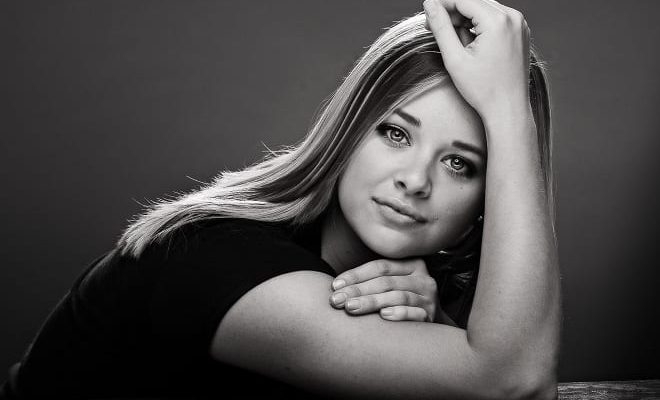 Driver Blogs
DI DRIVER BLOG: Megan Meyer
By
|
Our two Randy Meyer Racing Top Alcohol Dragsters headed west for our first NHRA Winternationals in Pomona to kick off the 2016 race season. Like I said in last month's blog post, we don't typically begin our season until the Gatornationals, but with our team expanding, we entered the race with drivers Bill Litton and Alan Bradshaw. Our full-time crew guy, Dalton, along with Danny Pomponio, who helps out our team occasionally, and myself made the 24-hour drive from Kansas City to Phoenix at the beginning of February to test both dragsters before we hit the track at Pomona. This was our first time at Wild Horse Pass and it was a beautiful track with lots of mountains and scenery. Bill Litton took his first shot at the car on Sunday, and I got to hop back in my Copeland-built dragster on Monday. We had great progress at Phoenix and felt very pleased with the testing results although we had to call it quits because the track was almost too good to race on and nobody could get from A-to-B without spinning the tires.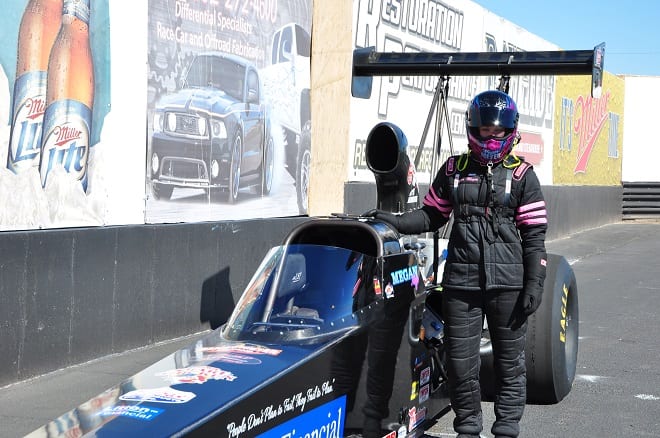 Our next stop was Pomona, which I've only been to once before when we took on the Western Swing to win the 2003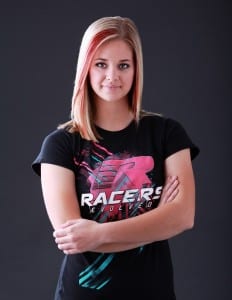 national championship. It was another beautiful track and we started out on a really good note, but couldn't seem to follow it up as the weekend went on. Alan's first pass in my dragster was a 5.26 et at 274 mph – the quickest and fastest pass for that car, an amazing run that put us sixth in qualifying. Not where we wanted to be. We struggled with Bill's car (the dragster that my father retired from) all weekend and he started out qualifying running only a 5.44 et, which was not what we expected after what we saw at Phoenix. We had no improvements after Q1, and were bumped down to eighth and 15th going into round one. This is where things got interesting – Bill lost on a holeshot and Alan won by coasting to the finish line because the fuel line shook off. This caused a lot of damage and we had to tear down and replace four sleeves on Saturday night, but we were fortunate to have one Randy Meyer Racing dragster competing on race day.
Unfortunately, we had an upset loss in second round of eliminations against the number one qualifier. Once again, we had massive tire shake, which resulted in more damage than we thought. Once we got home, we tore down both dragsters and have been inspecting every detail and every weld on the car to make sure the frame is intact and nothing is out of place. We did have some damage to the motor mounts and the Racepak Pro 3 wires; thankfully the guys at Racepak have taken great care of our team and we have put brand-new wires back on.
Another thing that has been taking place in the few weeks we have between Pomona and Gainesville is the transition to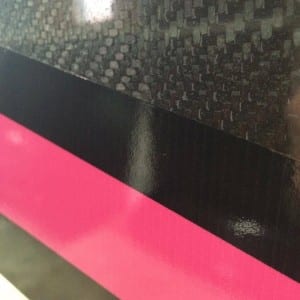 begin my full-time career in Top Alcohol Dragster. This will be the first time I get to race a full schedule of NHRA National and Regional events all across the States, and like I've said before, it's a dream come true. This moment is what I've looked forward to my entire life, and I'm so confident and so ready to get started. I know there is going to be a lot of success for the team. We have been very busy getting the "new look" of RMR together and trust me when I say that it is going to blow your mind! I cannot reveal the Racers Evolved look just yet, but I can give you this sneak preview.
I'm so happy to have support from a company like Racers Evolved who has a lot of plans for expanding their company and their support of drag racers, and I'm very lucky to be a part of the designing phases of their merchandise. We have come together to create the "Megan Meyer Signature Series" look for female racers, whether it's drag racing in Top Fuel or Sportsman classes and even Junior Dragsters, or outside of drag racing, including Motocross and Supercross racing. We want to reach as many female and male racers out there so everybody knows who and what Racers Evolved is. We will be launching the online store before the Gatornationals. My new Augmented Reality hero cards will offer special access to all of my apparel (hint hint – there may be a coupon on there too!)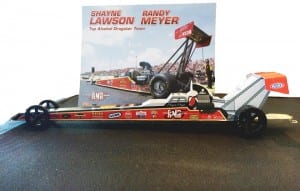 I have one more surprise for everyone – I'm so very excited to say that we have teamed up with Pitsco Education to bring to you guys the "Fold-N-Roll Dragsters" I showed you all last year. We will have lots of dragsters that you can purchase from our website (coming soon!) or from theirs later on this year. For now, you can get your own Special Edition Randy Meyer Racing 35th year Anniversary Dragster – just visit www.randymeyerracing.com/shop/. Or you can get the Megan Meyer A/Fuel Dragster, which is only available in our new Fan Package! The Fan Package is really cool because you will get to see the Racers Evolved/Megan Meyer Racing dragster before anyone else does, and you will get some great items from our sponsors. We are also giving away autographed hero cards and NGK calendars to the first 5 who purchase the Fan Package! So visit the link above or email me at shop@randymeyerracing.com, and get yours before they're gone!
Make sure to visit Racers Evolved on Facebook and Instagram the week of the Gatornationals to see the revealing of our Top Alcohol Dragster, and make sure to stay in touch with me on Facebook, Instagram, and Twitter to see everything that is happening behind the scenes. I hope to see y'all at Gainesville!!
Comments
comments