Less than 24 hours stand between me and my first pass down the drag strip at Gateway Motorsports Park in St. Louis for this weekend's Regional event. Although it's a short five-hour drive to the track, the anticipation continues to grow for me. I still cannot believe this dream come true! I grew up at the drag strip, watching my dad race since I can remember, and I always knew that drag racing was what I wanted to do when I got older. I loved the sounds and smells of the different cars, and the family all working together to finish in the winner's circle and get the Wally.
I know that I have a World Championship crew with me this weekend, and I'm hopeful for my very first race that I will do my duties as a driver as I need to and do my best to get past first round, and maybe end up in the finals, against my father, of course. I don't want to get too optimistic, but I truly feel I have a good shot at getting my first win this weekend. Our lead mechanic, Ted, will be crew chief for my car with help from Brandon, the newest Randy Meyer Racing crew member, who has done an outstanding job this year, as well as my boyfriend and Motocross racer, Marcus.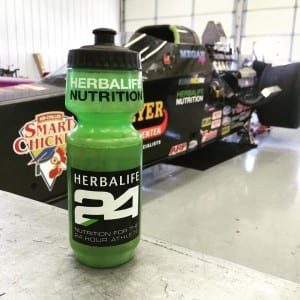 Leading up to this day has been a rollercoaster of events. We have been busy at the shop trying to catch up after being gone for two weeks at Norwalk and Chicago. Between working at the shop and working on the cars, I have been working part-time on freelance design projects, catching up with my clients and talking to people about Herbalife nutrition programs at our local nutrition club. And of course, I get my daily workout sessions in. I focus more on heavy lifting to help build muscles in my shoulders, arms, and legs to help me be a better pilot for the injected-nitro machine, and I always immediately use my post-workout Herbalife 24 Rebuild Strength to recover quickly.
When I have spare time, I love to go fishing with Marcus. We always have a great time catching small bass and crappie. We also went to a few county fairs and watched some action-packed demo derbies. Marcus competed in two of his Motocross races and took home 4th both times. I've been using this time to relax and not overwhelm myself with work and getting prepped.
Overall, I'm thrilled for what lies ahead of me this weekend, and I'm very confident that everything will be smooth sailing. This will be my first time racing the A/Fuel Dragster, but it's not my first time in the car, or in a race. As I said in my previous blog, I've been drag racing for over 10 years with a Junior Dragster and Super Comp car, and for the past three years I have been training for this debut, and to be racing side-by-side with my father. My sister, Rachel, will also be at St. Louis racing her Super Comp Dragster, in which she just won her first bracket race!
The weather looks like it's going to be perfect for some quick and fast runs by all Top Alcohol Dragsters, and I couldn't be more excited!! Please follow my Instagram and Facebook page for track updates! See you there!