As I write this blog, I try to contain my excitement as I enter myself as a Top Alcohol Dragster driver for the first time! It has been years that I have dreamed of this moment and it is finally happening sooner than I expected. In less than one month I will be competing in my first NHRA Top Alcohol Dragster race in St. Louis for the Lucas Oil Drag Racing Series Regional event, alongside my world championship-winning father, Randy Meyer.
I began drag racing when I was 10 years old, long after I fell in love with the sport. As I grew up traveling from track to track following the NHRA circuit, and getting the nitro in my blood as some would say, I decided early on that this would be my career. Not because of my father, but because I wanted to make my name a staple of NHRA history. I earned multiple wins with my Junior Dragster, and earned two track championships. Super Comp racing has posed quite the challenge, and was very tricky at first since my father nor I had previous experience with throttle-stop racing. But we got the hang of it, and now my sister and I race Super Comp and bracket races as much as we can.
I am truly grateful for the opportunities that my family has given me with my passion for drag racing, and supporting my other hobbies including archery, fishing, health and fitness, and going on my first hunting adventure this fall. Moving up from Super Comp to Top Alcohol Dragster is definitely a learning curve, and although I have been testing for a few years now, I learn something new every time I get in the drivers seat. I am thankful that I've had the opportunity, unlike most, to test my dad's A/Fuel Dragster because it has helped me get my foot in the door and really get comfortable with the car. I have experienced the good and the bad from my best time of 5.29 ET at 265 mph, to wheelstands and smoking the tires.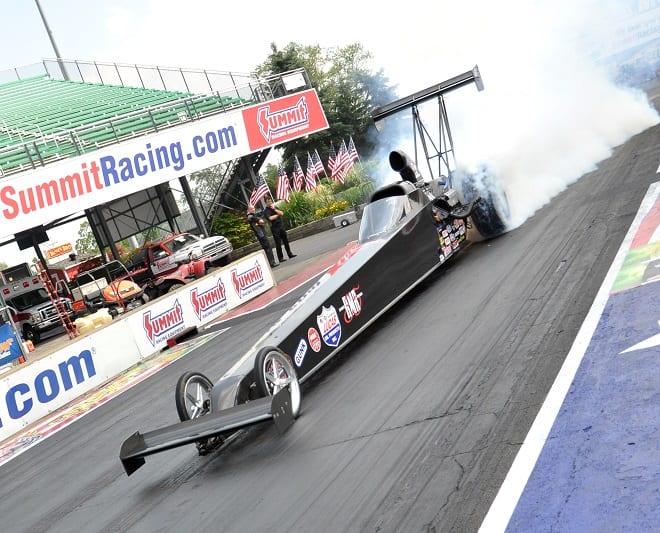 I look forward to St. Louis, coming up in less than a month, and I am hoping that all goes well for both my dad and I. It is a dream come true to be able to race next to my father, and I am proud to be the next second generation driver of NHRA.