For the second race in a row, drivers of the Chevrolet Performance Challenge Series joined drivers of the NMCA to put down palpable amounts of power with LS, LT and LLT engines under the hoods of their hot rods.
This time, it was for the 17th Annual Honeywell Garrett NMCA All-American Nationals featuring the 50th Anniversary Ford Performance Cobra Jet Reunion presented by TascaParts.com, Aug. 23-26 at Summit Motorsports Park in Norwalk, Ohio, and the event was well-attended and widely-applauded.
In the heads-up category of Chevrolet Performance Stock presented by Scoggin-Dickey Parts Center, Haley Rounsavall rocketed to a 10.14 to set the pace in her Camaro, but hot on her heels was reigning class champion Jesse Wilson, with a 10.15 in his Camaro. Several rounds later, the two met in the final, and when it was all said and done, Wilson wheeled to the win with a 10.29 while Rounsavall ran to the runner-up with a 10.57.
While Bryan Williams drove to a 9.77 on a 9.75 index in his Firebird in LME Street King, Taylor Lumsden and Kurt Anderson arrived at the final, where neither wanted to be the first to bump into the beam. "Both cars are sitting there idling away, and we have a staging duel," said announcer Brian Lohnes as he was calling the race. When they finally staged, Lumsden landed his second win of the season with a 10.05 on a 10.00 index in his Firehawk and Anderson was the runner-up with a 9.82 on a 9.75 index in his Camaro.
"We had to tackle the weather, and we were adding weight to the car and pulling weight out of the car to get it to perform, and we got close enough," said Lumsden. "Kurt (Anderson) is great, and he has helped us a lot. It was a fun race, and I'm looking forward to the next one."
In ProForm Rumble, Keith Vennekotter led qualifying with an 11.50 on an 11.50 in his Trans Am, but Tom Calabrese and David Rickey made it to the final for a battle of the Camaros. Rickey ran to the holeshot win with an 11.55 on an 11.50 index, and Calabrese was the runner-up with a 12.01 on a 12.00 index.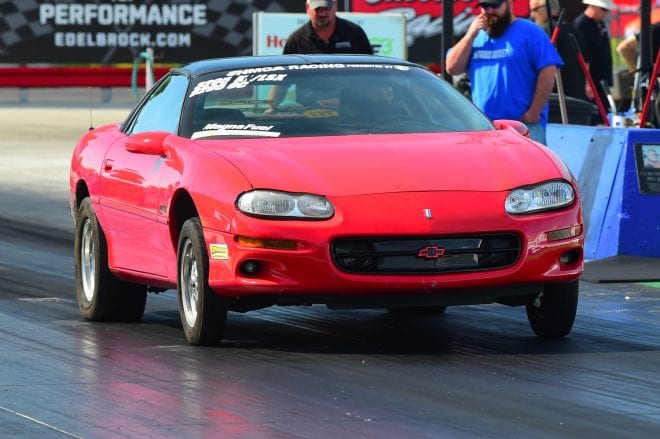 In the Chevrolet Street Car Challenge, Stephen Chechak, who was the overall winner at the Nitto Tire NMRA/NMCA Super Bowl of Street Legal Drag Racing presented by Fuel Systems Technology in July at Route 66 Raceway in Illinois, repeated his feat as he was the overall winner with an 9.41 average at this event. George Messer ran to the runner-up with a 10.23 average, and Kevin Rowand rolled out the 11-second win. Bob Sanders secured the 12-second win and Bill Schoenberger picked up the 13-second win. Rounding out the field was Kurt Hindel with his 14-second win.
After several months of masterful racing, Chevrolet Performance Challenge Series champions will emerge at the next — and final — race on this year's tour, the Holley Fest, Sept. 7-9 at Beech Bend Raceway in Kentucky.
By Mary Lendzion
Photos by NMCA