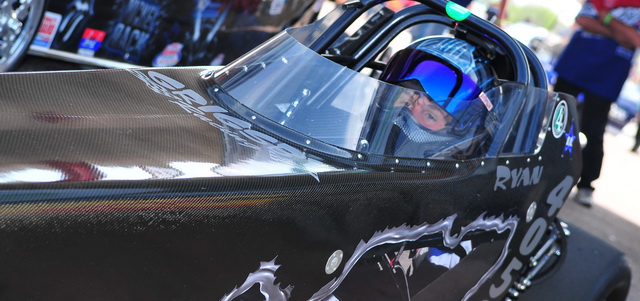 The X-treme Drag Racing League (X-DRL) released its pre-registration information Jan. 24, for the Pro Junior Dragster (PJD) class this year.
The inaugural campaign for the all-eighth-mile sanctioning body begins April 6-7, with the X-DRL Spring Nationals at Osage Casino Tulsa Raceway Park, and includes nine races at many of the nation's top tracks.
Pre-registration for Pro Junior Dragster for the 2013 X-DRL season will begin at 10 a.m. EST on Jan. 26. The non-refundable entry fee is $250 per driver, per event, and must be pre-paid by check or credit card. Registration will not be confirmed until payment is received and cleared.
A special offer is available to PJD teams signing-up for the entire 2013 X-DRL tour, and includes a free X-DRL t-shirt and a free 2013 X-DRL membership.
The X-DRL will accept 20 cars per event and will qualify a field of 16 cars based on closest to a 7.90 index without breaking-out.
In addition, the X-DRL will closely follow a waiting list. In the event one of the initial 20 spots becomes available or vacated, the waiting list will be referred to in order to fill that spot.
The following is how the pre-registration process will work for PJD:
·      Jan 26, at 10 a.m. (Eastern): Competitors who wish to race all nine events in the 2013 X-DRL tour should call Trevor Wilson, PJD Advisor, at (269) 719-0041.
·      Jan 27, at 10 a.m. (Eastern): Competitors who wish to race a select number of events per their desire and choosing should call Trevor Wilson, PJD Advisor, at (269) 719-0041.
PJD registration will remain open the entire season and teams are required to call in advance to enter an event.
In addition, Alert Screw Products has signed with the X-DRL to provide a low qualifier award, with $100 and a plaque going to each event's top qualifier in PJD.
For rules and payouts, please visit Pro Junior Dragster under the competition tab at www.X-DRL.com.
(Photo by Joe McHugh)
2013 X-DRL SCHEDULE

April 6-7:
X-DRL Spring Nationals, Osage Casino Tulsa Raceway Park, Tulsa, Okla.

April 26-27:
X-DRL Thunder Valley Madness, Bristol Dragway, Bristol, Tenn.

May 17-18
: Bash On The Bayou, No Problem Raceway, Belle Rose, La.
June 14-15:
X-treme Gateway Showdown, Gateway Motorsports Park, St. Louis
July 26-27:
Mayhem At The Creek, Maryland International Raceway, Mechanicsville, Md.
Aug. 16-17: Hot Texas Nights, Dallas Raceway, Crandall, Texas
Sept. 20-21: Lucas Oil Raceway at Indianapolis, Indianapolis
Oct. 4-5: Southern Slam, Montgomery Motorsports Park, Montgomery, Ala.
Oct. 25-26: X-Treme World Finals, zMAX Dragway, Charlotte, N.C.