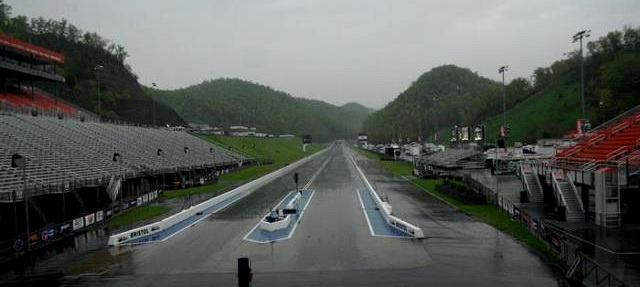 Steady rain showers on Sunday (Apr. 28) at Bristol Dragway forced the X-Treme Drag Racing League (X-DRL) to cancel the rest of eliminations for the weekend's X-DRL Thunder Valley Madness. The race is considered complete and points will be awarded for each X-DRL class based on what was finished during the weekend.
Action at Bristol was rained out during eliminations on Saturday, and X-DRL officials had hoped to finish the race on Sunday, but persistent showers washed out that possibility.
The next race during the 2013 X-DRL season is the Bash On The Bayou, which takes place May 17-18 at No Problem Raceway in Belle Rose, La, where the top eight finishers in Pro X-treme, Switzer Dynamics Pro Nitrous and X-treme Pro Stock at that race will be entered in the X-Treme Shootout, an 8-car shootout to be run at X-DRL's Thunder In The Heartland on Sept. 20-21 at Lucas Oil Raceway at Indianapolis. Each class will be awarded $25,000 at the shootout.
Pro X-treme, X-treme Pro Modified, Mickey Thompson Top Sportsman and Top Dragster did not complete an elimination round at Bristol, while Switzer Dynamics Pro Nitrous and X-treme Pro Stock both had advanced to semifinals.
(Photo by Roger Richards/CompetitionPlus.com)