Past European Pro Mod champion Mattias Wulcan finished Friday as the provisional No. 1 qualifier in Pro Extreme at the Professional Drag Racers Association (PDRA) Summer Nationals at Osage Casino Tulsa Raceway Park. It's the first provisional top spot for the Darlington event winner.
After three qualifying sessions, the low qualifiers in the other professional classes are Jim Laurita in Switzer Dynamics Pro Nitrous presented by MoTeC, Jose Gonzales in Andy McCoy Race Cars Pro Boost, John DeFlorian Jr. in Extreme Pro Stock and Terry Schweigert in Drag 965 Pro Extreme Motorcycle.
The provisional No. 1 qualifiers in the PDRA's sportsman classes are Billy Albert in MagnaFuel Top Sportsman and Jimmy Sackuvich in Lucas Oil Top Dragster. Mia Schultz currently leads the field in Campers Inn RV Pro Junior Dragster with her 7.904-second pass, while Arellyn Garner-Jones tops MegaCorp Top Junior Dragster with a perfect .000 reaction time.
PRO EXTREME
Sweden's Mattias Wulcan continued his impressive American debut season in the PDRA's quickest and fastest category with his 3.614-second, 209.88-mph charge during the third qualifying session. Wulcan, driver of the screw-blown "Black Bird" '69 Camaro, has yet to enter eliminations from the No. 1 spot, though he won the Darlington race and lost in the final round at the last race in Indy.
"It feels really nice to finish the day on top," Wulcan said. "We've struggled to get here. We need to be No. 1 qualifier; that's what we're aiming for this weekend. The whole team has done a lot of work on the car to get to where we are today. We're really proud of ourselves. This is our dream to come over here and run with these guys."
Two-time event winner Mike Recchia is second in his Agrow Fresh '69 Camaro with a 3.635 at 201.22, while Australian driver John Zappia is third with a 3.695 at 205.07 in his Noonan-powered '69 Camaro.
PRO NITROUS
West Virginia coal mining executive Jim Laurita sits atop the Pro Nitrous field for the first time this season, using a 3.757 at 200.92 in his clutch-equipped '69 Camaro to grab the top spot. The effort is viewed as a sign of what's to come for Laurita, who passed on credit for the run to his crew, led by Brandon Switzer.
"Brandon and Melissa (Switzer) and the whole Switzer Dynamics team back in Mooresville (NC), they just do a fantastic job," Laurita said. "I also have the Pickett brothers, Kevin and Rod, working with us. Brandon gives us the power with his tune-ups, Rod takes care of the engine at the track, Dan freshens the engine when we go back to the shop, Kevin takes care of the clutch, Melissa handles the nitrous, and I just do a little bit of everything else – and I get the fun part: driving. It's the whole team effort and everything is working right now. We think we can run head-to-head with these guys (in Pro Nitrous), it just took a little while."
Following closely in second is Lizzy Musi in the Pat Musi-powered "King Kong" '15 Dart with a 3.764 at 202.03. Randy Weatherford, also utilizing a Musi engine in his WS Construction '69 Camaro, is third with a 3.774 at 199.26.
PRO BOOST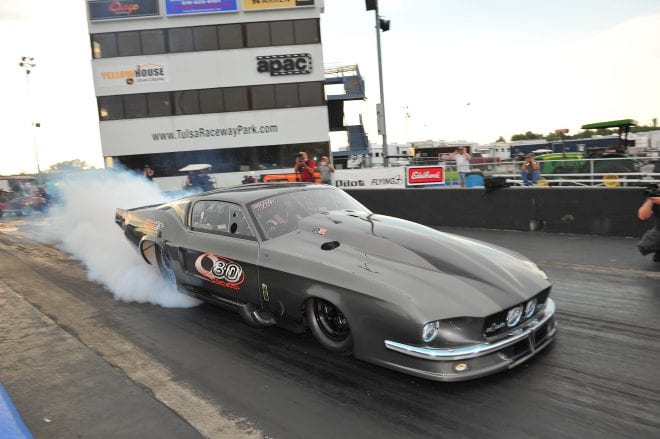 Points leader Jose Gonzales found his way back to the top spot in Pro Boost, posting a 3.73 at 212.33 in his Pro Line-powered El General/Q80 Racing '67 Mustang. Should Gonzales hang on to the position, it would be his third low qualifier award of the season.
"It feels good to have the car back to running low-qualifier performances," said Pro Line co-owner and tuner Eric Dillard. "We had a few races there where it was just racing that bit us. You go out and run decent, but you have this part fail or that part fail. We have two cars and a big crew with a lot of people all learning together. It's just racing. We went through some struggles in the middle of the year. Hopefully we got all that out of our system and we can rock and roll now."
Darlington winner Melanie Salemi is currently second in her Strange Engineering-backed "Purple Reign" '68 Firebird with a 3.75 at 197.39, while recent first-time winner Ty Tutterow is third with a 3.76 at 197.71 in the GALOT Motorsports "Tomcat" '69 Camaro
EXTREME PRO STOCK
Doorslammer drag racing veteran John DeFlorian Jr. drove his Amsoil/Black Diamond '16 Camaro to a 4.108 at 175.59 to hold the provisional No. 1 spot for the first time in two years. It was a surprising performance for DeFlorian, who serves as the shop foreman at Jerry Haas Race Cars.
"To be honest, we've had a hard, tough year," DeFlorian said. "When the car left the starting line there, it felt really good and smooth. The light came on, I made the shift and the shift lights were just going on and off, real smooth. I watched a couple cars ahead of me go 4.14 or 4.15 and I was just hoping to run somewhere around there. I went through the finish line, saw the scoreboard and started screaming and carrying on in the car like a lunatic. I was so happy, I couldn't believe it went that fast. Didn't expect that at all. I figured the guys behind me were going to pick up and run faster – and I would have been fine with that. Just to go down the track, use all the gears and throw the 'chutes is a thrill.
"We're really happy about that run," DeFlorian continued. "The Amsoil Camaro has been through some trials. I feel like we've battled through, all because of the people behind me: my great crew and my sponsor, Amsoil. We'll see what tomorrow brings, but it's a great Friday night."
Chasing DeFlorian in second is Extreme Pro Stock points leader Cary Goforth with a 4.113 at 175.43 in his Dean's Casing Service/Dewayne Higgins Trucking '14 Camaro. John Montecalvo is third in his new Haas-built '17 Camaro with a 4.121 at 175.52
PRO EXTREME MOTORCYCLE
Longtime Pro Extreme Motorcycle rider Terry Schweigert jumped to the top of the qualifying order during the second session, recording a 4.042 at 174.66 aboard his Canadian flag-themed '12 Suzuki. The Abbottsford, BC, resident is chasing his first low qualifier award of the season.
"It's a nice way to go to sleep, being No. 1," Schweigert said. "We've been struggling a bit this year, so it's nice to be on top for the day. We're going to bed as the low qualifiers, but there's one more round of qualifying tomorrow. I think it's going to take lower than a 4.04 to hold the top spot by the time qualifying is over."
Indy No. 1 qualifier Chris Garner-Jones tails Schweigert in second with his 4.047 at 173.27 on his T.T. Jones Racing '15 Hayabusa. Three-time and defending world champion Eric McKinney isn't far behind in third on his McKinney Motorsports entry with a 4.053 at 176.10.
TOP SPORTSMAN/TOP DRAGSTER
Engine builder Billy "The Kid" Albert drove Stan Nance's '17 Camaro to a 3.967 at 192.63 to hold the provisional No. 1 spot in Top Sportsman after three qualifying sessions. Fellow Virginian Randy Perkinson is second with a 4.046 at 182.26 in his '16 Camaro, followed by Barry Daniluk's naturally aspirated '68 Camaro in third with a 4.079 at 178.90.
With a fairly new ProCharger-equipped combination from Pro Line Racing, Jimmy Sackuvich rocketed to the lead in Top Dragster with a 3.90 at 188.52. North Carolina hog farmer Chaz Silance is currently second with a 3.905 at 186.23, while Oklahoma's own Wade Pennington is third with a 3.921 at 185.36.
The PDRA Summer Nationals at Osage Casino Tulsa Raceway Park is scheduled to continue Saturday with a final qualifying session for all categories, beginning with Edelbrock Bracket Bash at 11 a.m.