Serving as the lead-in for this weekend's DRAG ILLUSTRATED World Series of Pro Mod, the official World Series of Pro Mod welcome party took place on Thursday with a huge crowd of race teams enjoying an evening of food, drinks and live music at Bandimere Speedway's Top Eliminator club.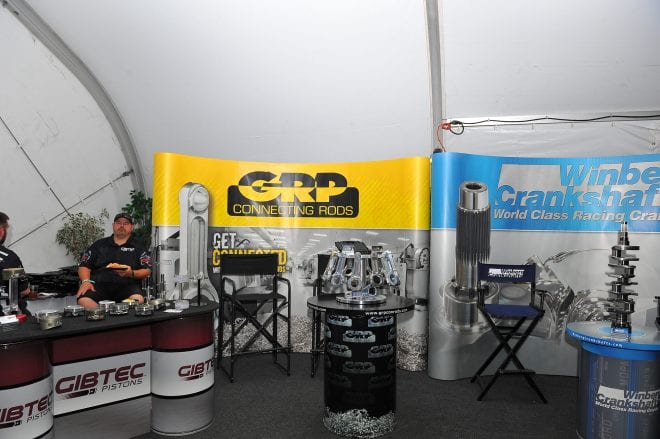 For the second straight year, six companies owned by former NHRA Pro Stock racer V Gaines and his Western Distributing Company sponsored the welcome party. The welcome party sponsor list included Winberg Crankshafts, MadCap Racing Engines, Lazarus Race Cars, GRP Connecting Rods, Fineline Graphics and Gibtec Pistons. Gaines and his Denver area-based companies were excited to partner with World Series of Pro Mod for the inaugural race in 2017, continuing that support this weekend as a way to show their appreciation for the camaraderie involved in the $100,000-to-win race.
"(Gaines) understands how hard these teams work and for his companies to extend a hand and say thanks, it's something he feels very strongly about," said Mark Beatty, who has led Gaines' marketing efforts for nearly three decades. "This setting and what they've made this race, you want to be part of the World Series of Pro Mod. To get involved with the event and be part of the pre-race deal, it's also unbelievably important for the companies to be able to talk face-to-face with people in a casual atmosphere."
Each of the six companies had a noticeable presence at the welcome party, conversing with racers and their teams throughout the evening. But just getting an opportunity to be a part of the World Series of Pro Mod was an important part of the partnership.
"This event is extremely special," Beatty said. "There's a different feeling here, and just an excitement and energy about it. The feeling when you walk in here, you know you're part of something special. It takes a group like Wes (Buck) and his team to put together an event like this and we want to be a part of the family of the racers and people involved in this. The energy and feeling, and the way Wes brings it together, it's something special and we want to be part of it."
Race teams were treated to live music from Drag Illustrated Publisher Scott Dorman and Senior Sales Executive, as Drag Illustrated Founder and Editorial Director Wes Buck officially welcomed the all-star lineup of race teams to the biggest and richest Pro Mod race in the history of the known universe. Building a family-driven and enjoyable atmosphere has been Buck's goal for the World Series of Pro Mod and the welcome party illustrated that, adding another unique layer to the highly-anticipated event.
"Having the racer welcome party for the World Series of Pro Mod is something we thought was vitally crucial to the event and just as important as the actual race," Buck said. "It's a tremendous honor to have V Gaines and his companies step forward and sponsor the welcome party for the racers and their teams. It is such a big part of the weekend and our way of saying thank you to everyone who came out to participate in the World Series of Pro Mod. The feeling of camaraderie and family is so special with these racers and this event, and that is something we want to make evident throughout the entire event."