Del Worsham claimed his second NHRA world championship title and first in Funny Car, and then raced to the event victory Sunday at the Auto Club NHRA Finals near Los Angeles.
Southern California native Worsham defeated Mello Yello Countdown to the Championship playoff rival Jack Beckman in the semifinals to secure the Funny Car season title at historic Auto Club Raceway at Pomona and become just the third driver in NHRA history, joining Kenny Bernstein and Gary Scelzi, to win world championships in both nitro categories. Worsham won the 2011 Top Fuel world championship.
Worsham managed to win the title while Don Schumacher Racing drivers Beckman and Ron Capps kept lowering the national elapsed time record throughout the day. Beckman finally claimed the 20-point bonus for the record at 3.884 seconds, but it wasn't enough.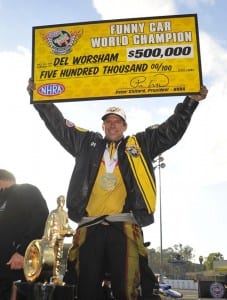 "When I put this trophy next to my other one at home it will be real," said Worsham, who earned $500,000 from NHRA and Mello Yello for the championship. "Every time I looked up there was a Schumacher car sitting there in my face. I was nervous about it. I was counting points. I am not going to tell you it was like any other race, because it wasn't. I know the points are the same as the first round at Charlotte, but the circumstances here were much greater."
Worsham also powered his DHL Toyota Camry past Tony Pedregon and Robert Hight in earlier rounds before defeating Tommy Johnson Jr. in the final round to claim his fourth victory of the season and 38th of his career, including 30 in Funny Car.
"The cars were running so fast here this weekend that the record just became part of the equation," Worsham said. "(Beckman) was making up points before we even started racing by setting the record. Today it came down to being head to head and I am grateful for the way it worked out."
Meanwhile, Andrew Hines claimed his second consecutive and fifth overall world championship title in Pro Stock Motorcycle when his closest rival, Louisiana alligator farmer Jerry Savoie, lost in the second round. Hines, who pocketed $75,000 for the title, is the youngest driver in NHRA history to win five world championships and continues the amazing domination by the Vance & Hines team in the two-wheel category.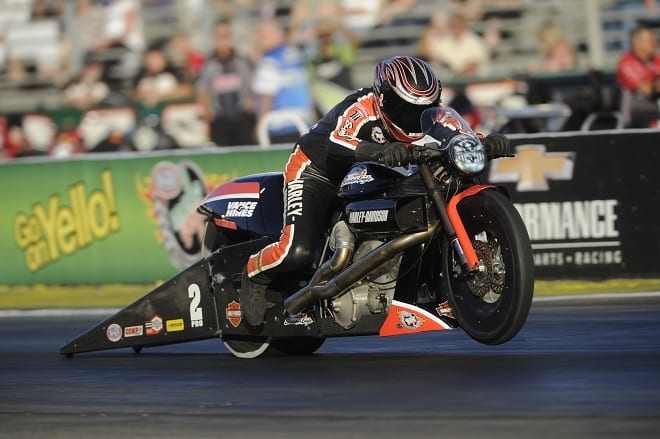 "My outstanding Harley-Davidson team did a great job of keeping me focused and keeping the pressure off of me," said Hines, who won four races during the season atop his Screamin' Eagle Vance & Hines Harley-Davidson, including three in the Countdown playoffs. "It was awesome that my wife [Tanya] got to give me a kiss right before I ran, and thanks to my teammate for helping to get the job done. I guess we put the fear of Harley into them. Five championships is pretty awesome."
Shawn Langdon (Top Fuel), Allen Johnson (Pro Stock) and Eddie Krawiec (Pro Stock Motorcycle) joined Worsham in the winner's circle at the final playoff race of the NHRA Mello Yello Series Countdown to the Championship.
Langdon earned his second Top Fuel win of the season, sweeping both Wally trophies at this track for the second time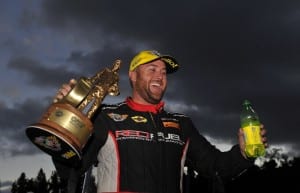 in his career. Langdon, who won the season-opening Winternationals in the cockpit of an Alan Johnson Racing dragster, defeated Antron Brown in the final round in a Don Schumacher Racing machine. Langdon powered his Red Fuel dragster to a 3.715 at 332.43 to finish in front of the recently crowned world champion, who posted a 3.732 at 321.73 in his Matco Tools dragster.
"I love this track," said Langdon, the 2013 world champ who now has 11 career victories. "It has always had a special place in my heart. I grew up right around the corner (Mira Loma, Calif.). I was always out here watching my heroes race. I have so many great memories out at this track. Luckily I've had a good career here. It makes it sweet to share these special memories with your family and friends."
In Pro Stock, Johnson claimed his second win of the season and 26th of his career, by holding off Vincent Nobile in the final round. Johnson used a quicker reaction time and drove his Magneti Marelli/Mopar Dodge Dart to a 6.541 at 210.18 to take the win over Nobile, who clocked a quicker, but losing effort of 6.540 at 211.93 in his Mountain View Tire Chevy Camaro.
"We had struggled during the entire Countdown, never winning more than two rounds a race and losing twice in the first round," Johnson said. "We also struggled during qualifying and in eliminations. But right before the final, we discovered that a torsion bar was bent. We fixed that, and the car went straight down the track."
Johnson says he is happy to win the last Pro Stock race featuring carbureted engines. He added that his plans are currently 50-50 regarding whether he will compete in 2016 when NHRA introduces the new-look Pro Stock class with electronic fuel injection, among other significant class changes.
"This was a very special win because it will be remembered as the end of an era," said Johnson, the 2012 Pro Stock world champ. "To do this today the way we did it by digging down deep and getting it done was very special."
Krawiec closed the Pro Stock Motorcycle season with a victory and earned a second place points finish when he defeated two-time champ Matt Smith in the final round. Krawiec rode his Screamin' Eagle Vance & Hines Harley-Davidson to a 6.846 at 192.58 to finish in front of Smith's Victory Gunner, which trailed with a 6.888 at 194.21. It was Krawiec's fourth victory of the season, fourth at Pomona and 31st of his career.
"I've been to eight finals in a row here in Pomona, so this track has treated me well," Krawiec said. "It is also a big deal for us to get the 75th win for Harley-Davidson."
The 23-race 2016 NHRA Mello Yello Drag Racing Series season opens Feb. 11-14 with the Circle K NHRA Winternationals at Auto Club Raceway at Pomona