It looked for a time like Mother Nature was going to be the only winner at the inaugural Professional Drag Racers Association (PDRA) Texas Nationals, but perseverance by PDRA officials and race teams overcame persistent rain showers that completely eliminated Friday's schedule and drastically shortened Saturday's action. In the end, qualifying and a full day's worth of racing were completed on Sunday, Mar. 22, highlighted by Mustafa Buhumaid (above) of the United Arab Emirates winning the first Pro Extreme race of his career.
Also picking up pro class wins in the PDRA season opener at the Texas Motorplex were polesitter Tommy Franklin in Pro Nitrous, Kevin Fiscus with the second Pro Boost victory of his career, and reigning Pro Extreme Motorcycle Champion Eric McKinney.
Sportsman class victories went to current Top Sportsman champ Dan Ferguson, local favorite J.R. Baxter in Top Dragster, and Kendal Little and Aaron Jordan in Pro Jr. Dragster and Top Jr. Dragster, respectively.
(Click images to enlarge)
PRO EXTREME
The official qualifying and eliminations sheets show Buhumaid as a resident of Spartanburg, SC, but that's just where his screw-blown '69 Camaro is housed and prepared between events. The Dubai-based driver makes the 10,000-mile, one-way trek on a routine basis to attend PDRA events and made this visit pay off with the NAS Racing Pro Extreme win over Brandon Snider in the final round of the PDRA Texas Nationals.
"This was not an easy win," Buhumaid's crew chief, Al Billes, stated. "I came here with no practice on this car and we struggled a little early trying to find the right tune-up, but it gradually came together and Mustafa did a great job driving. He made the difference in winning here."
After going 3.64 at 211.20 to qualify sixth, Buhumaid beat 2014 class champion Bubba Stanton, veteran Texas racer Gaylen Smith and past class champ Todd Tutterow with a .051 holeshot in the semis before meeting Snider.
On the opposite side of the ladder, Snider barely made it into the field in the 16th and final slot with an off-the-pace 4.760 pass in his new '69 Camaro. He recovered with a 3.57 at 214.18 in the opening round of racing against top qualifier Randell Reid, whose '07 Corvette broke on the starting line, then ran low E.T. of the meet with a 3.55 at 215.31-mph win over Buhumaid's NAS Racing teammate Badir Ahli in round two. Snider slowed slightly to 3.57 at 213.60 in the semis, but still managed to overcome a .011 starting-line advantage by Mike Recchia.
In the final round, Buhumaid got away first with a .031 reaction time, then posted his best run of the weekend at 3.57 seconds and 214.52 mph to defeat Snider, who ran 3.59 at 211.99 mph.
"We knew we were slowing down because the fluid in the transmission was getting old, but everyone was rushing to get the race done so we didn't have the time we needed between rounds to take everything apart and refill the converter with fresh fluid," Snider explained later. "I really think we could've run another .55, so it's pretty disappointing, but it's also our first time out with a new car so we can't be too unhappy. I'm just glad we managed to qualify; that felt like we won the race, to be honest."
PRO NITROUS
The 2015 PDRA season could not have started better for Franklin, who ran 3.71-seconds pass at 201.19 mph to qualify number one and also reset his own official Switzer Dynamics Pro Nitrous elapsed time record.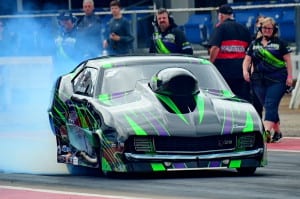 The Fredericksburg, VA, electrical company owner then ran his '69 Camaro like a bracket car in eliminations, making a pair of 3.76 passes to beat Blake Housley and Jay Cox before improving to a pair of 3.74s to defeat Jeff Naiser in the semis and Jeffrey Cummins in his first Pro Nitrous final-round appearance. Plus, all four of Franklin's elimination-round passes were at more than 200 miles an hour.
"It actually hurt an O-ring early, in the first round, so it was smoking a little bit, but we managed to nurse it through," Franklin said after treeing Cummins by .032, then going 3.74 at 200.71 to take his second career Pro Nitrous title. "I'm just glad we were able to get it all in. It was tough waiting out all the rain, but everyone pulled together and we got it done."
PRO BOOST
New Jersey's Anthony Disomma shattered both ends of the Precision Turbo Pro Boost records in qualifying number one in Texas with a 3.76-seconds pass at 211.89 mph. While he ran another pair of 211-mph passes in eliminations, Disomma narrowly missed backing up the E.T. mark within the required one percent to make it an official record.
Jacksonville, FL's Fiscus also eclipsed Disomma's prior speed record of 208.20 mph in qualifying second at 3.85 and 209.49 mph, and though he never ran faster in eliminations he did make it through teammate Jim Bell, Jeremy Ray and Kevin Rivenbark in order to meet class rookie and number-five starter John Strickland in the final round.
It was an anticlimactic finish, however, as Strickland left in his roots-blown '69 Camaro before the starting tree was activated and Fiscus motored to an easy 4.78-seconds, 110-mph win in his twin-turbo'd 2012 Mustang. It marked his second PDRA Pro Boost victory after scoring last spring at Valdosta, GA.
"I don't know what happened but he (Strickland) left way early so I knew we had won it at that point," Fiscus said of the final round. "We had it set up to run an .80, but it shook so I had to shut it down. It's not the way we want to win, but it's a W so we'll take it and go on from here."
PRO EXTREME MOTORCYCLE
It was a familiar face in victory lane for Drag 965 Pro Extreme Motorcycle in Dallas, as defending class champion Eric McKinney took the win with a 4.06 pass at 169.93 mph in the final over teammate Ashley Owens. McKinney also reset his own PDRA elapsed time record with the series' first three-second pass on two wheels as the Hamersville, OH-based rider made a 3.99-seconds solo run at 179.54 mph in the opening round of eliminations.
"Making that three-second run almost felt like winning the race," said McKinney, whose 4.00 in qualifying number one officially backed up the record. "My hat's off to my team. My dad (Scott) put all this together, we have the best tuner and motor builder in Ashley, and I just can't thank everyone enough that helps us out."
Despite his own success, McKinney also expressed concern for the health of his chosen class after only five entries made up the field in Texas.
"I want to thank our class sponsor, Drag 965, and Vance & Hines for sponsoring the top qualifier. I mean, thank goodness for those people; they've kept this class going," McKinney pointed out. "The (bike) count was just horrible this weekend. I know it's a long drive and people were looking at the weather, but we got it done and you can't look at stuff like that when it comes to racing. You need to support the class or it just isn't going to be here."
TOP SPORTSMAN/TOP DRAGSTER
Class rookie Tricia Musi qualified her '09 Dodge Stratus on top of an all-run, nine-car Magnafuel Top Sportsman field in Dallas with the only three-second pass in the class all weekend. In the same car campaigned by sister Lizzy Musi in Pro Nitrous last season, Tricia ran a career-best 3.983 seconds at 188.36 mph in qualifying, but after making a 4.11 solo pass in round one of racing she lost in round two against Chanse Bulloch and his '63 Corvette.
It was defending class champion Ferguson in his '02 Firebird, however, who drove from a number-two start to a final-round victory over Bob Gulitti and his 2011 Camaro at the PDRA Texas Nationals. After both drivers dialed in at 4.15, Ferguson won with a 4.16 pass, deliberately backing off at the stripe to avoid breaking out after Gulitti shook the tires and had to shut off early.
"I didn't get to win a race last year so this feels great," said Ferguson, a student and part-time auto dealer in Harrisburg, NC. "I heard people say I won the championship on luck, so I had to show them it wasn't all just that."
The Dart Top Dragster trophy went home with J.R. Baxter, who hails from Waxahachie, TX, just a few miles away from the track. Qualifying in the 16th and final position after 21 cars made qualifying attempts, Baxter benefited from a red-light start by number-eight starter Shane Eperjesi in the first round of racing, the beat Jimmy Sackuvich and Jon Bradford, who broke out in the semis.
In the final round, after Baxter and number-one qualifier Wade Pennington left with identical .022 lights, Baxter ran 4.30 at 158.54 on his 4.27 dial in, while Pennington went 3.88 at 173.36 after dialing in at 3.82 seconds.
Running against a 7.90 index, Little, of Harker Heights, TX, ran a near-perfect 7.902 in the Huddleston Performance Pro Jr. Dragster class to beat a breaking out 7.898 by Preston Tanner in the final. The Huddlestone Top Jr. Dragster trophy went to Ft. Worth, TX, with Jordan, who ran 8.96 on an 8.91 dial in to beat Mia Schultz.
The PDRA returns to action Apr. 9-12, when it visits Rockingham Dragway in North Carolina, for the 2nd annual PDRA Spring Nationals.
(Click images to enlarge)