Back for another great rendition, the 17th Annual NMCA Quick Fuel Technologies Bluegrass Nationals presented by Scoggin-Dickey Parts Center featuring the Chevrolet Performance Challenge Series blew into Beech Bend Raceway Park in Bowling Green, Kentucky, over the weekend of May 18-20, 2018. With a wet forecast dimming racers' hopes initially, the weekend took a turn for the better and sunshine was more prevalent. The race was run to completion, and competitors went home with points, prizes, payouts, records, and many more reasons to celebrate. Additionally, the Grudge RACE TV show filmed several episodes on-site over the weekend and was an added source of excitement for race fans.
Turbocharged, supercharged, and nitrous oxide-powered machines came to battle it out in VP Racing Fuels Xtreme Pro Mod and it was Jason Hamstra who topped the qualifying list with an insanely quick 3.695 at 207.91mph pass from his blown '69 Camaro. It was a battle of the Chevys on Sunday as number-five qualifier, Jackie Slone Jr, and his nitrous-oxide-injected '69 Camaro went up against the twin–turbo '15 Corvette of number-two qualifier, Don Walsh Jr, and ran 3.819 at 199.88 mph to surpass Walsh's 3.989 at 167.03.
The highly competitive Mickey Thompson Radial Wars category saw DeWayne Mills and his twin-turbo '68 Camaro go 3.885 at 201.85 mph to lead the pack after qualifying had been finalized. Number-three qualifier James Lawrence popped an engine in his ProCharger and DragZine.com-backed Corvette in round one of eliminations, but his crew hustled hard and had the spare in place in time for the finals against Marty Stinnett who qualified fourth in his Garrett-turbocharged Fox-body Mustang. When the tree came down, Stinnett had Lawrence at the start, but had to get out of the throttle right after the hit and left the door wide open for Lawrence's determination to be rewarded with a win going 4.056 at 188.52 mph to make it official.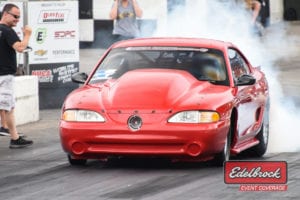 In Vortech Superchargers Street Outlaw, Shawn Ayers in Fletcher Cox's ProCharged '93 Fox body was the number-one qualified driver thanks to a 4.328 at 164.63mph blast. Ayers advanced to the finals where he met with Daniel Pharris who had qualified third with his boosted '95 Mustang. Pharris was on a mission to honor his grandfather, Jimmie C. Pharris, as the inspirational man passed away on Friday. Pharris got the holeshot advantage and never trailed as he crossed the stripe ahead of Ayers with a 4.353 at 175.98 mph to take the win in his grandpa's memory and to close out a bittersweet weekend.
Carl Tasca was slotted into the leader's position when he ran 8.121 at 164.41 mph in Holley EFI Factory Super Cars qualifying with his '16 Mustang Cobra Jet. Ultimately, it was the big man on campus, number two-qualifier and driver of a '15 COPO Camaro, Scott Libersher, who pushed past the group. In the final round, Libersher outran Chuck Watson II with a nice holeshot and a quicker 8.146 at 168.56 mph trip against Watson's 8.364 at 165.66mph foray.
The nitrous huffing entries in ARP Nitrous Pro Street saw eleven cars show up for qualifying, while Tricia Musi not only scored the number-one honors with her 4.537 at 151.75 mph hit in her father's former '00 Pontiac Firebird and scored a new husband-to-be when Mike Bankston proposed at the top end of the track and the two were engaged. It was a pedal fest in the finals between Musi and number-two qualifier, Matt Salminen. Both drivers struggled to find traction, but Salminen found salvation when his '69 Camaro crossed the beams in front and tripped the clocks in 4.676 seconds at 143.84 mph.
Meanwhile, in ARP NA 10.5, David Theisen was the quickest of the all-motor group when he clicked off a 7.896 at 172.25mph pass during qualifying in his '69 Firebird. Theisen stayed in the game until the finals, but a -0.001 foul start ended the round before it started and Dwight Ausmus, who had qualified third, took home the Victor trophy with an 8.148 at 168.24mph trip making it his second year in a row at Beech Bend.
It was no surprise to see the 2017 season champion earn the number one qualifying position in Edelbrock Xtreme Street, and Jessie Coulter's 4.791 at 148.94mph effort in his turbocharged '91 Camaro set the bar for the rest of the weekend. Coulter continued his domination of the class straight through eliminations, taking five round wins in a row and sending number-four qualifier, Nick McGrath, packing by a big margin in the finals.
The Coan Engineering Stock/Super Stock category saw the best of the best stockers go all out but only one man was left standing when the weekend wrapped up. Like a déjà vu of last year's race, once again it was Ricky Pennington who got to take a trip to the Aerospace Components Winner's Circle with his '71 Nova after a double break-out situation put Scott Libersher in the runner-up spot.
The biggest class of the weekend with fifty entries, ATI Performance Products Nostalgia Super Stock kept things interested during qualifying as Doug Harrison, Jimmy Ray, and Clay Kossuth all ran within 0.02-seconds of their dial-ins and filled the top three spots, respectively. The final pair consisted of Doug Wright with his '64 Belvedere in the left lane and Tom Hoffman with his '63 Plymouth in the right. Hoffman had Wright on the tree, but Wright reeled him in with a top-end charge and although it was a double-breakout situation, Wright was awarded the win.
The incredible classic muscle cars of Detroit True Trac Nostalgia Muscle Car showed off that they run just
as good as they look. Last year's winner here, Jerry Stamps, put on the best show in qualifying when he went 12.001 on his 12.00 index fielding his '73 Duster. Ken Weilbrenner and his '70 Chevelle, however, brought home the big win with a killer 0.006-second reaction time and a 9.771 at 129.07mph run on a 9.75 dial in over Audrey Baize at the end of eliminations.
Mel White's perfect 0.000-second reaction time in his '66 Mustang while qualifying for MagnaFuel Open Comp meant he had the right to sit atop the list of thirty-three driver names. Five rounds whittled the field down to William Jones and Kurt Anderson as the last two men standing. Both men broke out and ran below their dials, but the lesser of two evils went to Jones and his '68 Falcon.
The Dave Duell Nostalgia Super Stock eliminator special event this weekend offered four separate classes for drivers to contest and winning the quick 9-second FX category sponsored by Goodwin Competition was Doug Wright as he ran 9.246 at 144.46 mph over runner-up Jeffrey Frees who took himself out on a red light. Victory Performance helped make the three other races possible, and, in the A-group for 10-second cars, Randy Stansbury was successful going 11.135 at 93.28 mph to Justin Geary's 11.395 at 119.85 mph runner-up effort. In the 11-second B-group, Shawn Johnston ran almost dead-on the money with a winning 11.005 at 121.88 mph hit to defeat Brent Wheeler in the finals. Last, but not least, in the 12- and 13-second C-group, winner Butch Cassary put Al Wilson on the trailer.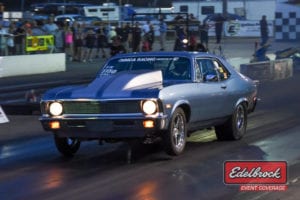 Three separate True Street-style classes were offered at this event, with the tried-and-true traditional Gear Vendors True Street taking center stage. Running a 7.861-second overall average was Jeff Knox and he was awarded the top honors as a result. In the runner-up spot was Troy Eaton on an 8.487-second average, while Casey Flora won the 10-second category with a 10.192-second average. For the 11-second group, John Combs was named the winner while Chris Cowles took the title for the 12-second group and Matt Johnson rounded things out with his win in the 13-second section.
Running this weekend in the Chevrolet Performance Street Car Challenge, Jeff Brady had the quickest Chevy of all, as his '10 Camaro SS averaged 10.043-second through three passes to take the win outright. Hot on his heels with an 11.105-second average was Kevin Rowand and his '08 Corvette. Brandon Cardwell won the 11-second average, Dennis Pett won the 12-second title, and Jeremy Britt went home victorious in the 13-second group.
Similarly, in the Dodge//Mopar Hemi Shootout, Steve Best's '18 Dodge Demon was devilishly quick when it was the only car in the 10-second zone and averaged 10.442-seconds in the quarter-mile for the big win. J Orrand's '16 Hellcat was crowned the runner-up as it averaged 11.209-seconds, Jenny McClain went home a winner for the 11-second bunch, Trenton Smith won the 12-second honors, Travis McKenne won for the 13-second drivers, Michael Oellrich walked away on top for the 14-second group a and Don Fielder finished the weekend on a high note in the 15-second pack.
In the True Street Bracket 3, the final round paired Chris Cowles in his Chevy Nova on a 12.12 dial in against Dietrich Bollinger in his Chevy Camaro on a 10.48 dial. When the final numbers were posted on the scoreboard, it was Cowles in the left lane who lit the win light.
Mark your calendar for the next stop on the NMCA E3 Spark Plugs Drag Racing tour, the 13th Annual Nitto Tire NMRA/NMCA Super Bowl of Street-Legal Drag Racing at Route 66 Raceway in Joliet, Illinois on July 27-29, 2018!