PDRA's Will Smith earns NHRA Top Alcohol Dragster license
Over the course of Will Smith's 19-year-long career in drag racing, he's held a variety of titles: bracket racer, teenage protégé on Steve Johnson's NHRA Pro Stock Motorcycle team, team manager on the Awesome Motorsports/Al-Anabi nitrous Pro Mod team, marketing manager at Speedtech, and most recently, marketing director for the PDRA. After three runs during the PDRA Mid-America Indy Showdown, Smith added another title to his résumé: licensed NHRA Top Alcohol Dragster pilot.
Driving a nitromethane-injected A/Fuel dragster owned by the legendary Hirata family and tuned by longtime friend Dave Hirata, Smith upgraded his license with full passes of 5.618 at 240.68 and 5.769 at 221.63. It was the realization of a lifelong dream for Smith, who hopes to use the license in competition soon.
"It was very emotional after the first run because I realized I just turned a childhood dream – that's been with me my whole life – into a reality. It hit me that, hey, I'm really doing this. I just can't thank Dave enough for allowing me to do this. I was the only person he'd ever licensed. For him to have that trust in me means a lot. It was an emotional and humbling experience."
Hirata was equally moved by the licensing process. While he's never put a brand-new driver in the seat of his 280-mph dragster, Hirata felt at ease when he strapped in Smith for his first pass. The two have known each other for most of Smith's time in professional drag racing.
"I was really excited for him because I've known him for so long – it seems like I've known him my whole life," Hirata said. "I say he's like a brother or a son, but he's too old. It was just very exciting. He seemed very enthusiastic and excited. I met his parents – very nice people. The whole thing was just special because of our friendship. I just had a riot doing it. That was probably one of the most fun things I've done in racing."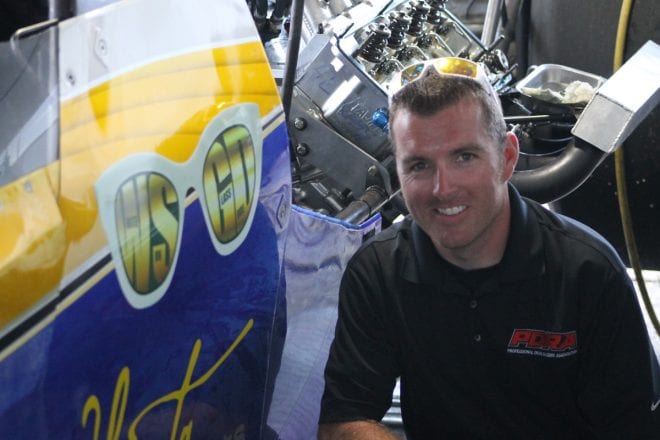 The familiarity and trust between the two also allowed Smith to relax in what could easily be a tense, stressful situation. Hirata first started working with Smith two years ago to prepare for this moment. Smith applied Hirata's tips and spent every free moment making runs in his mind, visualizing the procedures required to finesse an A/Fuel dragster down the quarter mile.
"I've been a racer my whole life. I started racing Jr. Dragsters when I was nine years old. When I rolled under the arch coming through the staging lanes for the first time, I was thinking about what I had to do and the proper execution for everything. I could not believe how relaxed I was. I've been in situations where I wasn't necessarily nervous, but I had to get up on the wheel and race, but this was a different deal. I was calm, cool and collected. In my mind, I made run after run after run. By the time the car fired up, it felt natural. I've never driven a clutch car, never driven a car with a hand brake, never had to pull the 'chutes – all that was new, but it felt smooth."
Hirata, who's tuned sportsman standout Mia Tedesco to multiple NHRA national- and regional-event victories and back-to-back North Central Region championships, agreed that Smith's licensing process was smooth, speaking with the voice of a proud mentor.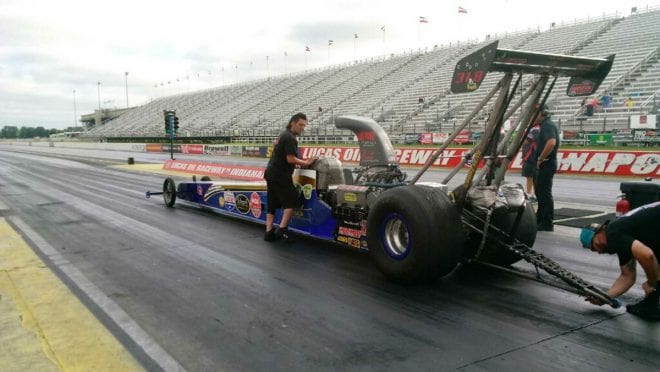 "I'm going to give him an A," Hirata said. "The first run, that's where we find the things that happened that weren't supposed to happen. Those things were corrected and the next two runs were fairly flawless. Will is very methodical. I think he studies his craft, what he's going to do, and he's very prepared. We had no problem putting him in the car."
When he's not making phone calls and working with the PDRA's marketing partners, Smith works on his own marketing program so he can find enough funding to field an A/Fuel dragster in NHRA Top Alcohol Dragster competition next season. He's had a taste of nitro racing, and he's motivated more than ever to make the next step.
"Earning my A/Fuel license was a really cool experience," Smith concluded. "Most of all – because Dave is one of my best friends – being able to do this with him, his parents, his guys, and my parents here at Indianapolis. My parents have supported me so much over the years. I also can't thank the PDRA staff enough for picking up the slack in a few areas to allow me to do this."