When Scott Weney died of a brain aneurism in the pits of Bradenton Motorsports Park last November, Scotty Richardson feared that was it for their hopes of resurrecting the once proud and popular Florida Winter Series that included bracket races at Bradenton, Orlando and West Palm Beach.
"Over the years it had lost a lot of its prestige and luster so last year me and Scott, we decided we'd try to bring it back," explained Richardson, a multi-time NHRA sportsman champion and drag racing school operator who co-promoted the race with Weney in 2014. "We wanted to put it together where all the bracket racers from across the country could come and compete down here to see who the best of the best really is."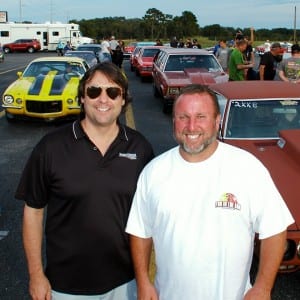 Richardson said he and Weney, a past IHRA Top Alcohol Funny Car champion and president of S&W Race Cars when he passed away, were feeling encouraged when last year's event drew nearly 150 entries to Bradenton—and then tragedy struck. Devastated by the loss of his friend and business partner, Richardson felt the dream was done until meeting with Jeff Stange of Strange Engineering this spring.
"Jeff knew me and Scott pretty well, but separately, and we both agreed we wanted to keep the race going in Scott's memory and in his honor," Richardson said. That meeting led to the creation of the Gearhead Racing Series, with this year's Fun in the Sun event being its inaugural outing Nov. 13-15, drawing approximately 135 cars to Bradenton Motorsports Park.
Fittingly, as if prescribed by the gods of drag racing, S&W Race Cars employee Randy Krause of Orefield, Pennsylvania, driving his '06 S&W dragster, took the first of five scheduled $10,000-to-win races on the first of three days of racing over a 1,000-foot distance at the historic southwest Florida facility. Krause survived nine tough rounds of competition to post a four-thousandths of a second margin of victory over Mia Tedesco in the final round.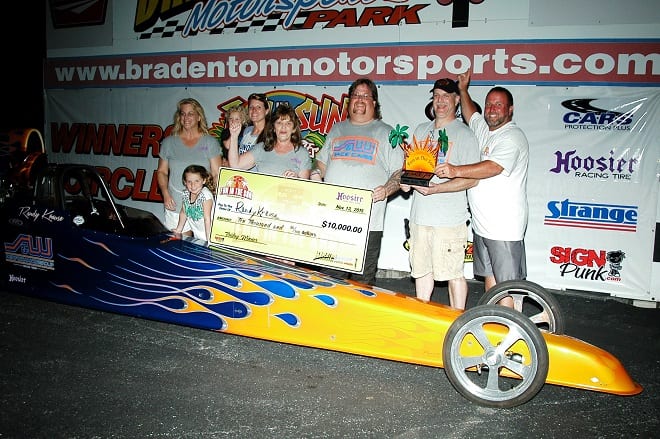 "This means so much to us, to my family and to all of our employees back at the shop," said Scott Weney's brother and S&W Group president, Michael Weney. "Scott and Randy were always great friends and although this is Randy's car, he's the owner, it's also basically our shop car for testing new products and parts, just like we used to do with all of Scott's cars. I have to feel like he was riding with us today."
Carl Drake Jr. of Binghamton, New York, was the next $10K winner in Race 2 on Saturday after driving his '09 American dragster to an 11-thousandths margin of victory in the final over Dunedin, Florida's John Brannen and his '86 Fox-body Mustang.
In Race 3, the second completed on Saturday, Jeremy West finally scored at Bradenton after nearly a quarter century of effort. "I've been trying to win one of these five-day races since I was 16!" the relieved 40 year old from Port Charlotte, Florida, declared after opponent Stephen McCrory went red off the start by one-thousandth of a second in the final round.
Sunday arrived with an early-morning ceremony as friends, racers and members of Scott Weney's family erected a small, permanent plaque in his memory under an old oak tree near the pit gate entrance to Bradenton Motorsports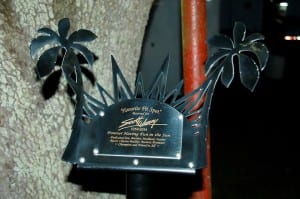 Park. The inscription reads: "Favorite Pit Spot" Reserved for Scott Weney, 1959-2014, Forever Having Fun in the Sun. Dedicated Son, Brother, Husband, Father, Racer, Chassis Builder, Mentor, Promoter – Champion and Friend to All –
Once racing got under way for Race 4, veteran Nick Folk of Durand, Illinois, advanced through eight preliminary rounds, including a close win over his brother Brian Folk in the semis, before reaching Tracy Sons of Hendersonville, Tennessee, in the final. Both drivers cut excellent lights, with Folk's .006 gaining a tiny one-thousandth advantage off the start, but it was his 6.07 run against a 6.05 dial in that secured the fourth $10,000 prize of the weekend by 16 thousandths as Sons ran 6.19 against a 6.15 dial.
Sons wasn't quite finished with competition, though, as he still had to face off against Tedesco in a special-event final for a brand-new S&W Race Cars dragster. Nearly 64 drivers bought in for a chance to win the new 235-inch wheelbase car, which featured S&W's new "swing-link" rear suspension, with Strange Engineering axles attached to Sanders Wheels outfitted with Hoosier tires. Though the Riggeal's Performance Fiberglass body was left unpainted for the winner, a unique, patriotic, Scott Weney-inspired nosepiece was dipped by HGS in Aberdeen, Maryland, and a body panel immediately in front of the windshield was hand signed by S&W employees and Weney family members, including both of Scott's parents.
"Someone is going to win a very, very nice car," Michael Weney said earlier in the day. "When word got out we were building this in Scott's memory, we were overwhelmed by the response of fellow manufacturers who insisted on sending us nothing but the best."
It turned out to be a great race, too, as Tedesco left with a .020 light and .006 holeshot leading to a 6.269 run against her 6.26 dial in; however, it still fell two thousandths short of Son's 6.811 against his 6.81 dial in. "I would've liked to win the other race (against Folk), too, but this is pretty cool," Sons said as he looked over his new ride.
The final $10,000 prize of the weekend, though, went to Brandon Taylor, who became the only doorslammer driver to score a win at Fun in the Sun. Thanks to a .005 light leading to a 6.84 run against a 6.82 dial in for the final, Taylor's Huntsville Engines-powered '97 Camaro prevailed over Mike Bloomfield Jr. who left with his worst reaction time of the weekend at .060, dooming his 6.164 against a 6.16 dial to fall more than three-hundredths short at the 1,000-foot finish line.
"I thought it went pretty good," Richardson said when the event drew to a close. "I would've liked to see a few more cars out here, but it's a good start for what Jeff (Stange) and I want to do. I think Scott would've approved."
This story originally appeared in Drag Illustrated Issue No. 104, the Tomorrow Issue, in October of 2015.