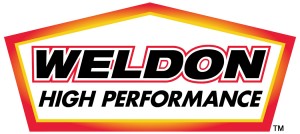 Weldon High Performance, a manufacturer of quality fuel pumps and fluid system components for motorsports, announced that they will continue their contingency sponsorship programs with the National Hot Rod Association (NHRA), National Muscle Car Association (NMCA), National Mustang Racing Association (NMRA) and Pacific Street Car Association (PSCA) in 2014.
Weldon contingency postings will be offered to both winners and runners-up who use Weldon fuel pumps in the NHRA Lucas Oil Drag Racing Series (LODRS), NMCA, NMCA West, NMRA and PSCA events. Contingency payouts range from $50-$300 depending on the event and title.
To be eligible for Weldon contingency awards, competitors must use Weldon pumps and regulators, and have Weldon High Performance contingency decals displayed on both sides of their vehicle. To register for Weldon contingency please visit, http://www.weldonracing.com/~weldonracing/prod_imgs/pdf/Advertising_Contingency_Warranty_Release.pdf
Weldon Pump has been designing, engineering and manufacturing quality fuel pumps and fluid systems for high performance racing and aircraft vehicles since 1942. Weldon is a Production Approval Holder (PAH – FAA) and is ISO 9001:2008 certified. The company provides aftermarket support with complete design-build capabilities and testing procedures. For more information visit www.WeldonRacing.com.