Some of Van Greer's fondest memories while growing up in Kingsport, Tennessee, involve going racing with his famous father, the late Shirl Greer, a pioneer of the Funny Car class in the 1960s as it rose from the ranks of A/FX. A working-class racer on a budget, Shirl Greer was known for getting the most out of his equipment with durable tune-ups while never forsaking the crowd-pleasing showmanship the new class represented.
In 1965, Van was just three years old when his father made the first pass ever at the newly constructed Bristol International Dragway, located a short distance from their home town. While Van has no recollection of that historic first run down "Thunder Valley's" now-legendary quarter mile, he treasures the family photo that depicts himself standing on the fender of his father's 1965 Dodge Coronet that day; the same car that would be so instrumental in developing the early-concept Funny Cars.
Greer's famous "Tension" Coronet featured an injected 426 Chrysler Hemi that he eventually switched over to nitro. The car also is remembered for its radically stretched wheel base and being the first to employ a driver's seat positioned in the center of the chassis.
Van was 12 years old in 1974 when his father won the first NHRA Funny Car championship contested by way of a season-long points series. After spending some of the most memorable years of his young life on the Funny Car circuit with his dad, Van eventually became one of the most well-respected bracket racers in the Southeast, racking up more than 300 event wins. He's also captured 15 track championships, 12 Super Chevy titles and a pair of Bracket Finals victories, all while continuing to fly the flag of the "Tension" namesake that was so prominently featured on his dad's earliest race cars.
Shirl Greer was inducted into the International Drag Racing Hall of Fame in 2015, a distinction Van and his family cherish deeply. "My family was very honored by my father's induction, and as far as the racing goes, I wouldn't trade those memories and experiences for anything," he says.
Van Greer recently sat down with DRAG ILLUSTRATED to share a few memories of the past, what he's up to in the present, and what the future may hold.
What was it like growing up with a Funny Car pioneer as your father?
It was a whole lot of fun, actually. When me and my brothers, Brian and Rusty, were out of school during the summers we'd go racing with Dad all the time. He would match race a couple times a week just so he could have money to go to the nationals. That was pretty common back then. There was no real money in racing at the nationals, but it did get your name out there and it would help you book match races as a result.
What kind of equipment did they have back when your dad was pioneering the Funny Car class?
By comparison of what's available today, they had a bunch of junk! Very little was actually available in those days; there wasn't a bunch of stuff that you could go out and buy. My dad even ran stock Hemi Chrysler steel heads for the longest time. Back in those days, the difference was made by how much you knew or what you were able to get out of the stuff you had, because everybody pretty much had the same equipment to work with.
How much help did your dad have to field a Funny Car in those days?
Sometimes us kids were the only crew that Dad had. I can remember this one weekend when me and my friend, Mike Chase, traveled with my dad to St. Louis for the AHRA Gateway Nationals in 1976. I was 14 years old and Mike was 15, and it was just the three of us. Obviously, neither Mike or myself had a driver's license, but one of us had to drive the tow truck down to the shut down area and pick up dad after he made a run. Would you believe Dad actually won that race? It's hard to imagine that you could win a national event in Funny Car with a couple of kids for a crew, but on that particular weekend that's exactly how it worked out.
With your dad being such a prominent figure in Funny Car, did you pay much attention to the other classes that were running?
Not only did I not pay any attention to them, I didn't even know you could run anything other than a Funny Car! I was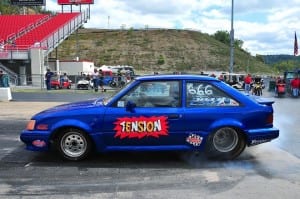 probably 18 years old when some buddies of mine told me they were going to race at nearby Cherokee Dragway that night. I asked them what exactly did they plan on racing and when they told me that they were going to race their street cars, I can remember saying, 'You can't race street cars at the drag strip!'
So, did you go with them and try your luck at street class racing, too?
Most definitely! I went with them to Cherokee that night and after they explained to me the basics of bracket racing, I entered my 1976 Camaro and actually got down to three cars on my first attempt! I was hooked immediately and haven't missed a weekend since.
You turned out to be a fantastic bracket racer with more than 300 wins and 15 track championships. Where did you win all those championships?
I was fortunate enough to win championships over the years at Bristol Dragway, Cherokee Dragway, 411 Dragway, Knoxville Dragway and also Motor Mile Dragway in Virginia. I believe it was 1989 when I was able to win the track championship at Knoxville Dragway, as well as 411 Dragway.
You've also been known to enter as many as three vehicles in the same event.
As recent as last year I would routinely enter a rail dragster in the Pro E.T. class; a Chevy Suburban, which was my tow vehicle, in Footbrake, and also a motorcycle that I'd enter in the Bike class. During a two-day DER Bracket Series event at Bristol last year I was able to put all three vehicles in the winner's circle on the same weekend! I actually got runner-up in the second bike event I ever entered and then won the third event. There for awhile I was even leading the points in Motorcycle, but then I started to fall away. I figured I had done what I set out to do by winning a bike race, so I ended up selling the motorcycle last year. So I'm down to just two entries now.
Your '85 Suburban tow vehicle is somewhat legendary for its race winnings.
I've actually won over $100K with it; $20k in one season, in fact. I won the 2001 NHRA Division 2 Bracket Finals in Footbrake while driving the Suburban. As a result, I got to go to Pomona, California, to race for a national championship, but since the Suburban gets such terrible gas mileage, I actually towed the thing from Tennessee to California. One year my wife, Christy, even got runner-up at the IHRA Bracket Finals in that ol' Suburban.
Every race car you've owned bears the distinctive "Tension" logo that your dad was famous for, but where did that logo come from?
Back in the 1960s Dad saw an advertisement in a magazine for this new tension headache medicine, and he liked the way the logo looked so he created something similar for his race car. He put the logo on many of his cars, including his first few Funny Cars.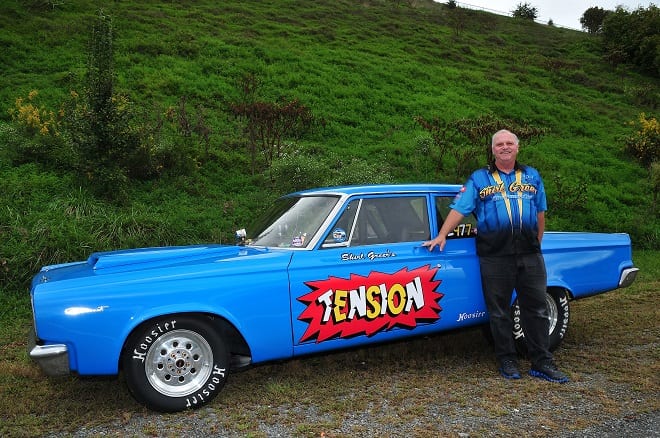 What can you say about the great-looking 1965 Dodge Coronet you brought out this year?
That's actually my all-time favorite race car. It's a tribute car that was designed to look exactly like my dad's 1965 Coronet. I've always wanted to someday own this particular make and model car, and I found this one on Craigslist. It was for sale in Kentucky. I'm very happy with the way it turned out, but eventually I'd love to put stack injectors on it and even alter the wheelbase like Dad did with his car.
Have you won in the Coronet yet? 
Not yet, but I've came close with two runner-ups so far.
The Coronet isn't the only tribute car the Greer family is fielding, though, is it?
No, my brother Brian is currently building a 1974 Mustang Funny Car that is going to look exactly like Dad's 1974 NHRA Championship car. It will run off nitro and Brian hopes to match race the car just like Dad did back in the day. We're real excited about this tribute car and I hope to see it going down the track in 2016.
What are your racing plans for next season?
I'm going to continue running the DER Bracket Series at Bristol. I used to travel a lot more than I do now, but the DER series is a fantastically run program, so I don't venture too far away from Bristol. Besides that, we've got so many other great events that come to Bristol, things like the Spring Fling, World Footbrake Challenge, Super Chevy, etc. My main thing right now is to continue getting the Coronet dialed in and hopefully put it in the winner's circle soon.
This story originally appeared in Drag Illustrated Issue No. 103, the Interview Issue, in September of 2015.