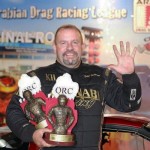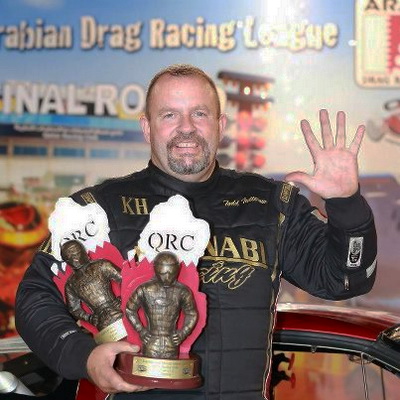 Not often will you catch Todd Tutterow with a broom in his hand and a smile on his face, but after sweeping the 2013 Arabian Drag Racing League's (ADRL) Outlaw 10.5 class in the supercharged Al-Anabi Racing C6 Corvette, the former ADRL Pro Extreme champion had both.
"This has been a great experience; a clean sweep is just amazing," Tutterow said. "I thought it was pretty cool to have won three in a row, but five, that is great."
The 2013 Arabian Drag Racing League (ADRL) championship series consisted of five races at the Qatar Racing Club (QRC) and "King Tut" also qualified on top three times and reset the low E.T. record at each race for bonus points.
QRC Rounds 1 and 2 ended up with Tutterow racing against Tim Lynch each time in the finals, with Rounds 3 and 4 finding him beating Dave Hance for the event wins. In the fifth and final event, Tutterow again went up against an angry "Lynch Mob," that wanted nothing more than to take the broom away him. Lynch had a better reaction time of .044 to Tutterow's .057, but Tutterow's 4.033 pass was enough to edge out Lynch's 4.057 to complete the sweep.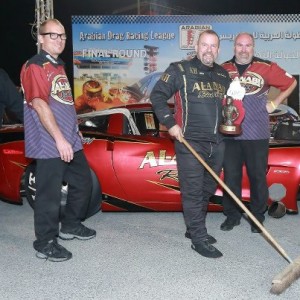 "I appreciate Brad and Scott for all of their help. I want to thank Sheikh Khalid Al Thani for letting me drive his car and for all of his support for me and the sport of drag racing," Tutterow said.
"I need to especially thank my wife, Denise, for sending me parts on the spur of the moment notice and keeping things at the shop going. Also, my kids, Ty and Tia, that I missed very much while I was gone for so long; I love you."
For the rest of the 2013 racing season, Tutterow will concentrate on racing his twin-turbocharged Mustang in both the ADRL and the fledgling XDRL series.
"I am glad to be home and we have a lot to do to get ready for the 2013 drag racing season with my new sponsor, GALOT Motorsports; you can check them out on Facebook," he said.