Second-generation Pro Mod driver Ty Tutterow earned the first Andy McCoy Race Cars Pro Boost win of his young career at the inaugural Professional Drag Racers Association (PDRA) Mid-America Indy Showdown at Lucas Oil Raceway in Indianapolis. Class standouts Mike Recchia (Pro Extreme), Jay Cox (Switzer Dynamics Pro Nitrous presented by MoTeC), Cary Goforth (Extreme Pro Stock) and Travis Davis (Drag 965 Pro Extreme Motorcycle) also won in the professional classes.
Dewayne Silance earned the MagnaFuel Top Sportsman victory, while the Lucas Oil Top Dragster win went to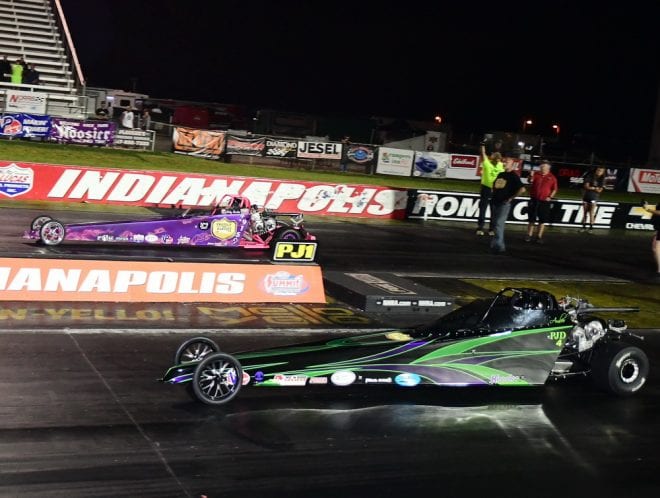 Kathy Fisher. Amber Franklin, daughter of defending Pro Nitrous world champion Tommy Franklin, earned the Campers Inn RV Pro Junior Dragster win, running 7.902 to Hailey Hawkins' 7.894, both on a 7.90 dial-in. The MegaCorp Top Junior Dragster win went to Skyler Bee when Brayden Davis turned on the red light. The Edelbrock Bracket Bash prize money was split amongst the four semifinalists, Ryan Pickens, Nathan Smith, Mickey White and Chase Clymer.
PRO BOOST
Pro Boost rookie Ty Tutterow appeared in his second consecutive final round after red-lighting in the Maryland final round last month. This time, the 22-year-old wheelman left the starting line on time and reaching the finish line first. He drove the GALOT Motorsports "Tomcat" '69 Camaro to a 3.729-second elapsed time at 199.49 mph over Jeremy Ray in the "Carolina Kingpin" '63 Corvette, who posted a 3.751 at 198.32 in the runner-up effort.
"I'm racing against the tier-one cars of Pro Boost," Tutterow said. "Everyone knows our GALOT Motorsports cars are really good cars. This is my job; my job is to drive a race car and I have to perform. After giving away the last race, I beat myself up every day since then. I gave that one away; you can't race red, so I really focused on going green tonight."
Tutterow qualified sixth and defeated James Beadling, points leader José Gonzales and GALOT teammate John Strickland before reaching the third final round of his career. Ray qualified fourth and took down Larry Higginbotham, 2016 Pro Extreme world champion Brandon Snider and No. 1 qualifier Todd Moyer to meet up with Tutterow in the final.
PRO EXTREME
Chicago-area driver Mike Recchia (far lane) became the first Pro Extreme repeat winner of 2017 as he won on a holeshot over Sweden's Mattias Wulcan. Recchia and his family-based team faced several challenges over the course of the weekend, but their efforts were met with reward in the form of a 3.578 at 213.70 victory over Wulcan's 3.569 at 212.36.
"First of all, we did have mechanical problems," Recchia said. "We actually had to pull the engine a couple times. My son made all the right calls; he read the track and gave it what he thought it could take. Sometimes we were a little weak, sometimes we were a little strong, but it all worked in the end."
Recchia qualified fifth in his screw-blown Agrow Fresh '69 Camaro in a field of 15 cars, a season high for the PDRA's quickest and fastest category.
"Even when it's a small field, it's still the baddest guys in the world. Now there's just a few more of them; 16 of them versus eight of them. It's just one more round of racing," Recchia added.
"I just want to thank all of my family and friends who came out to support us this weekend. This is like a home race for us, about three and a half hours from home. Everybody came out to support us. To win in front of your friends and family is just beyond special – there's no words to describe it," Recchia concluded.
Wulcan in his "Black Bird" '69 Camaro fought his way into the final round from the seventh spot, posting round wins over John Stanley, José Gonzales and Frankie "Mad Man" Taylor.
PRO NITROUS
For the second race in a row, Jay Cox (near lane) in his Clements Mechanical-backed "Pumpkin" '69 Camaro defeated the "Jungle Rat" '69 Camaro of defending world champion Tommy Franklin in the Pro Nitrous final round. Cox uncharacteristically struggled in qualifying, while Franklin led the field, but it was Cox who came out with the event win. The Buck-powered "Pumpkin" used a holeshot to defeat Franklin's Musi-motored "Jungle Rat" in a 3.709-to-3.708 final-round decision.
"It feels great; I hope to make it three or four or five of these wins in a row," Cox laughed. "I'm just in a rhythm right now. We came here and the barometer was down, which affects me because I really don't have a good tune-up for that. But it's coming around. We made that one good run in the heat, then the nighttime run I just got carried away with it. Then we didn't go down the track on Q3 today. When you don't go down two qualifiers in a row, it puts a lot of pressure on you. But I have a bunch of good guys behind me who worked hard. We were able to pull it off."
Entering eliminations from the 10th spot, Cox knocked down John Hall, Randy Weatherford and Danny Perry en route to his third final round and victory of the season. Franklin, whose daughter Amber won in Pro Junior Dragster, beat Chris Patrick, Ron Muenks and Jim Laurita to earn his spot in the final round.
EXTREME PRO STOCK
Points leader Cary Goforth (far lane) padded his lead over the Extreme Pro Stock field with his second consecutive event win. Even with the added challenge of putting together and fielding a second entry for his father, Dean Goforth, the Holdenville, Okla.-based driver managed to win the race from the No. 1 qualifying spot. He recorded a 4.081 at 176.77 in the final round against John Montecalvo, who lost traction and ran a 6.337 at 92.33.
"That's the first time a No. 1 qualifier has won this year, and that was on my mind a lot," Goforth said. "We've runnered-up as No. 1, but we haven't won as No. 1 and no one else has either.
"I think the thing that sticks out in my mind today is the points situation. Trevor (Eman) went out first round, we beat John Pluchino, then we got a round on Montecalvo in the final. It's very beneficial in the points race to get stretched out there where you feel comfortable. I'm not saying you can slack off and lose first round, because you honestly can't do that and win (a championship) with three races left. We need to stay away from first-round losses and stay on offense instead of defense. We can't take our foot off the pedal."
Goforth used progressively quicker performances to defeat John Konigshofer, defending world champion John Pluchino and class newcomer Matt Giangrande. Montecalvo, who was breaking in a brand-new Haas-built '17 Camaro, displayed incredible consistency in his round wins over Rick Cowger, Dean Goforth and Jeff Dobbins.
PRO EXTREME MOTORCYCLE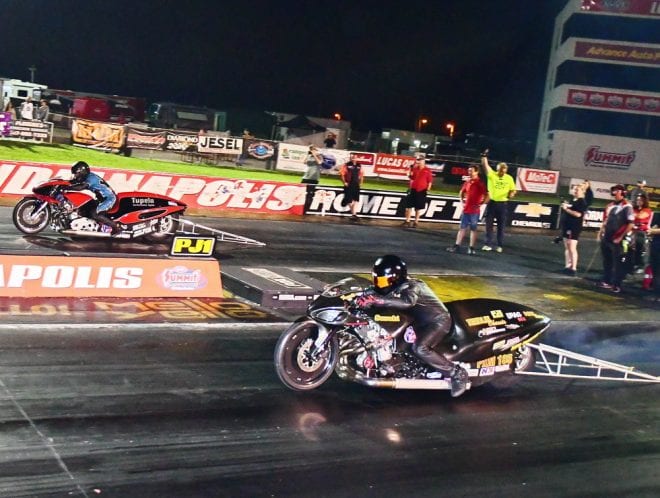 Travis Davis (near lane) continued his winning streak that began in March when he won the second race of the season. He used his best pass of the weekend, a 4.029 at 174.64, to beat Chuck Wilburn's 4.116 at 170.62 and win his fourth consecutive final round aboard his Timblin-built Suzuki.
"They were all tough," Davis said of his four event wins. "You have to be changing and moving and doing something different at every race. We've won rounds where we were down on performance. We struggled some when we ran in the heat of the day, but I felt like the numbers would come back when the cool conditions came back, and they did."
Davis, who qualified second, eliminated Terry Schweigert and Eric McKinney before facing Wilburn in the final round. Wilburn raced out of the fourth spot and defeated the father-son duo of T.T. Jones and Chris Garner-Jones on his way to the final round.
TOP SPORTSMAN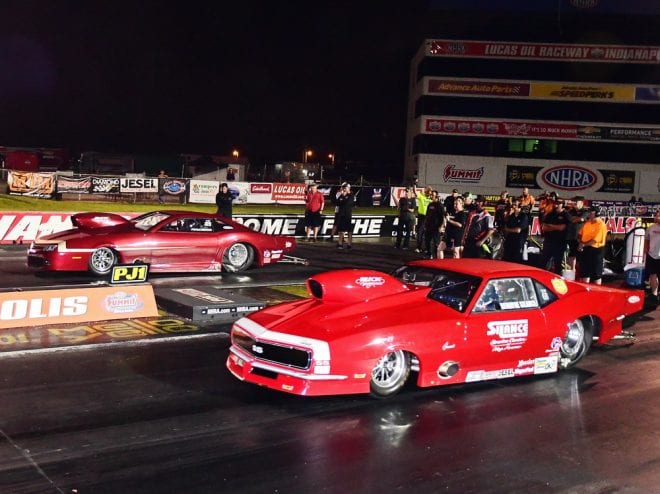 The two most recent Top Sportsman event winners on the 2017 PDRA Tour, Dewayne Silance (near lane) and Randy Perkinson, met up in the Elite Top Sportsman final round at Indy. Silance, a hog farmer from Jacksonville, NC, used a .020-second reaction time and dead-on 4.08 to take the win over Perkinson and his 3.972 on a 3.97 dial-in. Silance defeated Lester Johnson, Bruce Thrift and Andy Johnson on his way to the final, while Perkinson eliminated Glenn Butcher, Henry Underwood and Mick Snyder.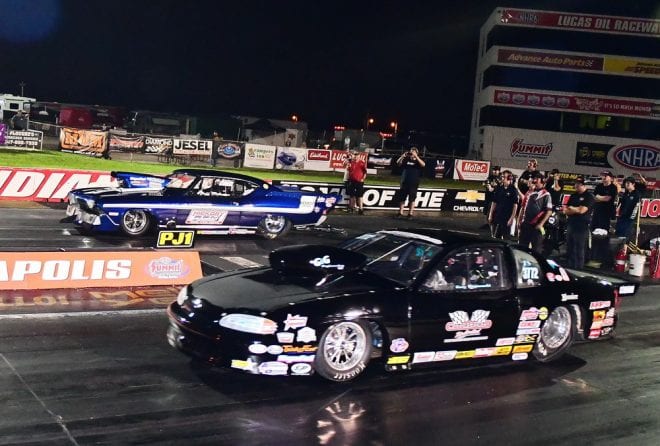 A total of 45 Top Sportsman cars attempted to qualify at the Mid-America Indy Showdown, leading PDRA officials to add a Quick 32 field in addition to the Elite 16 program. The Quick 32 event win went to Jeff Pittman (far lane) over a red-lighting Gary Wojnowski Jr.
TOP DRAGSTER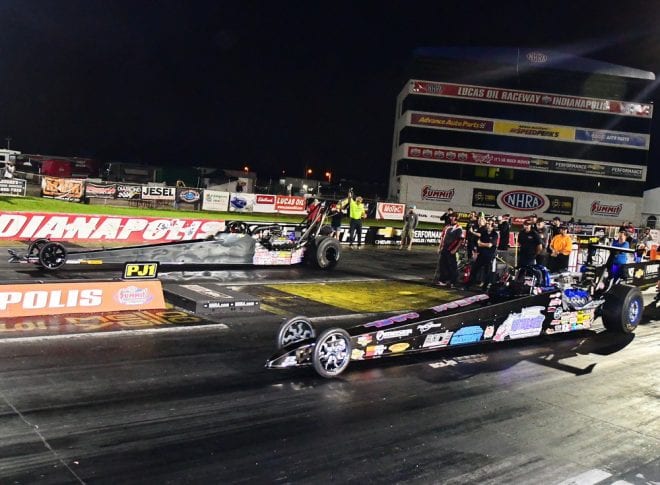 Midwest Top Dragster standout Kathy Fisher (near lane) continued her recent hot streak with final-round win in the "Dragoness" '15 American dragster. Her ProCharged entry was ready for a race, but she won the final at the starting line when opponent Matt Cooke left too soon. Both drivers coasted down the track shortly after launching off the starting line. Fisher defeated Jimmy Sackuvich, EmiLee Novak and Robert Pickens prior to the final. Cooke's previous opponents were Matt Sackman, Angie Travis and Chaz Silance.
The next stop on the PDRA 2017 Tour is the PDRA Summer Nationals at Osage Casino Tulsa Raceway Park, Aug. 10-12.