Troy Coughlin earned his third NHRA J&A Service Pro Mod Drag Racing Series world championship on Sunday during the season ending event for the category at Las Vegas Motor Speedway during the NHRA Toyota Nationals. This weekend's Pro Mod racing is presented by Real Pro Mod Association.
Coughlin earned the crown when he defeated Mike Castellana, his nearest competitor in points during the second round of eliminations.
"You look up in the stands and see all those people and you just want to win one more round," said Coughlin. "The plan of attack we had happened to work. We crossed the finish line and saw those flashing win lights on the guard wall and you think this is a dream come true. It is hard to do and this class is getting tougher and tougher."
Coughlin earned the championship, his first since 2015, on the strength of two wins, four runner-up finishes and three No. 1 qualifiers. Coughlin, who has raced full time in the series since its inception in 2010 has finished either first or second in the points every season since 2012.
Coughlin raced his way to the finals but was bested by Stevie Jackson who won his second race of the season. Jackson posted a winning time of 7.081 seconds at 138.84 mph. Coughlin suffered a broken part and didn't make a full pass down the track.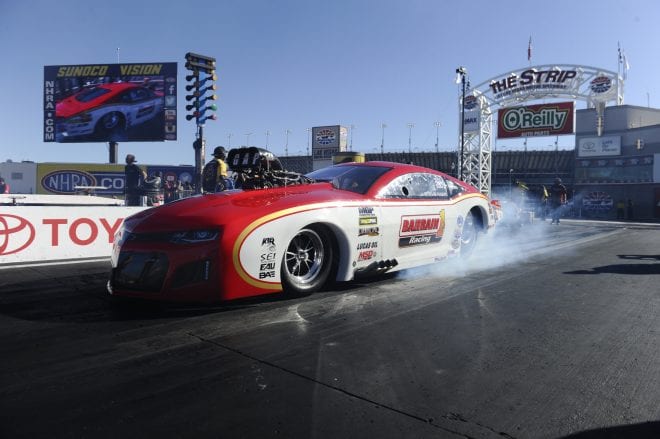 "What an awesome win. This is my first time racing in Vegas and it's an unbelievable experience," said Jackson. "This is a tough class to even qualify for. To win the last race of the season is a game changer for us. Nobody wants to eat their Thanksgiving dinner thinking about getting their butt kicked. Jack Barbee, Mark Savage, Tracy Teasley and Robbie Lowry have killed it all year. Billy Stocklin is the best there is period. And I do a decent job half the time driving the car. Being a part of Bahrain 1 is very special. We are a big family and next year is mine."