When he's behind the wheel of "The Silver Unit," his nitrous oxide-assisted, small-block '86 Camaro, Derek Travis of the Discovery Channel's Street Outlaws show is a picture of determination. Each week, the show portrays him as a tough guy who's always ready to pick a fight, happy to trash talk, and willing to stir up drama. And though his competitive streak is a mile wide, there's a side to Travis that viewers don't often see.
His wife, Christina, comes from a car-centric family and is responsible for introducing Travis to racing on the streets of Oklahoma City. He developed friendships with other Street Outlaws stars like Justin "Big Chief" Shearer and "Daddy Dave" Comstock. "I started out racing Dave, and he beat me. I wanted to go faster and learn more, so he took me under his wing. He taught me a lot; we became friends, and started racing together," Travis recalls. The show started not long after.
Six seasons of Street Outlaws later, Travis is a seasoned veteran of behind-the-scenes television life. It may look like a glamorous, easy life to viewers, but he asserts that usually isn't true. "It's exciting to be in front of the camera and be on the show, and to have three-million people watching, but the audience doesn't realize how much work it takes," Travis says. "They think we're just out there goofing off."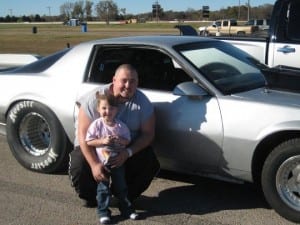 Despite not being one of the main stars of the series, Travis still logs countless hours filming. Whether racing, hanging out with the guys, or narrating voiceovers, he's still hard at work and the days can be grueling. "If the producers don't like the way we put something, we have to rephrase it. They don't really tell us what to say, but sometimes there are people watching who tune in for the drama, not because they're car people, and they may not understand what we're saying," he clarifies.
His favorite part of being a celebrity, however, is simply seeing how proud his eight-year-old daughter is of her daddy. "She loves bragging to her friends at school. That's what it's all about for me, making my daughter happy," says the proud papa, who plans on getting his little lady a junior dragster to race as soon as funds allow.
Before the show, Travis lived a pretty typical life. He worked various jobs, sold parts, and did what he had to do to get by. "Life was just getting up and going to work," he states. "It's basically still the same now, too."
Unfortunately, however, as a result of being on the show, Travis was let go from his job as his employer did not wish to be associated with him and his illegal street racing involvement. Travis admits it was a little chaotic for him immediately after the split as he hustled to find a new job, but the management at his new employer, Brian's Automotive Service in Edmond, Oklahoma, is much more understanding.
"Trying to explain to my work that I need time off because I have to go race my car can be tough. They're still trying to run a business, so I understand where they're coming from. But for me, maybe this could go somewhere someday, so, what if I didn't give it my all?"
While his life hasn't changed too much as a result of being part of Street Outlaws, Travis says that friendships and relationships between the other stars have suffered. According to him, before the show most of the drivers were pretty close friends. "The show has separated everyone a little into their own groups and made everyone not want to hang out as much as they did before, or maybe they just don't have the time anymore," says Travis, who works 60-plus hours a week at his day job.
In addition to earning a regular paycheck, Travis works on his car at night, films the show, and still finds time to hang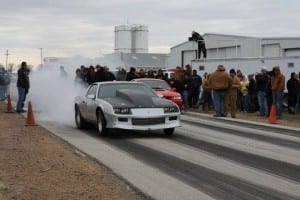 out with his family. "If you break the car, the TV people still expect you to turn around and have it ready to film again by next weekend. They're not car people, they're TV people, and they don't understand the hard work and dedication it takes to prep a car," he claims, adding that most people don't realize how demanding it is to film a TV show and juggle a demands of a regular life as well. The non-stop pace, however, isn't something to be taken lightly. "It really takes a toll on your health, body, and family life," he notes.
The reality of reality TV is that it isn't always what it seems. Travis, who grew up in some of the roughest neighborhoods in Oklahoma, is often depicted as being one of the harsher personalities on Street Outlaws, but he isn't a bad guy. In fact, he's pretty mellow and an extremely dedicated family man who loves his wife and kids with all his heart.
"Initially, Derek was made out to be the villain on the show, but he's definitely not that guy," Steve Johnson at Induction Solutions confirms. "He's been awesome to work with and is open to pretty much anything we've wanted to do. He takes a lot of pride in his program. Unfortunately, he's one of the most under-funded guys and doesn't have the big, high-dollar motors some of the other guys have, but he always makes the best of what he's got."
Travis is known for his sharp tongue and propensity for trash talk, but there's a reason behind why he says what he does. "It gets into people's heads," he says simply. "As fast as our cars are, one little mistake and it's all over. I mess with their heads to get them out of their routines and hopefully get an advantage." That concept is one of the main reasons he loves to collect the sleeves from the t-shirts of those who he's beaten; it's all a head game for him. "I'm the type of person that will say what's on my mind whether you like it or not. If you haven't earned my respect, I don't need to give it to you."
On the other hand, Travis says he's incredibly grateful for the help he's received from friends and sponsors throughout his time with Street Outlaws. Companies like Induction Solutions, FreakShow Performance, Haltech, Pro-Systems, and Castle Performance have all stepped up to help him run hard against whoever happens to line up against him on any given night in the 405.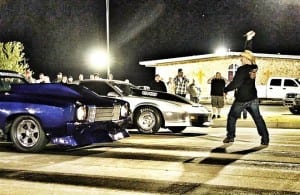 "Financially, my family absolutely comes first and always will. But I will work extra side jobs to help pay for my hobby," says the unpretentious Oklahoma racer who does whatever it takes to ensure he's got the cash for go-fast parts. "Most people are used to racing a series season, once or twice a month. We're racing every single weekend and we beat our cars to death."
For the foreseeable future, Travis plans on sticking with the show and filming for as long as they'll have him around. "Right now, it's not even close to paying the bills, but who knows what will happen eventually," he says.
This story originally appeared in Drag Illustrated Issue No. 102, the State of Drag Issue, in August of 2015.