Steve Torrence won his first Top Fuel world championship during eliminations on Sunday at the NHRA Toyota Nationals and raced to his 10th victory of the year at The Strip at Las Vegas Motor Speedway.
J.R. Todd (Funny Car), Bo Butner (Pro Stock) and Hector Arana Jr. (Pro Stock Motorcycle) were also winners in their respective categories at the fifth of six playoff events during the 2018 Mello Yello Countdown to the Championship.
Torrence continued his impressive pace in the NHRA Mello Yello Drag Racing Series Countdown to the Championship where he has yet to lose a round of racing since the playoffs began. He earned his first world championship during the semifinals when he defeated Richie Crampton. Torrence went on to get his fifth consecutive win when he bested Leah Pritchett with a run of 3.751-seconds at 326.32 mph in his Capco Contractors dragster.
"This is a lifelong goal right here," said Torrence. "All the glory goes to God, my mom and dad, because without them none of this would be even be possible. Every one of those Capco boys on that race team because they put their heart in it and it is hard to beat people with heart. All the boys back home at Capco, we got it done guys. This is unreal. To all those people who said we couldn't do it, we are here."
In Funny Car, Todd powered to his fifth win of the year in his DHL Toyota Camry and in doing so took over the category points lead. He defeated Matt Hagan in the finals with his winning run of 3.921 at 318.39. He now has a 74-point lead over defending world champion Robert Hight who had a first round loss. This is the seventh Funny Car win for Todd, the 16th in his career and his second win at the facility this season.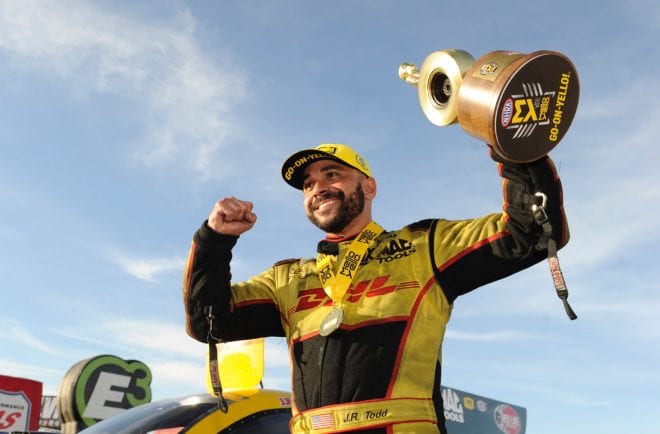 "It is so awesome to drive a car like that when it is that consistent," said Todd. "You don't have to worry about if you are going to have to go out there and pedal it or things like that. You can go up there and smack the tree as hard as you can and keep that thing stuck down the groove. It is a lot of fun to drive. We still have some unfinished business in Pomona. Hopefully we can go there and come out of it with two trophies."
Todd raced to his fourth final round in the Countdown to the Championship with victories against Robert Townsend, teammate Shawn Langdon and Jack Beckman.
Butner the 2017 Pro Stock world champion, grabbed his second win of the year defeating Erica Enders with a run of 6.657 at 207.43 in his Jim Butner's Auto Chevrolet Camaro. This was his fifth final round at the facility in the past four seasons.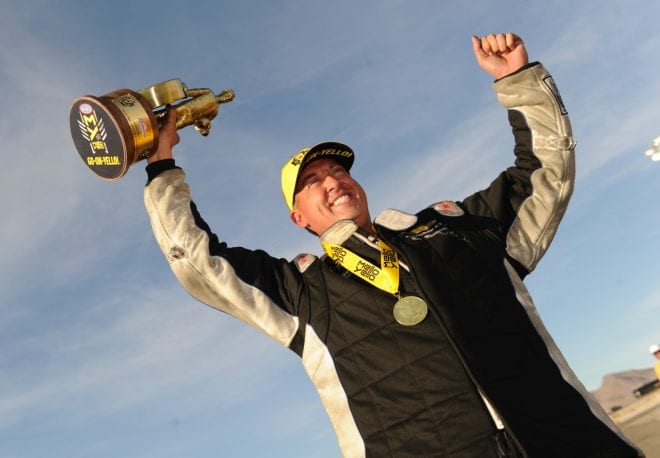 "We started off like gangbusters, win in Pomona, ran good at Gainesville and thought we had another repeat deal coming," said Butner. "We struggled a little bit as every team does. I kept saying this weekend this is perfect. This car showed improvement every run. I'm very happy we got to win again, win a couple of rounds, much less win the race. This Pro Stock deal is amazing. Everybody in the top 12 qualifiers can win."
Points leader Tanner Gray raced to a semifinal finish when he was defeated by Enders. He as a 140 point lead heading into the final race of the season.
In Pro Stock Motorcycle, Arana Jr. was the top qualifier for the event and won his third race of the year when he defeated defending world champion Eddie Krawiec in the finals. On his Lucas Oil Buell he raced to a winning run of 6.885 at 193.35 for this 14th win in his career and his first at the Strip.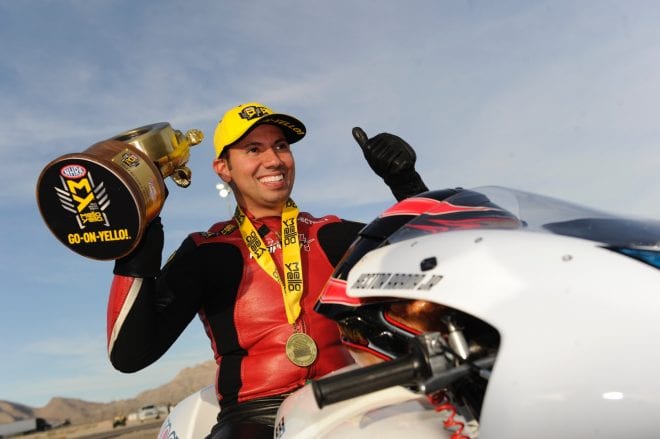 "We did a great job qualifying and that sent the tone for today," said Arana. "It gave me the confidence I needed. I had great lights in qualifying and did it again today on race day. Great preparation and everything came back together. We just want to qualify well, win rounds and win races."
With the win, Arana moves to fourth in the points and trials points leader Matt Smith by 64 markers. Krawiec jumps to second, only four behind Smith and LE Tonglet is third, 61 out of first.
The Mello Yello Drag Racing Series concludes on Nov. 8-11 at the Auto Club NHRA Finals on Nov. 8-11 at the Auto Club Raceway of Pomona.