Steve Torrence raced his way to the Top Fuel victory Sunday in the eighth annual NHRA Four-Wide Nationals at Zmax Dragway.
Ron Capps (Funny Car) Chris McGaha (Pro Stock) and LE Tonglet (Pro Stock Motorcycle) were also winners in their respective categories at the sixth event on the 2017 NHRA Mello Yello Drag Racing Series schedule.
Torrence piloted his Capco Contractors dragster to a 3.783-second pass at 323.89 mph for the ninth victory of his career and first of the season. He defeated current points leader, Leah Pritchett, eight-time world champion, Tony Schumacher and Terry McMillen in the final round.
"This is the same as winning a race that you had to pedal it every round or you had to win it on holeshots," Torrence stated. "This is a driver's race. We race 24 races a year and one of them we race four-wide. It's completely different when you come in here; you're mentally challenged."
Capps, the current Funny Car world champion, ran a 3.933 at 322.65 in his NAPA Auto Parts Dodge Charger for his first NHRA Four-Wide Nationals win of his career, second consecutive this season and 52nd of his Funny Car career. Teammate, Jack Beckman took second place, J.R. Todd finished third, and teammate Matt Hagan placed fourth.
"This is a fun race," Capps said. "I've got a great racecar. To be in a car and to have it throw you back with that many g-force and realizing the temperature that track is and still feeling that six g's and thinking 'how on God's earth are these two Goodyear's (tires) sticking to that ground?' It's an amazing feeling."
With the victory, Capps takes a 43-point lead over his teammate Hagan.
In Pro Stock, McGaha picked up his fifth career victory and first at zMax Dragway when he ran a 6.591 at 210.44 in his Harlow Sammons Chevy Camaro. He bested Greg Anderson, Shane Gray and Drew Skillman in the final round.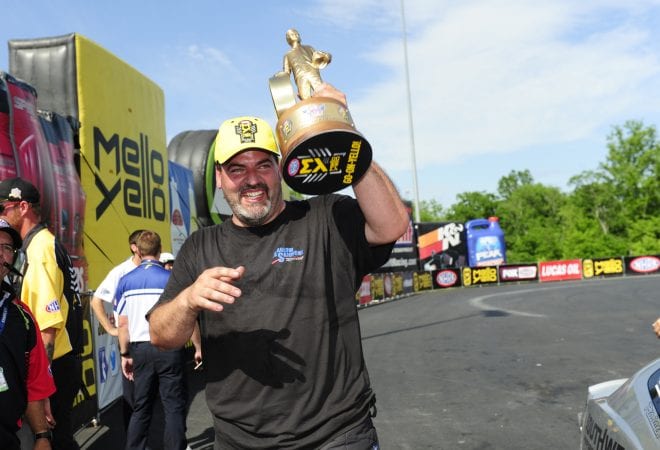 "Now it looks like we've got some momentum and it's kind of hard to swallow," McGaha said. "To me, I've always said you've got to have power to win in this game. You've got to have enough smoke to win. This one showed us we have a lot of power and that's why we came here."
Tonglet rode his Nitro Fish Racing Suzuki to a 6.864 at 195.00 pass to earn his 10th career victory and first of the season. He defeated three-time world champion, Eddie Krawiec and, Andrew Hines on his way to his first four-wides win.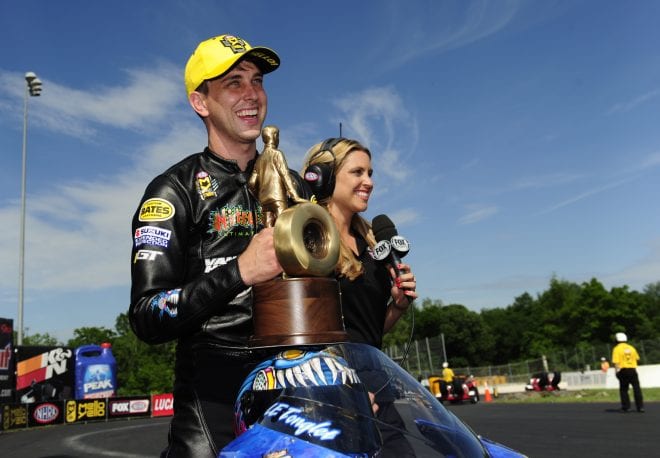 "It's just unbelievable what we've come through this weekend alone," Tonglet stated. "With the four-wides you just have to be prepared for anything. You just have to concentrate because if you lose your train of thought it's going to be bad."
This win also marks the first victory for Tonglet since joining the White Alligator Racing headed by Pro Stock Motorcycle world champion Jerry Savoie.
The 2017 NHRA Mello Yello Drag Racing Series season continues at Atlanta Dragway May 5-7.