The last time Steve Torrence was at Auto Club Raceway at Pomona, he was wrapping up an unprecedented run to his first world title. The Top Fuel star finished off his history-making run in the NHRA Mello Yello Drag Racing Series Countdown to the Championship with a victory in Pomona, becoming the first driver in NHRA history to win all six playoff races.
He heads back to the track full of good vibes this weekend for the NHRA's annual iconic opener, the tradition-rich 59th annual Lucas Oil NHRA Winternationals presented by ProtectTheHarvest.com, but Torrence remains just as motivated. He won 11 races a year ago in his 10,000-horsepower Capco Contractors dragster and insists the drive that paved the way for his first world title hasn't waned one bit.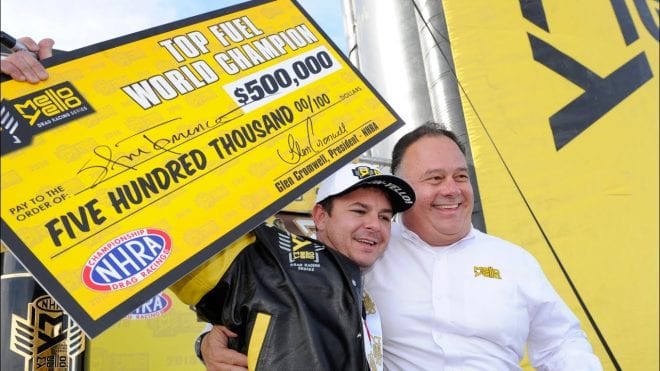 "We don't have the same point to prove as last year, but it's the same drive and maybe more, just for different reasons," Torrence said. "The performance the last couple years speaks for itself, but we want to keep driving that home. We've gotten to the top, established the fact that we deserve to be there and we're going to do everything we can to say there. It's business as usual for us (heading to Pomona) and that's the way we're going to approach it."
Doug Kalitta (Top Fuel), Matt Hagan (Funny Car) and Bo Butner (Pro Stock) were last year's winners of a race that will be televised on Fox Sports 1 (FS1), including finals coverage beginning at 5 p.m. on Sunday, Feb. 10. It is the first of 24 events during the 2019 NHRA season and the first chance for Torrence to build on an incredible two-year stretch that includes 19 wins.
He finished second in 2017 and then was dominant all season a year ago. Torrence takes an unbelievable stretch of 24 straight rounds wins into the season-opener at Pomona, which is more than enough to put a target on his back. But as the defending world champion, Torrence believes his team knows what it takes to remain among the frontrunners in the loaded Top Fuel class.
"I think we can maintain that focus," said Torrence, who has 27 career wins. "We had the same focus and drive we had in 2018 as we did in 2017, we just channeled it and got used to working at a more intense level. We've been able to operate at such a high level for so many races, I think we're accustomed to doing that. You see the way guys like Tony (Schumacher) and Antron (Brown) operate and they're used to being battle-ready. That's how we want to be."
Torrence gets his first chance to put that on display as the defending champion this weekend in Pomona, and he has already established momentum in 2019. He was the quickest car at last week's preseason testing in Phoenix, running as quick as 3.689 at 328.78 mph and putting together a number of consistent runs. It was an impressive sign coming on the heels of a championship, further exemplifying the focus Torrence expects his team to display in 2019 against the likes of Clay Millican, Kalitta, Terry McMillen, Leah Pritchett and 2017 champ Brittany Force.
"To go do what we did at testing, that just bolsters our confidence," Torrence said. "It's humbling to be in the position we're in and to think about the success we've had, but we're not close to being done yet. We're looking forward to Pomona and we're going to be real simple about it. They key is to go out and win rounds and if you're able to do that four times, that's a race. That's how we've approached it the last two years and we're going to keep that same approach."
Mello Yello Drag Racing Series qualifying will feature two rounds at 12:00 p.m. and 2:30 p.m. on Friday, Feb. 8, and the final two rounds of qualifying on Saturday, Feb. 9, at 12:00 p.m. and 3:30 p.m. Final eliminations are scheduled for 11 a.m. on Sunday, Feb. 10.